Workshops and Retreats with Jane Davenport
My wish for you, is your creativity to be roaring with confidence.
My e-courses are so popular because I really can help make that happen.
Want to feel more creative?



You may think, "If I only had time for that part of yourself". Time to doodle, draw, paint or journal.
To just play.
You do have time: Right now.
Nourishing your creativity doesn't need to take gallons of your time,
you may be surprised at just how easily it fits into your life.
Because it is meant to be there.
Creativity isn't far away, or outside of you, or laying somewhere forgotten.
It's only a small inner click away, a heart-shift from now,
a joy that wants to make its way from the core of you down through your hands and into the world.
Beautiful, creative, You.
She's important.
As a creativity expert who has guided thousands of women back to their art,
I say: start with Drawing.

It's one of our first childhood joys.
It's a fundamental human skill and lights up all of your brain!
You are engaging your imagination, coordination, problem solving and memory.
You may start of a bit sketchy at first, but with some practice,
that happiness you had as a child with a crayon in your hand will come flooding back.
Art doesn't have to be serious to be meaningful.
No ones judging or comparing.
But I would like to be there for you, cheering you on.




The Benefits of Online Classes:
Convenient – tune in when you have time.
Incredible Value.
Light social interaction with like minded creatives from around the world!
I have walked with thousands of students on their creative paths to help them develop their own style and harness their creative confidence. Courage doesn't have to roar to be heard, I see it in my students' drawing, paintings and journals every day.
"I have been doing all your online classes and really felt it was time I thanked you personally for sharing your light and I would like you to know how that light you shine has impacted on the life a total stranger.
When I first met you… I was flabbergasted… Draw happy opened me up in the most wonderful way… you see I have been drawing and doing art all my life but always I have been very nasty to myself, very unforgiving and full of fear. Since I've been exposed to the "Danger" factor I have drawn and painted more in the last few months than any other time in my life. Finally I feel that I am beginning to get what's in my head and imagination out into the world in the way I need to with out fear or self-loathing. You have freed me Miss Jane and I want to jump for joy… If you were here I would hug you… so, big e-hug and thank you for shining your light my way."
Bridie

The Online Workshops
Each video Lesson in my classes features a new skill that is designed to build your creative confidence.
As you move through the course from beginning to end, your skills and confidence will grow and you will feel comfortable with the progression.
My tutorials are created mainly with video and step by step instructions.
Choose the Starting Point that suits You.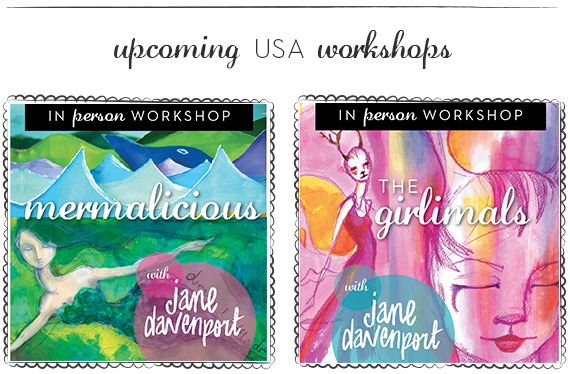 Testimonials
"OMG I just drew a face. Who are you amazing Jane?!!!"
"Jane – How can I thank you? (let me count the ways). This has been such a wonderful class. I have had an absolute ball. I have learned so much.. from you and my fellow students. I totally hoard art supplies but sometimes they lay barely used. You have really got me reaching into that art bag of mine and bringing out pens, pencils and paints like they were new. Can you hear them all squeeling with delight that they have my attention at last and have been freed to strut their stuff?"
"This classroom is such a hub of activity – its impossible to comment on all the posts but I have read most …and visit often to feast my eyes on all the talent you have unleashed in your workshop."
" May I just say that I am in awe of the way you keep up with everything. This workroom of yours is a such a hive of activity – a bombardment of comments, counter-comments, a downpouring of amazing pieces of art falling like a beautiful rainstorm, a tornado of ideas, suggestions and an erupting volcano of AH-HA moments. And you stand in the midst of it all, take it all in, read every word, never fail to respond, give words of advice and encouragement and keep everything in order by re-directing gems of information to their rightful places so that we may all benefit from the knowledge before it gets buried. You are like a conductor – you take your stand, pick up your baton and orchestrate this whole fantastic, chaotic riot of activity and imagination effortlessly into the most wonderful symphony of harmony and collective creativity."
" I had never thought I would be able to do draw a face so quickly."
"OMG I just drew a face. Who are you amazing Jane?!!!"
" I just wanted to tell you how much I enjoyed your videos and all the wonderful feedback you and the other Happy Drawing students gave me. I have been at a creative impasse lately, and I feel like your videos will help me break that. Even when you are lucky enough to make a living at a something most people only dream about, it's possible to get in a rut and lose the joy. You and your students are helping me find that joy again. Can't thank you enough.""Your class has been very freeing and has helped me give myself permission to 'play' and not be so serious while learning. Thanks so much Jane xx""Jane, I knew your videos would be fun, could not expect anything else from you happy girl! You're an inspiration, so alive and vibrant, so happy and encouraging, THANK YOU!"
Look at all the fun and some of the beautiful work my students create:
Thankyou to Wendy Walsh, Yolanda, Catherine Constance, Kelly K!
¨¨¨¨°º©©º°¨¨¨¨¨¨¨¨°º©©º°¨¨¨¨¨¨¨¨°º©©º°¨¨¨¨ ¨¨¨¨°º©©º°¨¨¨¨¨¨¨¨°º©©º°¨¨¨¨¨¨¨¨°º©©º°¨¨¨¨
Workshop FAQ's
"How does online learning work?"
All you need is an Internet connection! You will access your Jane Davenport course through an online course management system, which integrates discussion forums, videos, text, an inbox for direct communication with your instructor, and more.
"Is there a set time when I need to sign in?"
No, you never need to be online at a particular time since there are no "live" lectures or sessions. These courses contain hours of video shot in my Byron Bay studio and other wonderful places. You will find other learning resources that you can access at times that are convenient for you.
How do I access my course?
When you register you will get an immediate Paypal receipt. Your Welcome e-mail will be sent within 48 hours. It includes detailed instructions to access the School Site and your Classroom.
Once you've registered, set up a username and password, you can access the School at any time.
If you do not receive an email from either Angus or myself within 48 hours, please check your spam folder first and the the email address of your Paypal account, then e-mail my Studio to let us know if you did not receive the Welcome E-mail. PLease forward a copy of your Paypal receipt and the name of the Class.
"What Supplies do I need?"
Let me just emphasise that you don't need all the art supplies in the universe to complete your assignments! You can use whatever art tools you have. You will learn new ways of using what you do have, and be able to pinpoint what you may like to add to your creative life in the future without expensive trial and error.
A good Art Journal and Liquitex Gesso are the only absolute essentials.
A fast computer & high-speed internet service to process & watch the videos will be vital as well as enough technical know-how to navigate the site. If you are regularly able to watch Youtube videos of up to 15 minutes in length w/o interruption you should be just fine. Do please make sure though, since tuition is non-refundable once your password to the class network has been sent.
"What is an 'Art Journal' or 'Visual Journal'?
It's a mix of diary, travel memoir, autobiography, art therapist, visual diary, notebook, scrapbook and sketchbook….plus more… read more here!
"I can't draw… can I join in?"
Of course! You don't have to be an artistic genius to get involved.
I will be there to hold your hand and give feedback on your work in some classes (see individual Class Descriptions). Yes, there will be some fantastic, creative drawings posted, but with practice you will feel your work is just as wonderful. You have to start somewhere, right? It may as well be now!
"Do I HAVE to show my drawings and artwork?"
No, but your creativity, artistic ability and drawing confidence will improve exponentially if you do…I will be encouraging you to share your work with our group. There is no judgement, just support, helpful feedback and encouragement.
"I'm an avid journaler, will there be new things for me to learn?"
Of course! Run your hungry mind over the class descriptions to see all the creative snacks, main courses and desserts on the table! Beginners and experienced creatives alike will find a plethora (love that word) of techniques and inspirations to create meaningful, heart-felt pages that will record your joys, gratitude, doubts, fears, wishes, dreams, ideas…whatever you like.
"Can I download the Videos?"
No. My videos are great quality and hosted on a robust and professional service. You need an internet connection to watch them.
They are compatible with all existing technology including ipads and iphones.
More questions?
Leave a comment below and I will do my best to answer them!
If you are already a student of mine – you qualify for lovely Alumni Discounts. See the Workshops Page inside the School for more info.
After purchase, access instructions will be sent within 48 hours from Angus, the Schools' Admissions Officer.
Getting you into the class you paid for is our highest priority! If your Welcome Email doesn't arrive, please check your spam/junk mail for your Paypal address . All approvals are done manually to ensure the absolute security of our creative community.
Your patience is appreciated!