She leapt off the page…
G'day Friends!
I'm so excited to finally share this project with you! It's been a very intense labour of love!
I've been having a ton of fun creating with the JDMM range and one day I suddenly had a strange thought… Let's bring one of these muses to LIFE!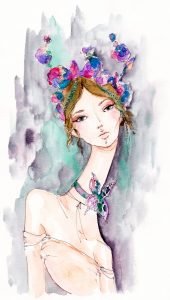 I had created this whimsical beauty in my Large JDMM journal with the watercolour palettes and said to my incredibly talented photographer husband, "Do you think we could bring her to life?"
He said, "Absolutely!"
So then began our journey to literally lift her from the page.
The video will take you through the entire creative process from creation to the completed photo collection (which I am OBSESSED with!).
Fun hidden JDMM products in the final piece:  hand painted petals cut from the paper pad & JDMM washi tape choker.
The best part of this project was grabbing our friends and working on it together – even Bianca got involved! There is something extra inspiring about working with others and feeding off of their creativity, so I encourage you all in your next projects to GRAB A MATE AND COLLABORATE! 🙂
I hope you enjoy the video and the collection.  I couldn't be happier with the fruits of our collaborative effort, and a HUGE thank you again to Cassie, Stella, Steve, and of course… Bianca…