JDMM STAMPS – flip book tutorial
G'day Davenpeeps!
Go get your rulers out, we've got flip books to make!
They're a lot more simple than they seem, you just need 4 pages, a ruler and your JDMM stamps. I've used the build a face set but you could repeat this process with any of your face stamps and still get a super fun flip book!
Here's the setup you're going to want to follow for each page of your flip book. It is explained further in the tutorial video, but just for reference I've included this picture! 😀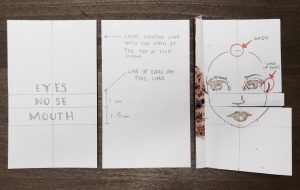 So get out your Stamps, find some spare pages in your journal or butterfly book and remind yourself of the childlike fun you used to have assembling weird and wonderful faces (but this time it's even better because YOU have created them!)
ENJOY!
🙂  James