DIY Journal Covers
G'day Creative friends!
Who's been feeling too intimidated to paint the cover of their gorgeous new JDMM art journals? (*raises hand…)
Well, I was thinking of a way to take the stress out of it until I work up the nerve and it clicked! Just like in days of old, when I would decorate my school books and folders, why not decorate a template and slot it into the dust cover (journal jacket)?!!!
It's almost too simple I can't believe it wasn't my first Davenparty project! haha
Anyway, I wanted to share in the fun so Steve played along (albeit he cheated and raided my craft stash for Tim Holtz supplies because he wasn't feeling my fairy fantasy today!)
You can find the dimensions for the template here: Template Sizes
It's a great alternative if you want to use your favorite supplies and can't figure out a way to translate it to canvas, or if you ran out of gesso, if you want to make seasonal covers or a cover for a friend (like Steve made for me)… It's also great for those of you who have the pre-decorated journals, and want to try your hand at decorating the cover without painting over Jane's gorgeous designs 🙂
For a quick cover grab Jane's FACE STENCIL, draw your outline, flip it, draw another face, then go mad with mermaid markers and water!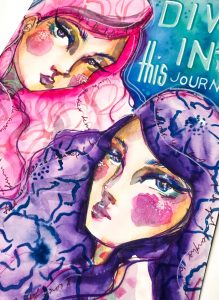 If you're looking for a less messy alternative, grab your favourite papers and ephemera to collage a cover. You could throw some photos on there and kind of scrapbook it together!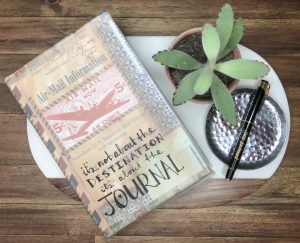 If you decide to switch out your covers (or say you made a Halloween one and want to swap out for Christmas), simply take out your cover, trim up the edges a little and washi tape it inside the journal! INSTANT JOURNAL SPREAD! haha 😉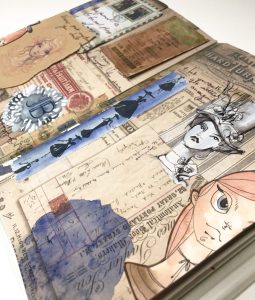 We had a lot of fun pretending we were back at school decorating our school books and I can see myself making a few more… ok, a hundred more…
Enjoy the video guys and make sure you show us your clever works on social media, I love seeing you all try the projects!
the Face Stencil comes in this paint set:
– James