It's a DAVENPartY!
So, I was sitting on the couch feeling very thankful for the way this year has been developing (mostly in part to my growth within this fabulous Creative community we all share in)…
Then it hit me… I NEVER CELEBRATED MAKING THE DAVENPARTY!
It all happened so quickly and at a time where my focus was scattered, and life was changing scarily and rapidly, and I am in complete disbelief that I never celebrated!
So, what better way to celebrate than to host a DAVENP-ART-Y! (see what I did there? haha)
I invited over 3 creative girlfriends and shared a magical unicorn art party with them, filled with lots of Jane Davenport Mixed Media goodies and messy, arty fun!
It's not all donuts and mermaid markers though, I have a few fun ideas to share and hopefully inspire you to host a p-ART-y of your own!
I'm going to show you how I created the:
Art Journal placemats (that were later turned into journal/scrapbook pages)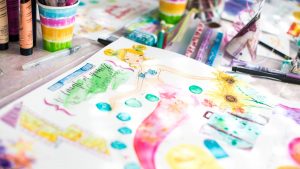 Journal girl inspired Photo Booth props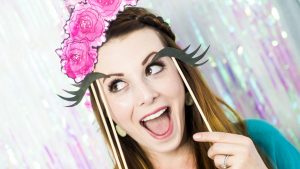 JDMM Unicorn Party horns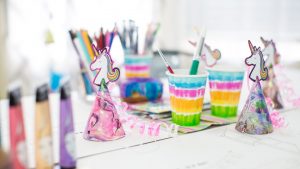 DavenpARTy bunting banner AND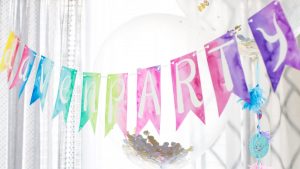 Journal girl Balloon string art (literally couldn't find a better way to describe it! haha)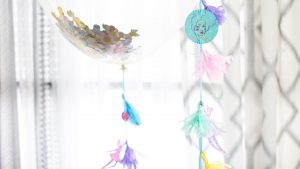 The video has it all and I had an absolute BLAST!
ALSO – at the end of the video I journal the WHOLE PARTY! Literally, I scrapbook all the elements that were created for and at the party into 3 very colorful journal spreads! The only thing I didn't stick in the book were the girls themselves!
Once the girls had finished I scanned their placemats into photoshop and created sticker sheets with all their personalized elements. I got some markers and Moleskine notebooks then assembled little personalized party favors, which are super special because technically the girls created them!
A big THANK YOU to Kaitlin, Haylie and Jaclyn for sharing in the fun, Steve for capturing it all, and obviously, a big THANK YOU to Jane herself! You have given me such a cause for celebration this year and I am not going to miss any opportunity to create, inspire and be thankful!
I hope you throw a DavenpARTy of your own (or just make a Photo Booth for some lazy Saturday night fun with friends)!
Creativity means loving whatsoever you do – enjoying, celebrating it, as a gift of God! – Osho
Enjoy the video 🙂
PARTY,
James 🙂