Journal Covers – Using the JDMM Face Stencil!
I KNOW there are a number of you gorgeous Creatives out there that have this face stencil!
Has she been calling to you? Has she been waiting to be put to good use?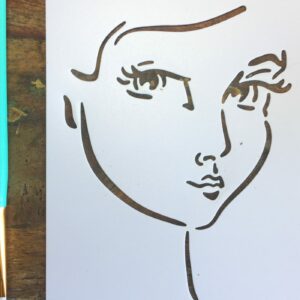 Well, I created this Davenparty project to show you exactly how VERSATILE this stencil can be… and the best part is, I only scratched the surface – there are TONS more ways to use this stencil that you're going to think up yourselves and I can't wait to see!
So, I've gone ahead and created 8 different covers for the Jane Davenport Mixed Media Butterfly Effect books. I'm using the plain canvas covers and applying gess-oh before I start each one (this is VERY important, a lot of our products don't like to play nice on canvas that hasn't been gesso'd). Then I grabbed the stencil and let her come to life! A lot of what I'm saying may be obvious to you, but I've filmed the ENTIRE creation of each cover, so keep your eyes peeled because there might be a tip/trick you haven't thought about already that you can share and inspire others with.
I made some fun discoveries whilst playing, like how to get lovely watercolor effects, and just how many different mediums you can use on the cover! It's quite surprising what you can use once the gess-oh has been applied!
There are 3 videos total because I had a lot to talk about (when am I ever not talking haha) and I wanted to keep them manageable lengths for viewing 🙂
I cannot WAIT to see how this stencil comes to life for you!
– James
🙂
PART 1
PART 2
PART 3