October is also known as INKtober as millions of artists from around the world join the INKtober drawing prompt challenge dreamed up by Jake Parker.
This is the Official 'Inktober' prompt list .

I thought it would add a fun extra 'Jane Davenport' twist if we also looked at all of my different inks throughout the month. I am a little ink obsessed and have created many art supplies to satisfy my inky cravings! Enough to fill a whole month…
Introducing the Jane Davenport INKspiration Calendar!
I am planning 31 days of INKY shenanigans to add to the official INKtober prompts.  You can join in as suits you! You may just want to create according to the INK Calendar, create to the INKtober prompts, or combine the two.
It's all meant for fun and to get you creating! ❤️
You can drag to your desktop or save to your images folder and print: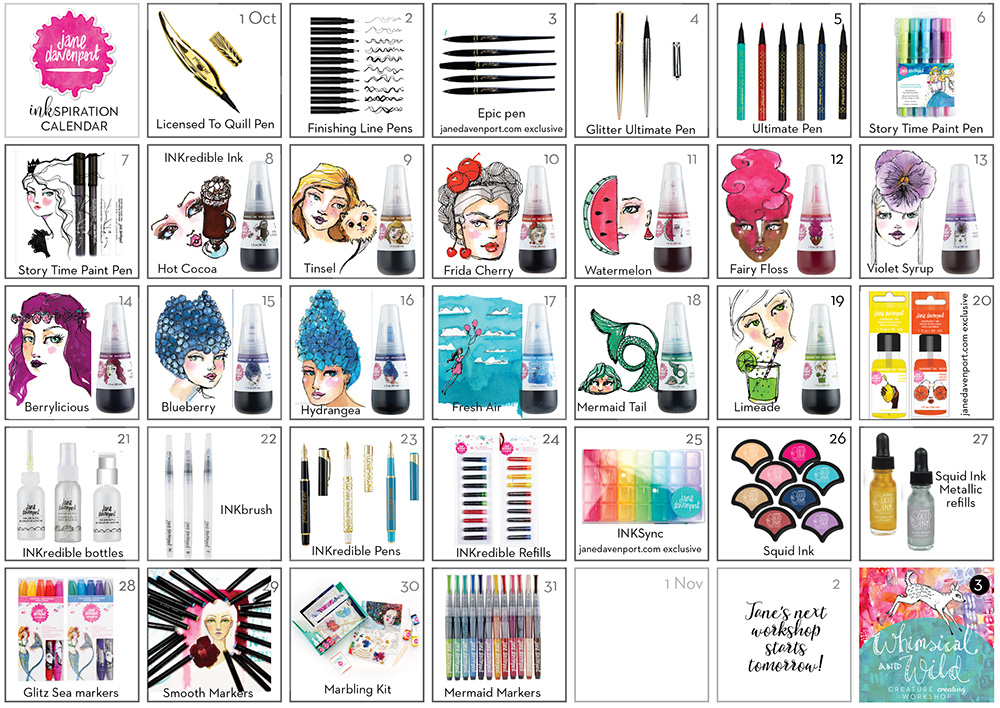 If you have any of these products make sure to use them during INKtober, use the #inktober hashtags and add #janedavenport #nameofinkyitem #inkspirationcalendar (eg#mermaidmarkers, #inkrediblepen etc).
Make sure to upload on social media and on the Jane Davenport Facebook Group for giveaways!
xoxo
Jane