It's the middle of the year already. Yes, really. So It's a good time to take a gander at what has been going on in 2014 and what's to come.

I was entrenched in creating my book when 2014 kicked off.  And with final design reviews and cover choices all just settled, I have just waved my book-child goodbye as it heads off to be printed and  then on to make it's own way in life  (It's due out in January 2015, and yes, it is aaaawesome! Just sayin…. lol!)
My reward for the book was an action-packed trip to the USA, which was so amazing that I have already made my plans for a repeat performance in 2015! Next time with 2 weeks in Mexico for workshops that are so exciting I can't think about them too much yet.
I hit home and was almost off to Perth straight away to visit my parents.  My friend Mandy took me to Wolf Lane – a hidden gem! It is full of incredible Street Art on the buildings – HUGE. I also saw my Mothers Fashion Walk of Fame plaque on King Street. Wolf Lane used to be Perth's fashion manufacturing zone. I grew up playing hide and seek amongst fabric rolls and racks of freshly made clothes!
While I was in Perth, I had a look through the family photo albums and had time to reflect on all the beautiful people I have  in my life.  Look at my cute Granny in her pink dress! And the way my Mum and Dad are so happy on their wedding day.  That bottom pic shows 4 generations and my black fluffy hair is HILARIOUS!
Phew! In between all my major commitments, I have been preparing all my Art Lessons for Cloth Paper Scissors,  overseeing this new site and caring for all my students in my Online Workshops. I also made a commitment to myself to go through all my online Workshops in depth and review each one.  JOYnal, Express Yourself and Frolicaholic have all been re-edited this year. It's an intense process for me, but I enjoy it! I think Supplies Me will be up next for a Live version ( What do you think?).
…aaaaahhh… a pretty fun year so far, but there is so much more to come! Escape Artist retreats in Paris, Bali and Christy Tomlinson coming to stay with me…  and did I tell you I have a weekend workshop at my place  on October 18 and 19. It's the first opportunity I have to have one here!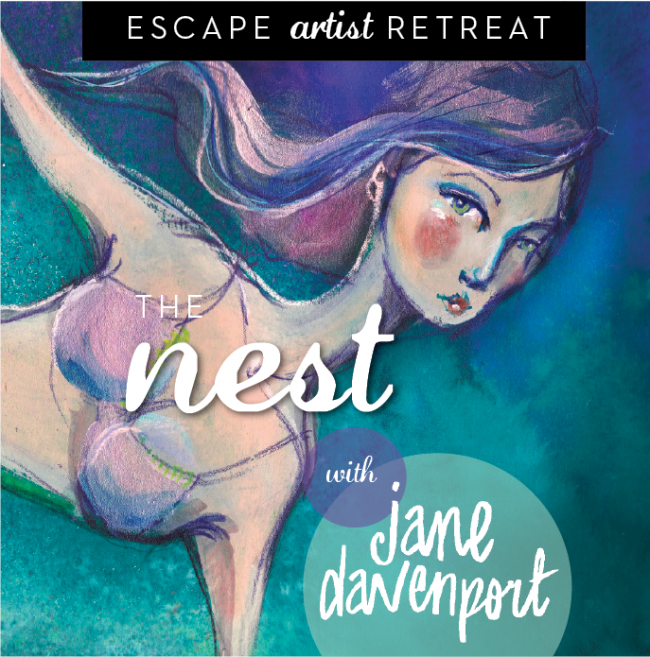 My big revelation for this year has been how good I have become at organising to my strengths. I seem to have unlocked the key to scheduling myself. Or maybe it's just that I now trust in my own ability to do epic shit? lol!
I think scheduling in my rewards (workshops with other artists) and exercising every day have been two key factors. These two things give me 'hard edges' that I can work up to. The reward workshops give me mini-deadlines ( things to do before I go away always get's me moving through to-do lists!).  The exercise keeps me on track each day as the day divides into things to do before yoga, and after! Plus, hello, exercise is good for you of course.
The other part of the super-productivity equation is working with my husband, Angus. He really takes care of me every day and keeps me laughing, loved and happy. He even does yoga with me, even though it's not really his 'thing'. But now that it has improved his surfing, he secretly loves it!
That's my musings for today anyway!
So let me know which of my online Workshops you think i should run 'Live' next!
xoxox
Jane/ Danger