Description
Normal acrylics have a semi-gloss or satin finish which plays havoc with pens, watercolour and layers. They halve the amount of fun to be had! Matte acrylic paint is a mixed-media artist and art journalers best friend because they love to play with others…watercolour, pencils, pens, pastels, markers etc, etc!
…..

Santa's Flesh, Dune's Beige, AC Flesh, Pink Quartz, Sweet Pea, Buttercream.
…..


Dark Flesh, Spice Tan, Medium Flesh,  Salmon, Lilac, Old Parchment.
…..


Seafoam, Turquiose, Laguna Blue, Mermaid blue, Midnight Blue, Fleshtone.
…..

Tropic Bay Blue, GP Purple, Pretty Pink, OJ, Sunshine, Apple Green.
…..


Meditteranean, Passion, Crimson, Orange Soda, Yellow, Spring Green.
…..
Ceramcoat

America's Favorite Acrylic Paint™ for over 40 years.
Delta Ceramcoat premium paint is creamy and pigment rich. It dries absoloutely matte.
Delta Ceramcoat is excellent on wood, paper mache, poster board, plaster,
terracotta, canvas and much more and is perfect for base-coating home décor projects.
Non-toxic,
water-based
2 ounce squeeze bottle
We carry Ceramcoat in our Light Portrait Set: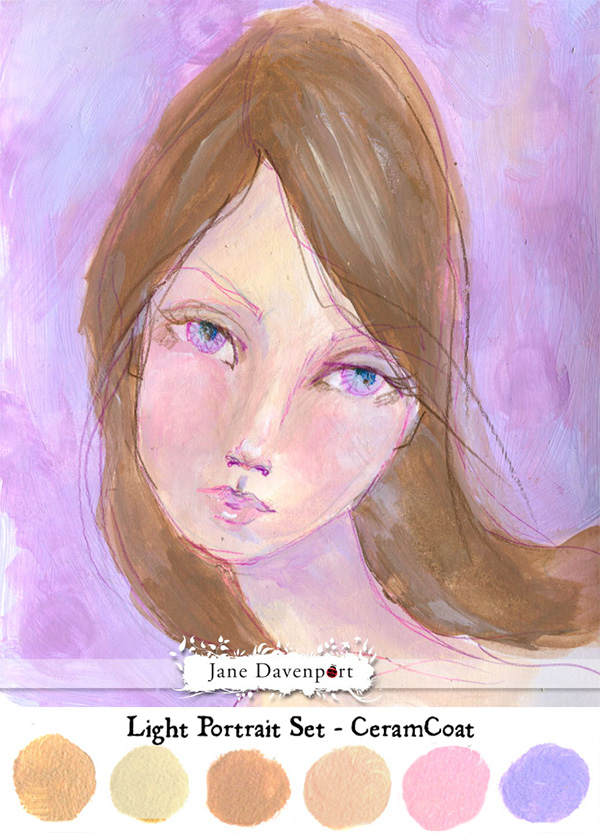 In this video I show how to use these light, fresh colours to create a soft portrait.
……………
Portrait Set
Deeper skintones for more dramatic faces. A fantastic compliment to the Light Portrait set.