USD $130.78 – USD $132.20
This money-saving bundle brings together all of the Art Time items plus a few watercolour extras!
Jane-isms ArtTime Box Set !
Art History ArtTime set
ArtTime Empty 12 pan set
ArtTime Empty 24 pan set
ArtTime strap
3 x  ArtTime Mini brushes!
Brush Cuff of your choice
PLUS! The Hello PopUp water cup as a free gift for you ❤️.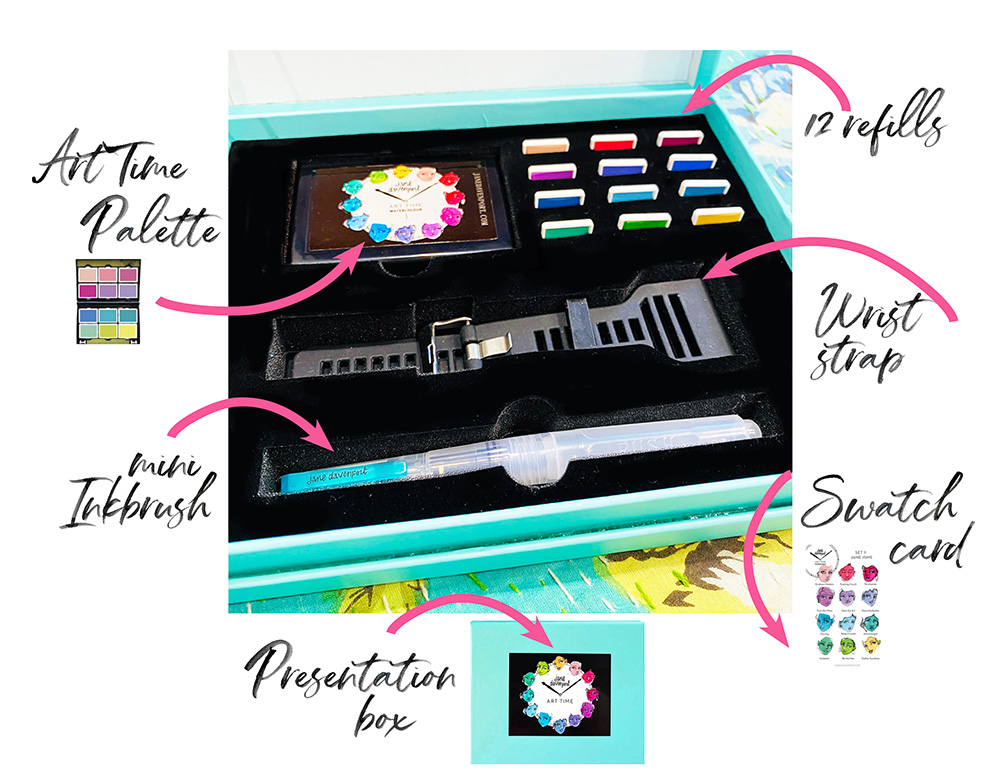 What you might like to know
| | |
| --- | --- |
| Weight | .5 kg |
| Dimensions | 20 × 20 × 5 cm |
Art Time watercolours 'Jane-isms' Box Set
| | |
| --- | --- |
| Weight | .40 kg |
| Dimensions | 19 × 16 × 4 cm |
Art Time- Art History set
| | |
| --- | --- |
| Weight | .25 kg |
| Dimensions | 6 × 6 × 1 cm |
Art Time Strap
| | |
| --- | --- |
| Weight | .03 kg |
| Dimensions | 10 × 5 × 1 cm |
Art Time Mini WaterBrush x 3
| | |
| --- | --- |
| Weight | .15 kg |
| Dimensions | 6 × 6 × 3 cm |
Hello! Pop-Up Cup
| | |
| --- | --- |
| Weight | .15 kg |
| Dimensions | 6 × 6 × 1 cm |
Brush Cuff
| | |
| --- | --- |
| Weight | .05 kg |
| Dimensions | 10 × 5 × 1 cm |
| pattern | Notice -small, Artist At Work-small, Notice- large, Artist at Work-large |
Empty Art Time Palettes
| | |
| --- | --- |
| Weight | .2 kg |
| Dimensions | 10 × 5 × 2 cm |
| Size | 24 pans |
Empty Art Time Palettes
| | |
| --- | --- |
| Weight | .2 kg |
| Dimensions | 10 × 5 × 2 cm |
| Size | 12 pans |