Description
Daniel Smith work with a hand full of artists to create their fabulous 'Dot Try It Cards'.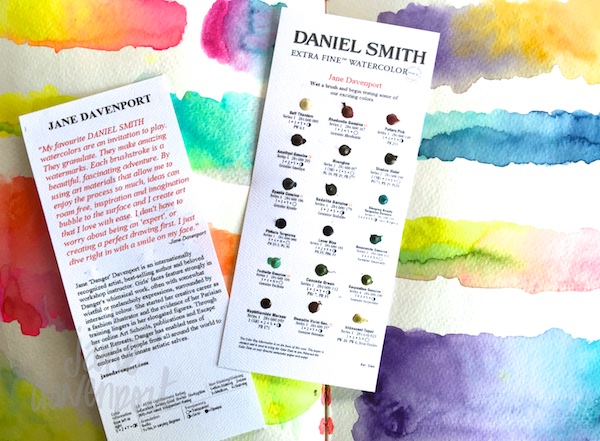 (When stock allows, we include one in your order. Apologies in advance if we don't have any to send!)
These cards contain a sample of each artist-selected colour for you to try!
Daniel Smith create the some of the world's finest watercolours in my opinion. I have a HUGE (seriously it is HUGE) collection of watrcolours from manufacturers all over the planet. I am obsessed with watercolour. OBSESSED.  Daniel Smith make some of my absolute favourites.
So when I got the chance to select my favourites, well it was exciting – but also VERY hard work!
I deliberated and took great pains over creating my collection.
My favourite Daniel Smith watercolors are an invitation to play.
They granulate.
They make amazing watermarks.
Each brushstroke is a beautiful, fascinating adventure.
By using art materials that allow me to enjoy the process so much, ideas can roam free, inspiration and imagination bubble to the surface and I create art that I love with ease. I don't have to worry about being an 'expert', or creating a perfect drawing first. I just dive right in with a smile on my face."
The hues I have selected for my dot palette have all the seductive and unpredictable charm of a mermaid: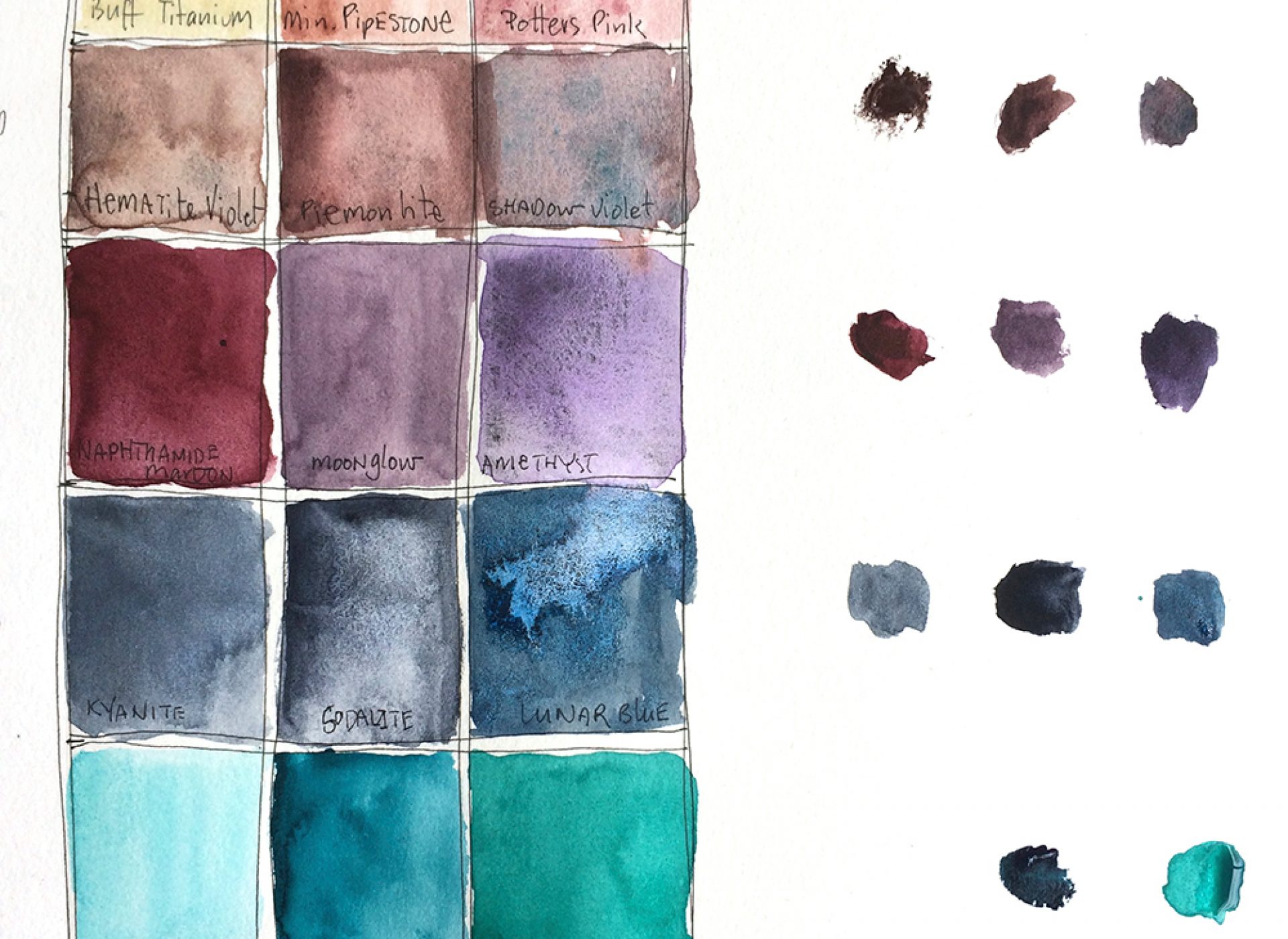 Buff Titanium ( use as a base)
Iridescent Topaz  ( mermaid scales people – mermaid scales!)
Hematite Violet ( such a joy to use for capturing the fine skin around eyes.)
Potters Pink ( the way this colour granulates! )
Naphthamide Maroon (deep red for lips and the deepest part of tearducts)
Rhodenite Genuine ( life isn't complete without some outrageous pink is it?)
Shadow Violet ( a glaze of this tames colours)
Moonglow ( this watercolour defies decription – it is heavenly!)
Amethyst Genuine ( it packs it's own heart-of-darkness)
Kyanite Genuine ( possibly my most used colour)
Sodalite Genuine ( vies for most used colour with Kyanite!)
Lunar Blue ( starts of indigo… andthen  turquoise and cobolt creeps in as the colour develops !)
Sleeping Beauty Turquoise (actual crushed turquoise from Sleeping Beauty Mountain in Arizona!)
Phthalo Turquoise ( no words needed)
Amazonite Genuine ( just like the namesake – this green-blue stands above all others!
Serpentine Genuine ( this is Australian! It separates into two lively greens!)
Fuschite Genuine  ( a wonder)
Cascade Green ( a sage green sea  that harbours a turquoise  lake within it. This will make no sense until you have used this watercolour for yourself.)
Of course there are other foundation colours that I use, but I wanted this dot card to hold some of the extraordinary Daniel Smith paints that people may not have had the pleasure of using before.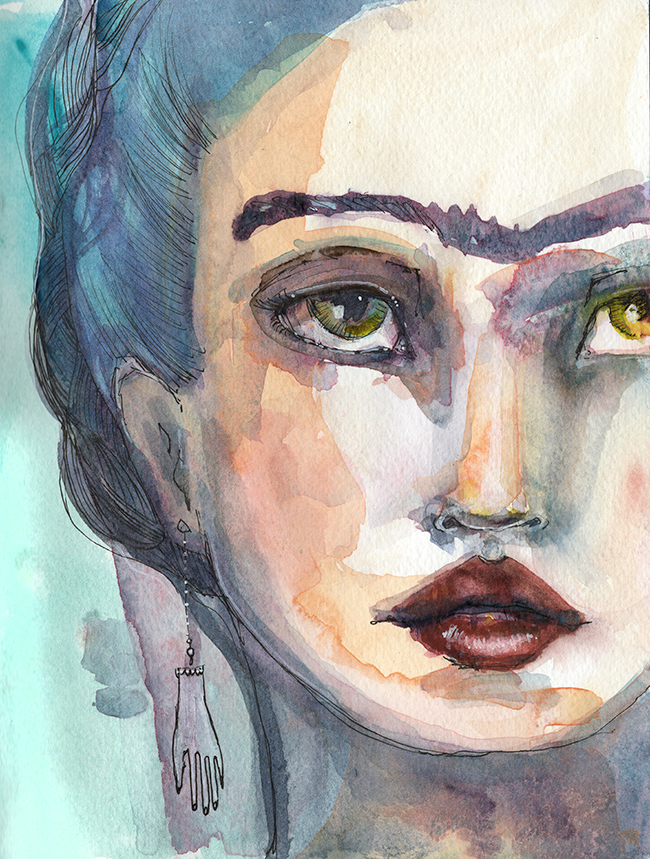 I consider these colours 'alive' because they do so much movement on their own, which makes them so exciting to use.
We also stock the Daniel Smith Dot Try ItCards that contain working samples of ALL 238 colours!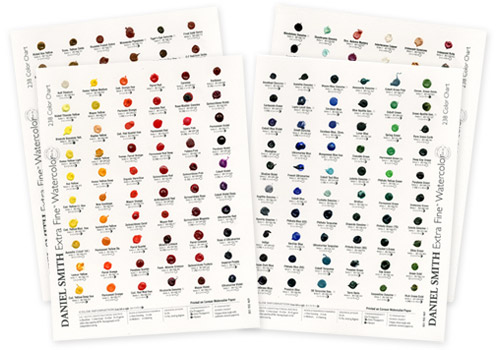 If you love taking a paint brush to a new color, painting out a stroke, watching the color flow across your paper and experiencing the joy of a beautiful new watercolor, then you are really going to enjoy this!
Now you can try almost every color in our vast and innovative line!
Provided on Watercolor Paper, our 238 Watercolor Dot Chart includes the painting properties for every color with a paintable dot you can try out for yourself!
On the 238 "Try-It" Sheets, you will find 32 dots of PrimaTeks, 5 Mayan colors, 12 Quinacridone colors, and all 6 of our Cadmium Hues. There are 48 colors from our Luminescent collection; 20 Iridescent, 7 Interference, 19 Duochrome plus Pearlescent Shimmer and Pearlescent White. Plus, 135 of our Extra Fine Watercolors.
CREATE your Own Reference Book!
Developing an easy-to-use personal reference guide of your watercolors is always a good idea, and our 238 Try-It Color Sheet is a great way to get started! We created a video using our 66-Dot Color Sheet: Watch to see how you can use this even greater 238 collection as an excellent Reference Tool.
As we did for the 66-Card, cut the 238 Try-It Color Sheet into individual reference tabs so that each of the 238 watercolor dots are on their own rectangle.
Be sure to preserve the information (watercolor name, series number, sku number, and color information) printed on the paper for each color.
Using sheets of watercolor paper or pages in a Watercolor Journal, staple each reference rectangle onto a page.
In our example, we used 8.5″ x 11 sheets and punched holes so that they could be inserted into a binder later.
Dip your brush into water, then onto the watercolor dot on the stapled Reference rectangle.
Take up the pigment and paint it out on your Reference Book page.
Brush out the released pigment on the paper, experimenting with pigment density and transparency/granulation.
You can then write in notes about the color, such as Tips and Tricks about Wet onto Wet/Dry Paper Techniques.
Create Mixing References too – combinations that you want to remember and use later.