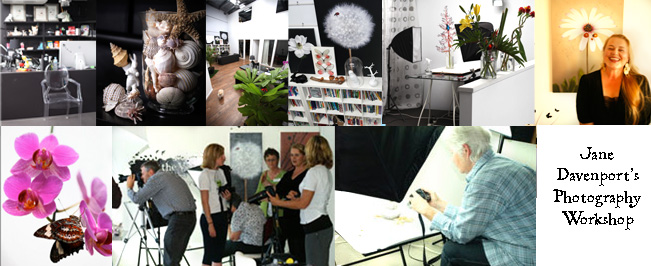 Here is the information about the workshop, just in case you feel like joining in!
Macro and Close-up Photography Workshop
Saturday, January 16, 2010
9am-4pm
Cost $350 inc GST per person.
Jane Davenport is an internationally renowned photographic artist based in Byron Bay. Her large-scale outdoor art installations have toured across the world, been enjoyed by millions and featured extensively in the media. Jane's is Australia's most successfully licensed photographic artist with card, stationery books and poster ranges available globally.
Jane has taught many photo workshops, but this will be the
first in her spacious Byron Bay studio. This is a very rare chance to work alongside her. You will leave full of inspiration, new skills and the courage to fully embrace your image making potential!
Jane will focus on the close-up and macro world of photography as there are many elements that relate only to this fascinating genre of image-making. Of course, many of the skills you will learn can be applied to any type of subject from landscapes to portraits. You will work with creating arresting still-life compositions and move on to the very challenging and rewarding realm of live subjects. You will work inside the studio and outdoors.
This intensive workshop suits photography lovers of all skill levels!
You will be creating images throughout the day and Jane will conduct a review of your work.
To see more of Jane Davenport's work visit the gallery or click here for her Limited Edition prints. You are welcome to call the studio (AEST 10 to 6pm) 02 6680 8550, or use the email link in the sidebar.