Welcome to a haven of colour.
Unique art supplies, books and lessons to help you create with freedom!

I'm a professional artist, art workshop teacher, 5x bestselling author, art supply creator and self-diagnosed art supply addict! I'm a creativity expert who has guided tens of thousands of people back to their art, defying their self doubts and making art with joy and confidence. I share my mixed media art and drawing techniques with everyday artists who feel their creativity calling them to play with colour, texture and their art supplies.
Thousands of people have shared with me the same old story — they loved to draw as a child or teenager until someone told them they were no good at it (in their opinion) and they abandoned their love for creating for decades. Years later, they feel the call to create, but are held back by self-doubt, perfectionism and the fear of failure, so much so it can feel debilitating and cause procrastination.
But here is one thing I know for certain: your creativity isn't outside of you or laying somewhere forgotten. It's only a small inner click away, a heart-shift from now, a joy that wants to make its way from the heart of you and down through your hands and into the world.

Explore your Colourful Haven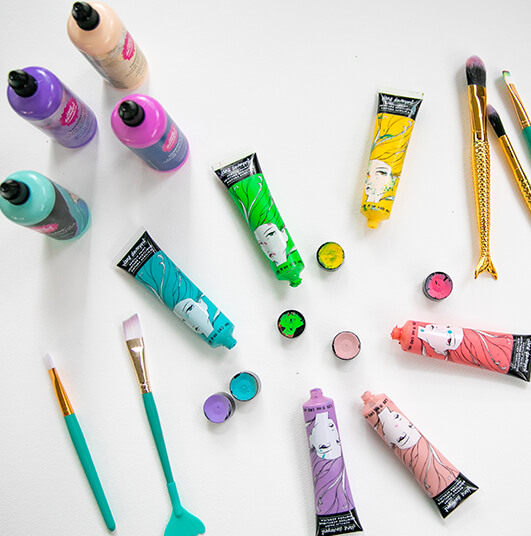 I slake my unquenchable passion for art supplies and stationery by designing my own collections!  Why can't our supplies be as gorgeous as the art that's going to be made with them?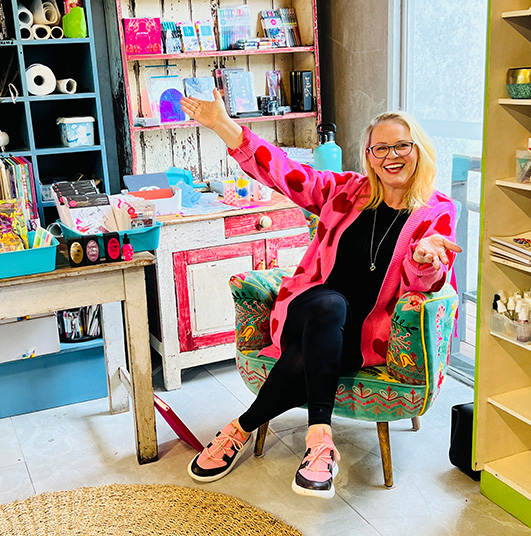 Creating art brings such joy, clarity and relaxation. Are you ready to discover all the ceative juice Mixed Media has to offer?
Come paint with me!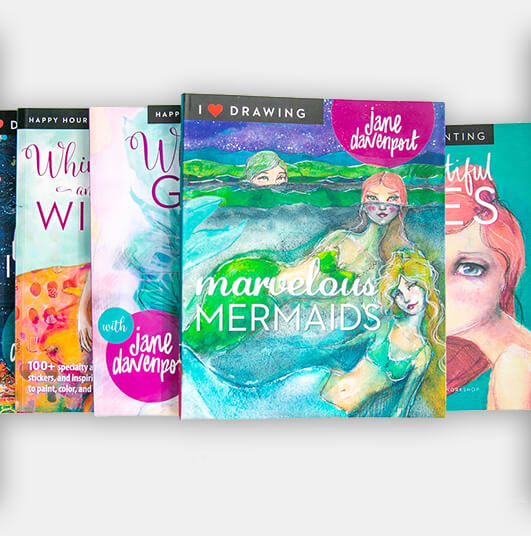 Explore all of the bestselling art books where I share my art processes in detail and give you a fast-track to creative learning!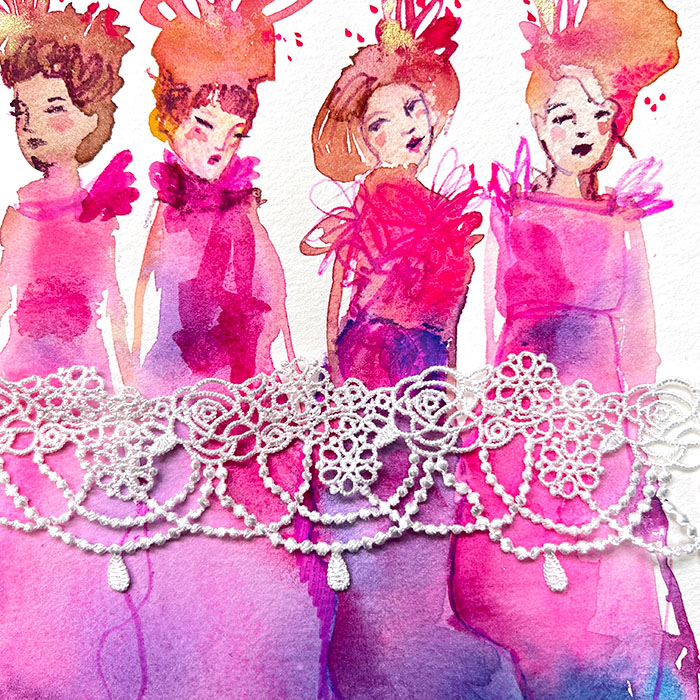 Help me find my
Creative Feet
You have the urge to draw, but something's holding you back. Maybe it's fear of 'failure' or disparaging words still ringing in your ears from childhood. You may not have picked up a pencil or paintbrush in years but drawing is calling to you! You feel stuck in your own self imposed creative gravity and maybe even confused by all the art supply options out there.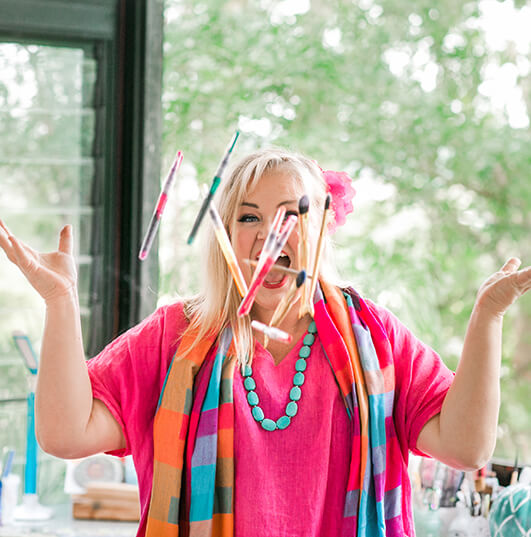 I'm ready to respark
my inspiration
If you're an arty person who has some skills & techniques under your belt, but would like continued inspiration & guidance, this section is for you. You probably have lots of art supplies that sit there, untouched, making you feel a tad guilty. Maybe you can't seem to find the time or energy to create and feel a bit creativity lost & stagnant. If you want to stop randomly dabbling & start consistently creating, I can help!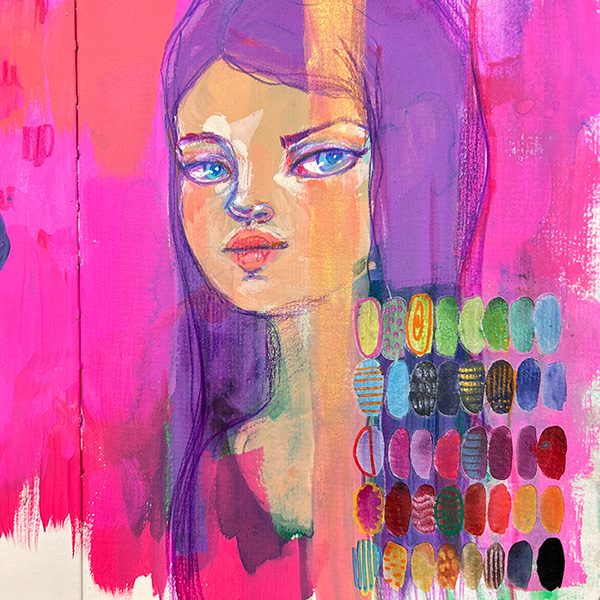 I want to feel like an
Artist with a capital A
Are you artistic, but still don't feel like a 'capital A' artist yet? Maybe you love art workshops already and want to keep deepen your skills. Perhaps you've progressed through our starting steps workshops and are ready to draw more complex figures from your imagination. Do you dream of developing your own style? 

Dive into the most gorgeous art supplies on the market.
Not sure what art supplies you need?
Start here!


What will your story be after you find Jane?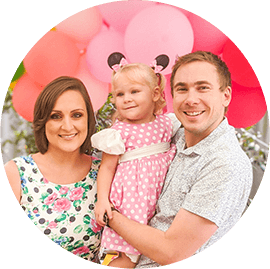 Before Jane
My art life was non existent before I discovered Jane's workshops and art supplies. I didn't know how to use any art supplies or how to draw a face. I hadn't drawn since highschool and never felt inspired by anything. That is until I found out about Jane.
After Jane
Today, I've never been this creatively inspired. I feel like my creative cup is full bow that I've discovered Jane.I became instantly gripped by her art philosophy (be kind to your art and use your supplies).I soon caught rainbowitis became totally obsessed with her art supplies and books. love Jane's bubbly personality and her unique way of teaching.
Ronelia, South Africa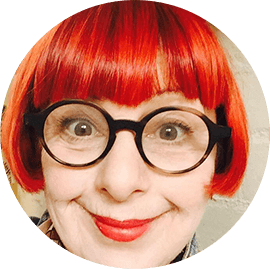 Before Jane
I was one of those children who could draw. Art, even at an early age, was a strong part of my identity. My parents strongly discouraged me from drawing – in fact they even confiscated my pencils and paper. They thought I was wasting my time. When I got to high school, it was worse."You're not that good" were my art teacher's words. So I stopped. Just like that. My heart was broken, and I didn't feel like myself any more.
After Jane
When I found Jane's Beautiful Faces book, opening the covers of that book was like coming home again. Jane's teaching style is gentle, joyous, loving and encouraging. I haven't looked back. That little girl who could draw, is drawing again.
Chrissy, Australia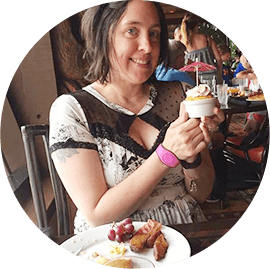 Before Jane
I am a 100% disabled veteran. During my military service, I suffered two major traumas. Then About six years ago I couldn't even get out of bed. I eventually found my voice again and was able to tell my story, grieve for my traumas of ptsd, mst, and major depression. But what was missing in my life was creativity.
After Jane
I started watching Jane's videos and loved having fun and playing with art. Jane wants everyone to feel like the artist that we all are no matter what skill level. Because of Jane Davenport helping me find the artist that I am, I can now help other women veterans discover that same joy. Truly I love your products and honestly, I am always looking for more.
Carissa, USA
I started drawing as a child and basically never stopped.
My parents encouraged me and at school I was a 'kid who could draw'.  I dearly wanted to become a fashion Illustrator and went on to study both in Australia and Paris (ooh la-la!). I realised my dream and added textile design, styling, fashion design and photography to my skill set while living in London.
Although I loved living so close to Europe, eventually the English winters got the best of me, and I decided to return to Australia, met my now husband and we moved to Byron Bay for the beauty of the region and the surf. We opened an Art Gallery and I started to teach small weekend art workshops.
My passion for drawing and painting grew and grew! I became an expert about Mixed Media art supplies, started teaching online and  was invited to write a book about my processes…it was a best seller! I stated to collaborate with art & craft supply companies on my own collections of colour sets and supplies, such as Daniel Smith, Schmincke, American Crafts, Gelli Arts, Spellbinders, Cosmic Shimmer and Creative Expressions. The extremely succesful  "Jane Davenport' ® Brand of Art Supplies was born and stocked in retail giants across the USA (Micheals, Hobby Lobby and Hobby Craft).
More recently, I have been creating more and more art supplies as exclusives for my website. Specialised mixed-media supplies that 'Davenpeeps' immediately get, and that add joy to the drawing & painting process. More than that, they are INFUSED with a magic call to create. Art creates joy, and to be part of that process for so many people is a wonderful privilege.