Celebrate an icon,
celebrate your art! 
In this workshop we take inspiration from the life of Frida Kahlo. Using her iconic image I show you my secrets to mixing a beautiful variety of skin tones and drawing a wide mix of faces with varying proportions and placements. Let's expand conventional beauty.
We go in-depth with sketching the turned face, adding colour using three distinctly different supply-oriented techniques! We expand on our own 'versions' of the icon to incorporate her life and love of Mexico into collage.
With this incredible woman as inspiration, I have created what I feel is a workshop full of heart and true skill-building lessons.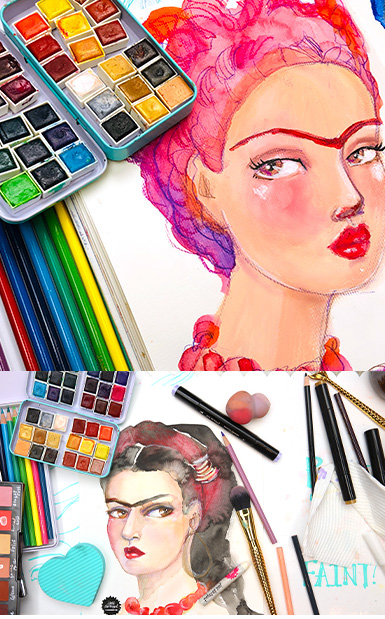 Are you fascinated by Frida Kahlo? Me too!
Why am I obsessed with Frida Kahlo? ❤️

She proved to me that you don't have to fit a box and follow rules made by others.
That you are beautiful just the way you are and that your art can be meaningful just the way it is.

Maybe what resonates most with me is  how she was lead by heart-felt passion coupled with with tenacity and perseverance.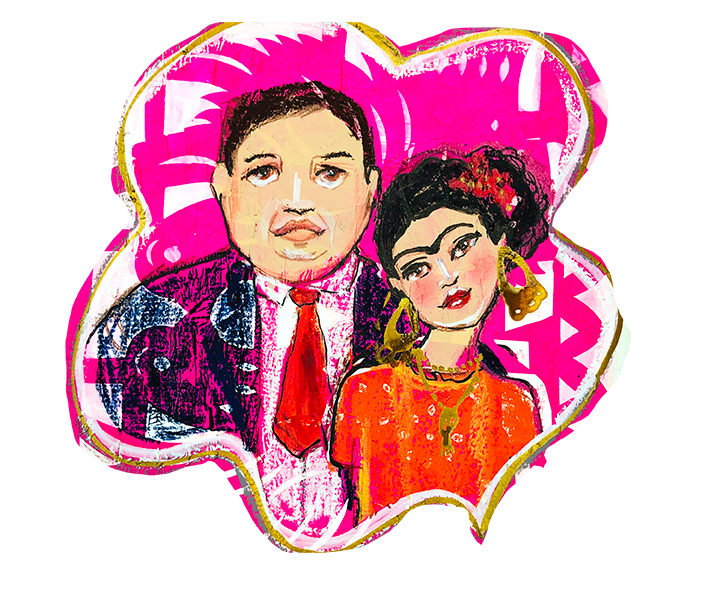 Frida continually challenged her self to improve her skills, and balanced that with time to relax, contemplate and laugh with her loved ones.  She remained curious and broadened her horizons with travel. She collected objects that fascinated and thoughtfully placed them in her home  that became a personal sanctuary surrounded with plants, colour and beloved animals.

Frida Kahlo inspires through her art and her life illustrating that gender, age, nationality and dire personal circumstances can be transcendental elements. I adore her soul!
A few more details…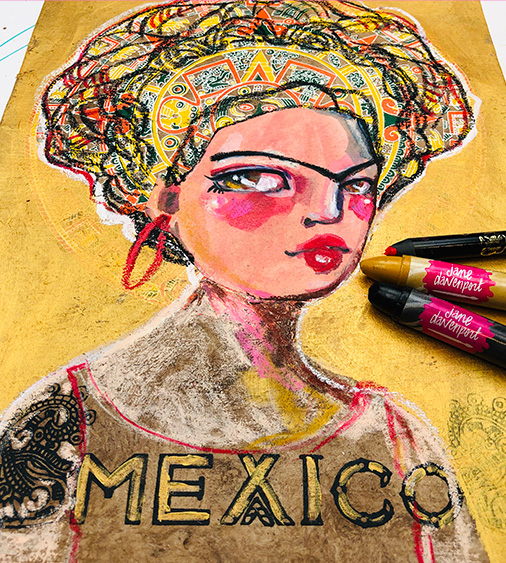 The workshop is just as suitable for beginners as my loyal Davenpeeps (an affection term of respect for people that love doing all my workshops!).
If you have never done an online workshop before, prepare yourself for an illuminating experience. And if you have studied with me before, you already know of the fun, joy and skill sharing engrained in every element of my workshops.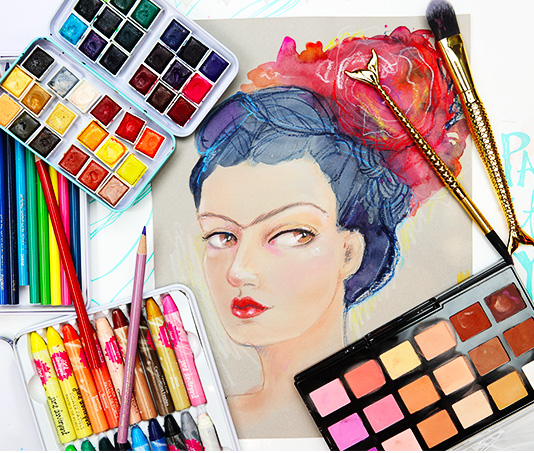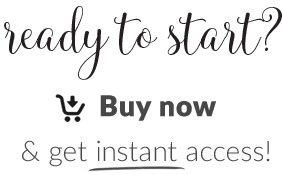 The Viva la Vida online workshop opens on Frida-uary 1st, 2020

As with all my online workshops, I have created this class so you can take all the time you need and let the magic happen! With lifetime access you can revisit, rewatch, recharge and remind yourself of all the art supplies, all the drawing lessons, all the mixed media inspiration whenever you want.

You need never feel embarrassed about not 'clicking' with a new skill straightaway. It's a terrible feeling when you feel left behind, or that you don't 'get it' and everyone else does in a learning situation! But you will NEVER feel that way in my classroom because you can pause and rewind, and ask questions in our private Facebook group, or via the help desk.
I have loved the opportunity to help so many thousands of creative people from all around the world build their skills and fall in love with their own art. The freedom to create whatever you want with a feeling of ease and excitement, even when confronted by artistic challenge, is what I aim for personally and teach.

I hope you join me on this artventure!
What do you get?
As soon as you sign up for Viva la Vida, you have access to our safe and well organised classrooms.
Each of the 9 major lesson is comprised of several projects and exercises shown on high quality videos. Each lesson has accompanying instructions and reference images. The videos are around 7 to 20 minutes each.
You can create along with me, pausing, rewinding and rewatching as needed. Or watch the videos first, and then create. The choice is yours!
You can ask questions via the friendly 'help desk' or join the optional private facebook group to post queries. Full instructions are on the site if this is your first online class experience.
You can share your progress and completed artwork in the Facebook group as well. It may be nerve-wracking the first time you do it, but trust that you and your creative soul will benefit exponentially by being courageous and sharing your work!
I have been teaching online since 2011 and absolutely LOVE helping creative people step more confidently into making the art of their dreams.
Let's have some fun and do art together!
xoxo
Jane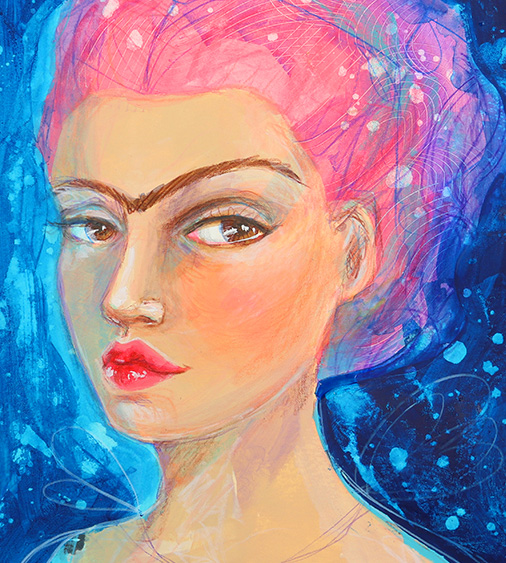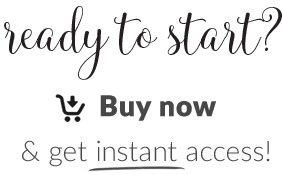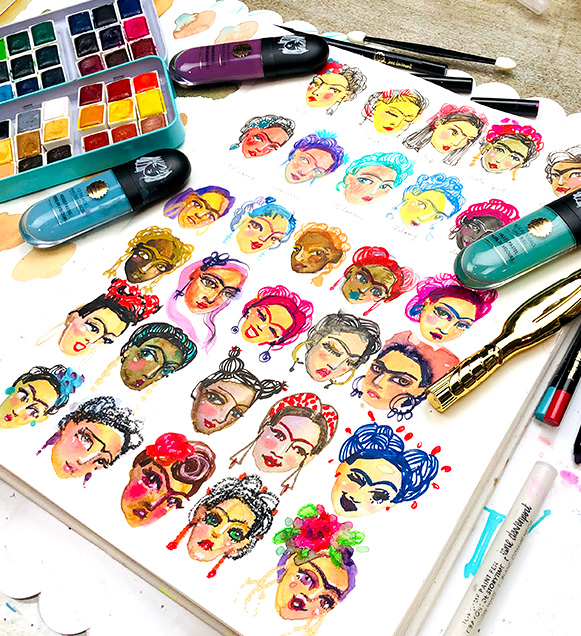 What do you need?
This is a summary list for the supplies you will see me using from all the lessons.
You don't need all of these items, and you can make substitutes.
'Finishing Line' permanent fine line Pens: click
'Jane Davenport Petite Palette' Watercolours: click
'Palette Pastels' soft chalks: click
'Baton Blenders' foam applicators: click
'BlendIn' foam sponges: click
'Ultimate' permanent brush pens: Thriller Jacket, Gold Bullion, Made in the Suede: click

'Storytime' paint pens: Snow Queen white in particular 

click

'LTQ' permanent brush pen :

click

'Magic Wands' color pencils :

click 

'Jane Davenport Watercolor Journal' or smooth watercolour paper:

click

'Confetissue' : click
Liquitex Matte Medium: click
Paco Papel: Amazon
'Aquapastels' watersoluble crayons: click
Velvet Pastels: Monarch, Neon Queen, Pink Princess click
'Power Pastels' wax crayons: click
'The Detailer' travellers small watercolor brush: click
'Mermaid Tail' acrylic brushes: click
'Mermalicious' soft pastel Brushes: click
CharisMATTic acrylics: click
Light Portrait Acrylics: click
Matchmaker Acrylic set: click
Mermaid Markers : Celestial Sky
Mermaid Markers: click
Inkbrush: click
Aquabrush: click
This workshop is a wonderful way to learn to use all your Jane Davenport art supplies!

I totally hoard art supplies but sometimes they lay barely used. You have really got me reaching into that art bag of mine and bringing out pens, pencils and paints like they were new.

This classroom is such a hub of activity - its impossible to comment on all the posts but I have read most …and visit often to feast my eyes on all the talent you have unleashed in your workshop.

I just wanted to tell you how much I enjoyed your videos and all the wonderful feedback you and the other students gave me. Can't thank you enough.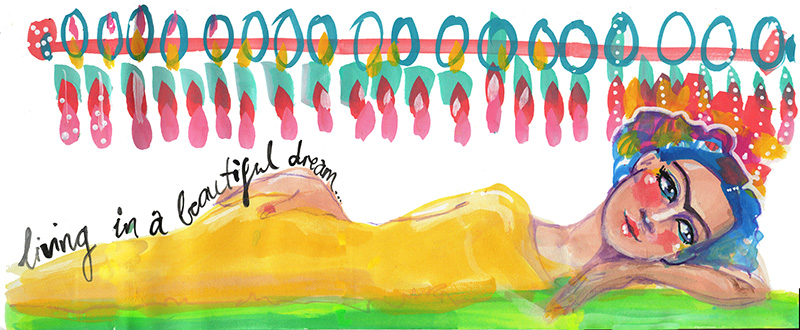 Sample Student gallery You learn, have fun and save $!!