Seas the day!
As artists, I believe we should go where we are DRAWN. If you have a love for the creating faces and figures from your imagination, then this workshop was mermaid for you!   Dive into a whirlpool of new watercolor techniques and have a whale of a time with me as your FINstructor.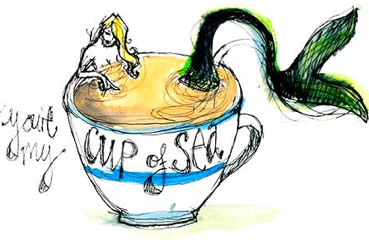 Prepare to be mermesmerised!
I want you to be endlessly inspired to create your own expressive, meaningful art! I like to think of Watercolours as a collaboration where you each suggest ideas and then run with it. Once you appreciate and understand the way it likes to play, you will quickly dive into the whirlpool with confidence!

If this is your first workshop with me – Welcome!

If you are a Davenpeep (a term of endearment for someone who loves doing my workshops!), then whis workshop builds on beautifully from my skill-based workshops ( Supplies me,Beautiful Faces and  I Heart Drawing). We will be building on from lessons learned in all my other workshops so you can continue to add complexity and movement to your original artwork.

We will be diving into a whirlpool of new watercolor techniques as well as pencil, ink, acrylic and pastels.

We will be building up to more complex faces and figures ( all step by step of course).

 Vitamin Sea is a Mixed Media workshop, but the emphasis is on Watercolour and its relaxed beauty.
 Lesson 1 – Tide Lines
Making hand-bound art journals and shaping the pages so they tell a story of their own!
Lesson 2 – Sea Spray
New ways to use watercolors, papers and a whole lot of wild art fun!
Lesson 3 – Taming the Wild Ocean
Creating the Undersea Royal Court
Lesson 4 – Marie Planktonette
Hair and bodies that defy gravity
Lesson 5 –Body of Water
Jane's and Undulating Spine Line™ method for Constructing the figure!
Lesson 6 – Keep Urchin Up
Drawing the tilted and turned face
Lesson 7 – Seal of Approval
Creating an underwater entourage A Shimmer of Mermaids: A Splash, a Gossip, a Pod , a Miracle ! Whatever you want to call a group of mermies, we are creating them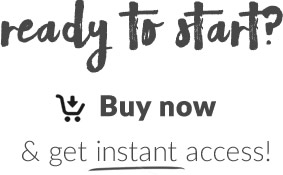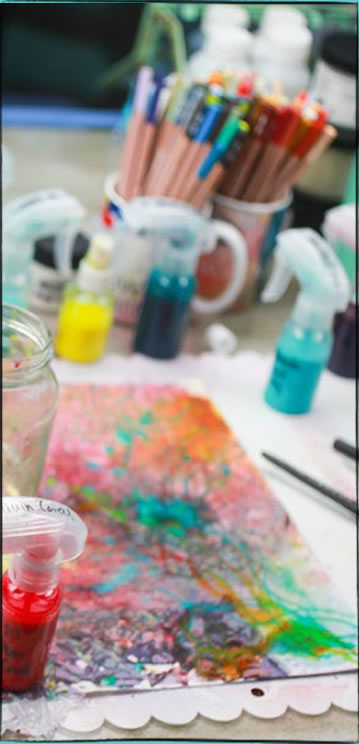 A few more details…
I have created this class so you can take all the time you need and let the magic happen!

All sessions for the Self-guided study classes are up when you arrive. This means there's no waiting for projects to be posted and you can take the course at whatever pace works for you.

You can revisit, rewatch, recharge and remind yourself of all the art supplies, all the drawing lessons, all the mixed media inspiration whenever you want.

You need never feel embarrassed about not 'clicking' with a new skill straightaway. It's a terrible feeling when you feel left behind, or that you dont 'get it' and everyone else does in a learning situation!

But you will NEVER feel that way in my classroom because you can pause and rewind, and ask questions.

What do you get?
Vitamin Sea is an online Workshop unlike any other.
This is an experience.
Along with step-by-step, rich-with-detail technique lessons, INSPIRATION is on the menu.
7 Lessons of dizzying creativity!
Drawing and painting more complex faces and figures from your imagination!
Illustrative, whimsical, expressive faces!
Flowing, fabulous Hair.
Step by Step videos detailing Jane's creative process.
more of Jane's watercolour and mixed media Secrets!
detailed shading to create volume
Using watercolour in new ways to create mermesmerising backgrounds!
Videos will be typically between 8 and 20 minutes long each.
After you Register, you will receive your receipt for your records.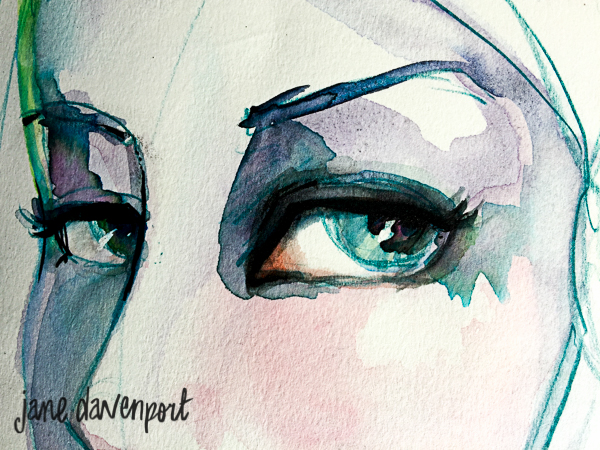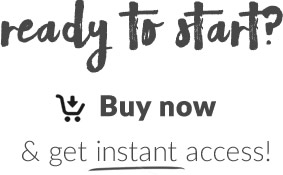 What do you need?
Supplies
Let me just emphasise that you don't need all the art supplies in the universe to complete your assignments! You can use whatever art tools you have. Will I be showing you all sorts of amazing supplies? YES!
Do you need all of those supplies to create along with me? NO!
Vitamin Sea Supplies List ideas
Things that would be  lovely for this workshop:

Pastel pencils
Optional: Pastel Premier Sanded pastel paper, white, 400 grit, 9×12 pack : click here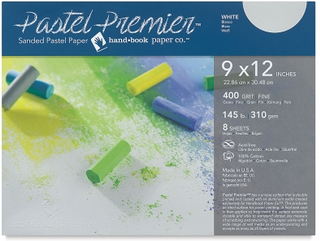 Small spray bottles
Access to a colour copier or ink jet printer will be beneficial.
A fast computer & high-speed internet service to process & watch the videos will be vital as well as enough technical know-how to navigate the site. If you are regularly able to watch Youtube videos of up to 15 minutes in length w/o interruption you should be just fine. Do please make sure though, since tuition is non-refundable once your password to the class network has been sent.

There is something really special about taking a class with Jane Davenport. It transports you to a place that you never thought you could go--- drawing faces, bodies and using your imagination to put your own twist on your drawings. I swore I couldn't draw much less a person/mermaid but here i am in the middle of Vitamin Sea drawing and painting and finding a new me, a me that can draw, paint, and loves it. There is something about Jane that will show you there is a you inside yourself you didn't even know existed!

Vitamin Sea has pushed me to the limits of my creativity in the best possible way! I bought Jane's "Beautiful Faces" book just over a year ago and have since taken 3 of Jane's classes! If you are unsure of where to begin, try Supplies Me! If you want to have a lot of fun and challenge your creativity, try Vitamin Sea! You won't regret it! So many different techniques and so much fun!

Jane Davenport opened up the world of art to me. Eight months ago I struggled to draw a stick figure, but on a challenge I took Jane's "Draw Happy" class and I began to practice. I fell in love with Jane's playful and easy style that made learning, making mistakes, and trial and error, so much fun!!! Soon, I discovered a part of myself that had been hidden and buried in self-doubt and I fell in love with art and colors and supplies!!!! I bought her Drawing and Painting Beautiful Faces book and followed Jane on another fun journey. What an amazing book full of inspiration!! The next stop on my journeys with Jane was the Wonderland workshop and it was transformative! Following Jane once again with such a magical and whimsical theme made it less like learning and more like a real adventure, trying new techniques without fear of making mistakes. I learned so much about how to use my tools and using new substrates. When Jane announced a new Vitamin Sea workshop I knew I couldn't miss it. I'm so thankful I didn't. Vitamin Sea workshop brought new mediums and supplies to explore and learn. Jane always brings her creativity and innovation to her students and always manages to teach in a way that is never critical and always encouraging. In eight months, with Jane's imaginative teaching and daily practice my art has transformed and she made me laugh so much along the way! The community of other students taking Jane's classes are so generous and encouraging and an added bonus! Thanks, Jane, for showing me a side of myself I didn't even know was there! You are the BEST teacher and I can't wait for our next adventure!
Student gallery You learn, have fun and save $!!