 from best-selling author,
Jane Davenport
Get step-by-step support to grow your art skills from the comfort of your own home with my art books. I have 5 bestselling art books, which means that they are ADORED by thousands and I bet you'll love them too! My books are available here (all copies are signed!) as well as Barnes and Noble, Amazon, Booktopia, Book Depository and wonderful independents!
Beautiful faces is an inspiring, mixed media workbook on how to create enchanting fashion illustration-style portraits.
Start with a heart shape . . . and end with a beautiful finished piece of art! You'll love Jane Davenport's fabulous, fun, and amazingly easy technique for drawing figures.
This little book can be used as an a goal setter, a dream machine or inspiration station! It's designed to get you thinking creatively and hone in on your passions.
This is not your typical coloring book. Reclaim your creativity with this one-of-a-kind workbook of fabulous females to personalize! It's perfect for coloring enthusiasts and mixed-media artists.
Jane Davenport dives deep into the ocean to explore the wondrous world of mermaids. She shows how to draw and paint these sensuous sirens, with their perfectly proportioned figures, shimmering scales, and all.
Why just get one Jane Davenport art book when you can get all 6 and save money in the process! This collection will have you confidently creating art you love in no time!
Looking to Start Journaling or re-ignite you creativity? This bundle brings together a perfect starting place for you!

Want to go even deeper than the book?
Did you know that many of my books come with a corresponding online workshop?
You'll be able to watch videos of the exact process I took to create the art in these books IN-DEPTH as well as the added benefit of a built in community of fellow supportive artists to share the beautiful work you create from the book with.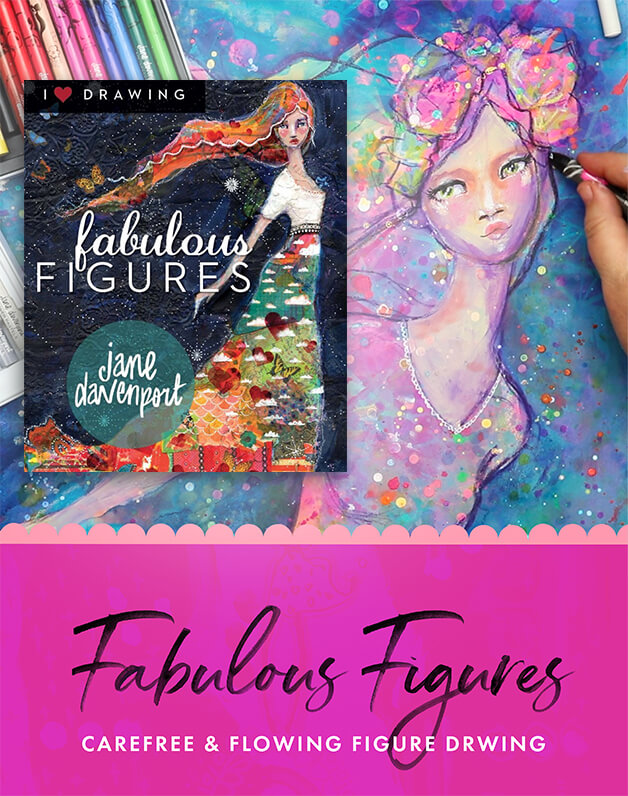 Create free flowing figures with ease
This workshop looks like an in-depth companion to my best-selling book. Create colourful women from top to toe! My first job was as a Fashion Illustrator, and over the years I devised my own methods for drawing beautiful, in-proportion figures.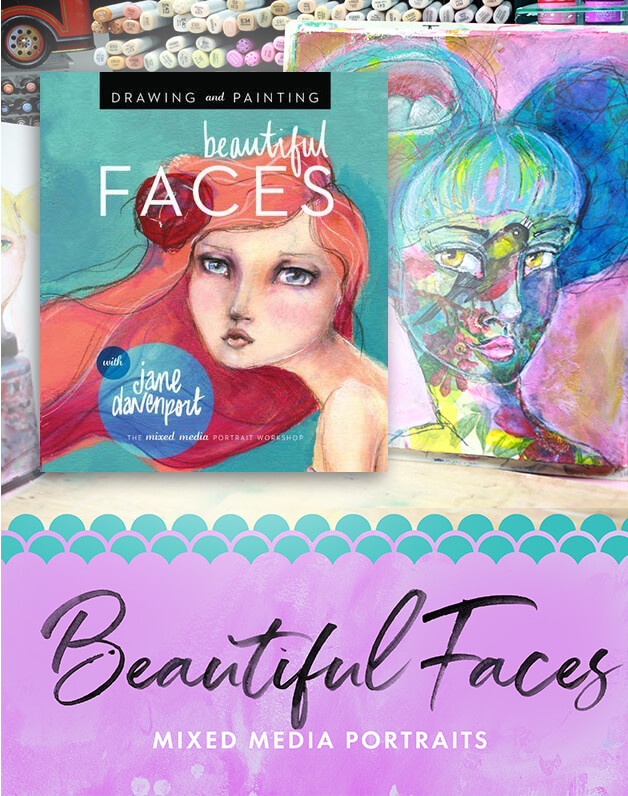 Can you draw a face as well as you would like?
Drawing and Painting Beautiful Faces' is an inspiring, mixed media workbook on how to create enchanting, fashion illustration–style portraits. This Online Workshop brings the book to life!
Want all the supplies you need to complete the exercises in your book? Then grab a bundle!
A signed Copy of Jane's best-selling book, Fabulous Figures, some wonderful art supplies featured in the book and the Fabulous Figures online workshop with a huge discount!
This Kit is as happy as a rainbow! A signed copy of Jane's best selling Art Journal 'Whimsical Girls, the gorgeous Art Time watercolour set, Aquapastels and Magic Wands. And for a great price too.
Get the book and the art supplies you'll need to complete all the exercises while saving money with the bundle! The bundle includes the book, Inkredible Inks, Licensed to Quill Pen, Dustless Crayola Chalk, Sparkling Watercolour Mediums and Mermaid Markers.
A signed Copy of Jane's best-selling book, Fabulous A lovely parcel of goodness! A signed copy of Jane's ' Imagine Out Loud' guided journal, a set of her Bookish erasers, Rainbow Twirl pancil and a lovelt Tin of Friends wood block stamp set!
An ocean of fun! A signed copy of 'Marvelous Mermaids, sumptuous 12 colour watercolour set in GlitzSea, the Mermalicious watercolour brush set, Shimmering Pastels ( that have a mermaid tail embossed across them!) and Baton Blender applicators!
Get the book and the art supplies you'll need to complete A signed Copy of Jane's Book, and a fabulous kit of art supplies to use as you learn from the pages!