Garden Guardians from the Vaults! USA Edition
From 'Artomologist' and insect expert Jane Davenport, comes The Garden Guardians , the best-selling and award-winning book that helps you identify, look after and attract your very own Garden Guardians (otherwise known as beneficial insects).  Remember….You're not the only one hard at work in your backyard!
This 4th Edition has been completely reworked with new images and information.
The Garden Guardians is over 130 pages of detailed information on beneficial insects and other wildlife.  It contains more than 300 colour images of these fascinating creatures to help gardeners identify them. But don't worry, it's no boring textbook!  It's written in Jane's easily approachable style and is perfect for all ages and garden skill levels.
Celebration!
The Garden Guardians 4th Edition
won the Environmental Book category
at the prestigious Laurel Awards from the HMA
(Horticultural Media Association).
This jaunty little video showcases the previous Edition, but you can see the fun and colour this book brings to the garden!
Section One introduces the Garden Guardians and showcases over 20 different groups of insects.  Included are ladybirds (of course), spiders, hoverflies, lacewings, predatory beetles and many many more.Learn how to identify the 'good bugs' and discover what they are doing for you. Attract thousands of tiny free workers to your garden and make it a healthier and more enjoyable place to be! There is also plenty of practical advice and tips on how to look after your Garden Guardians!
Section Two provides useful tips on how to look after the Garden Guardians and how to attract more into your garden.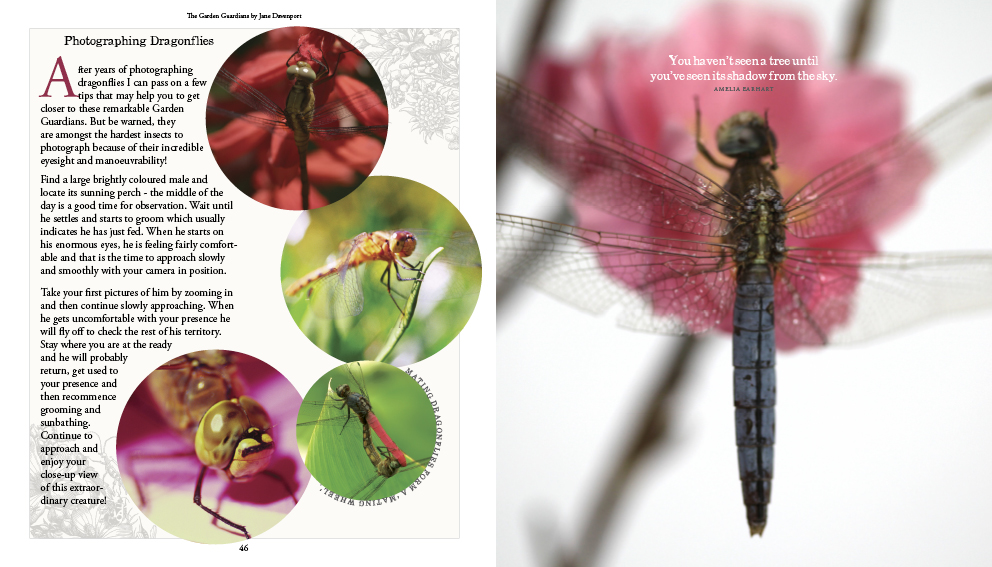 Section Three gives you ideas on how to control pest problems using organic methods and our lovely Garden Guardians.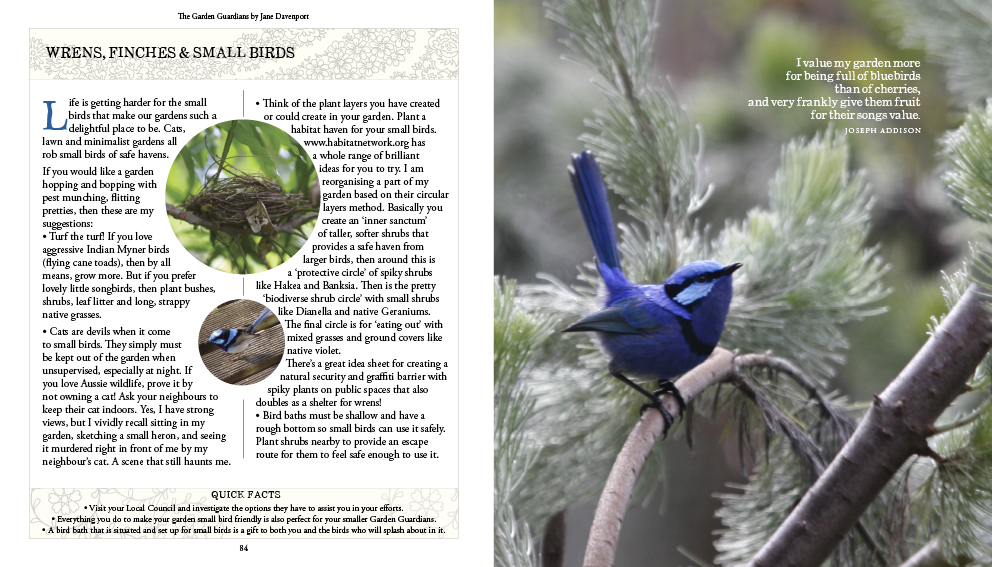 Section Four is the Bugliography!  Its the quick reference section which puts the insects into their scientific classifications and provides details on some very nasty pests.  It also lets you know where you can buy beneficial insects and where to go if you're after more information on insects and organic gardening.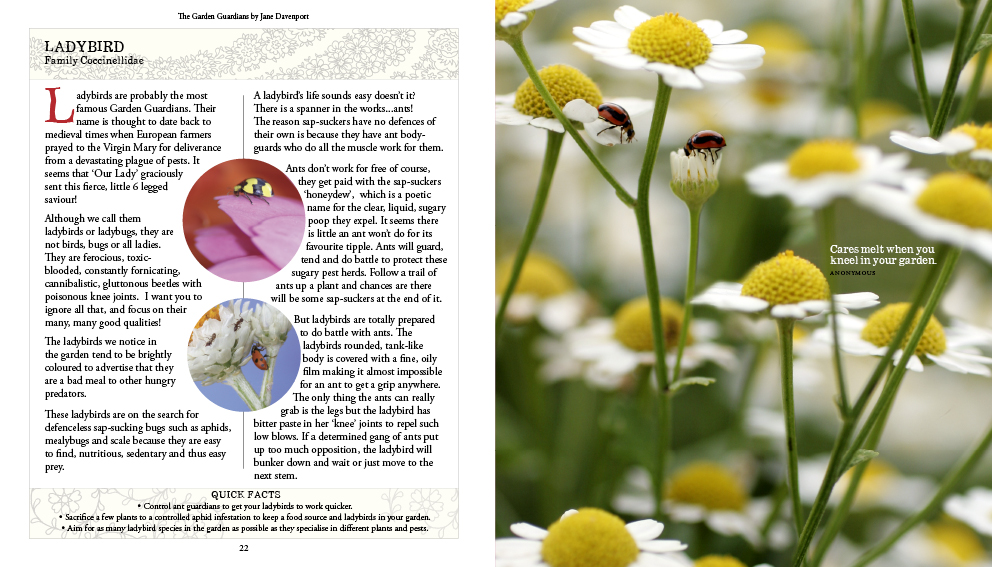 Section Five highlights recommended gardening products which don't harm beneficial insects and are safe for use in organic gardening.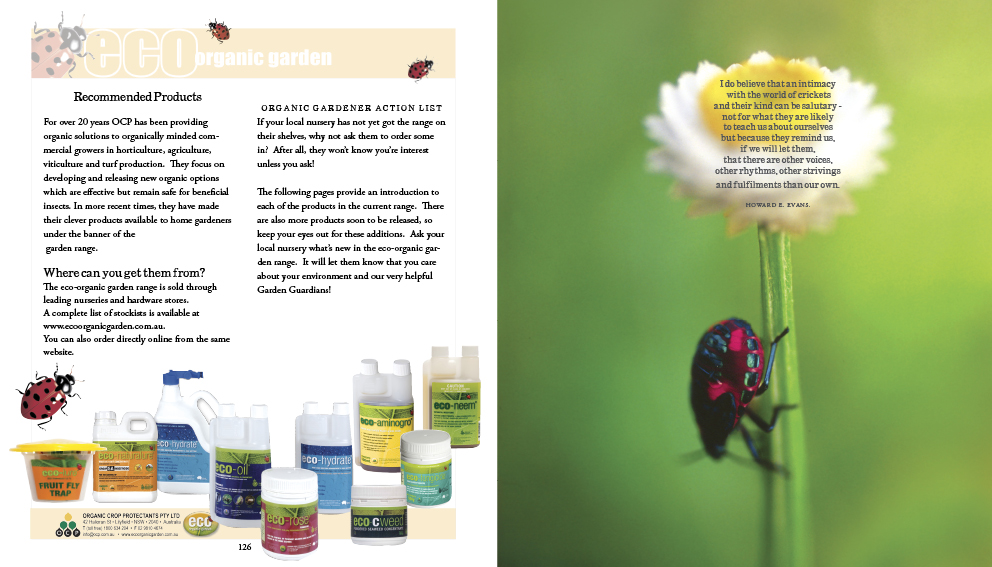 Jane Davenport was the insect expert for Burke's Backyard for 5 years and fans of her informative, fun and casual column 'Sects in the City will love this book.
We hope you enjoy meeting the Garden Guardians!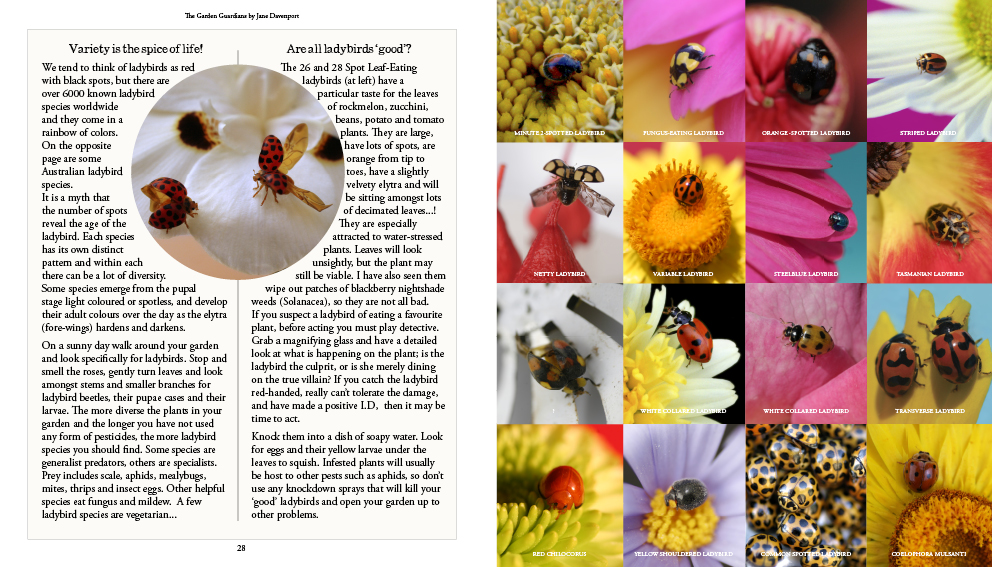 Reviews:
This book is totally engaging, with beautiful pictures and entertaining information …original and informative"
DERYN THORPE
THE WEST AUSTRALIAN NEWSPAPER
"One of the most exciting publications to hit the gardening shelves… Extremely informative and pictorially delightful, this book is set to become a must have reference for all gardeners."
ANNETTE MCFARLANE
ABC RADIO,
COURIER MAIL
---
What you might like to know
| | |
| --- | --- |
| Weight | 0.41 kg |
| Dimensions | 22 × 22 × 5 cm |