 Jane's expressive figure drawing secrets!
My Super Power is teaching you to draw beautiful faces, but my secret weapon is figure drawing. In this workshop I share my secret methods and inventions for drawing figures from your imagination!

Learn more about the
workshop
You'll get instant access!


Drawing beautiful, in-proportion figures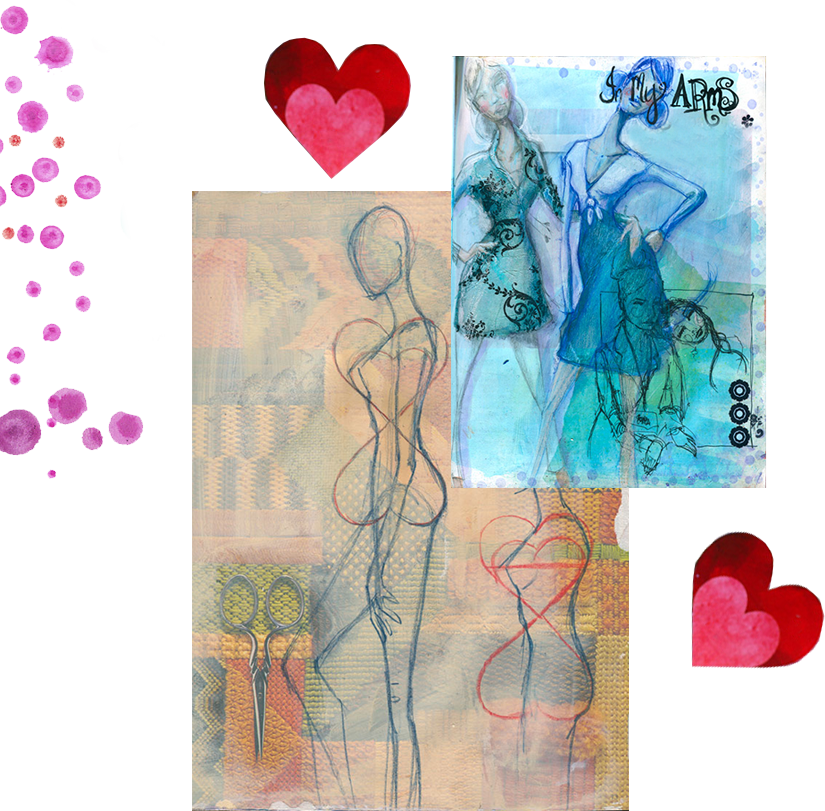 My first job was as a Fashion Illustrator, and over the years I devised my own methods for drawing beautiful, in-proportion figures. I will show you, in step-by-step detail, my various methods of drawing the figure, including my Secret Heart Technique in this self guided workshop.
So as you are experimenting with your art supplies in different ways, you will also be learning:
The Fashion Face
Small Faces
Jane's Secret Technique
Dressing Figures
Hands and Feet, Arms & Legs
Torso and Cleavage
Backs and Bottoms
Profiles and much, much more!

 As well as lessons that include specific drawing lessons for figures, we also have fun lessons on: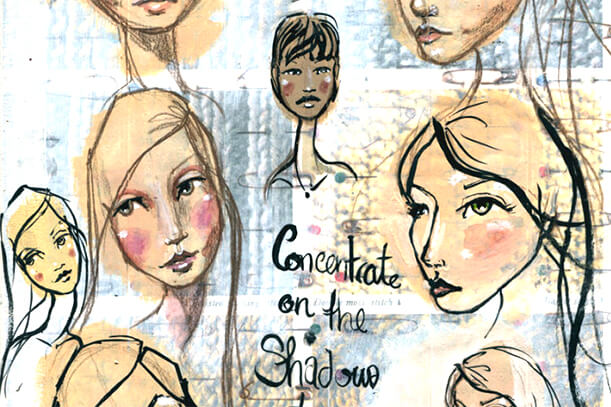 We start at the top with tips on drawing the fashion face.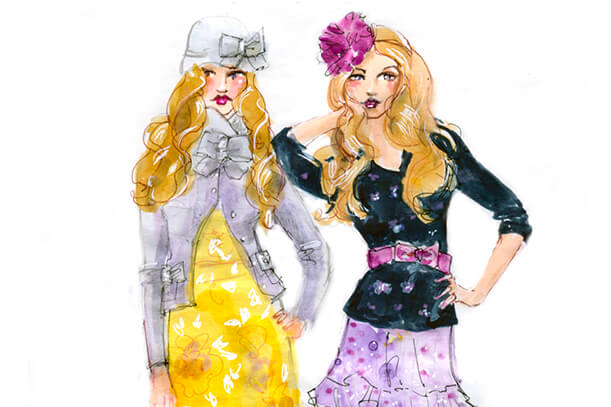 We start figure drawing with a tracing technique I developed during my training in Paris!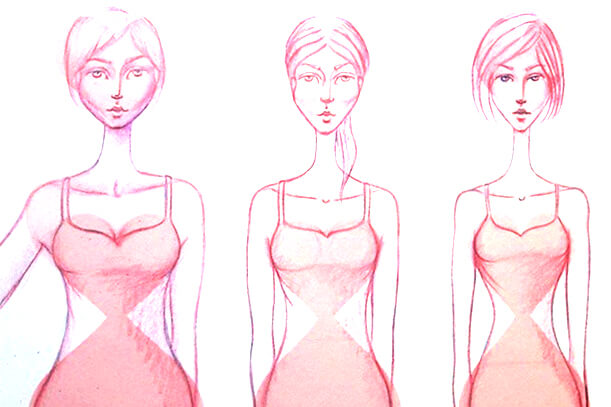 I want you to be able to construct a figure with no references, and it's easy with my Secret Heart technique!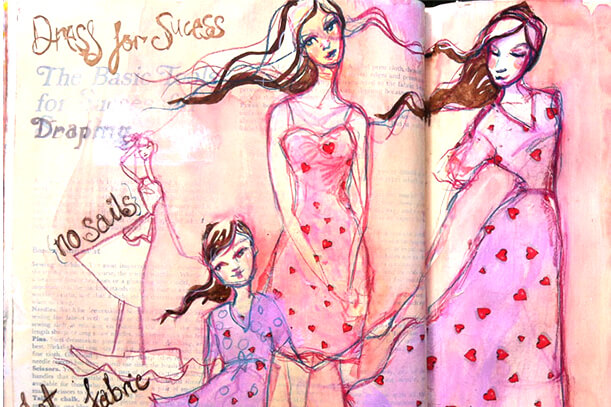 Learn to draw a moving figure from your imagination.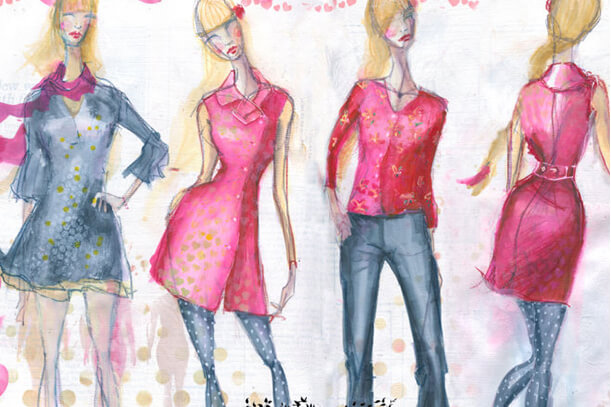 The easiest (and most fun) clothing to draw is the dress.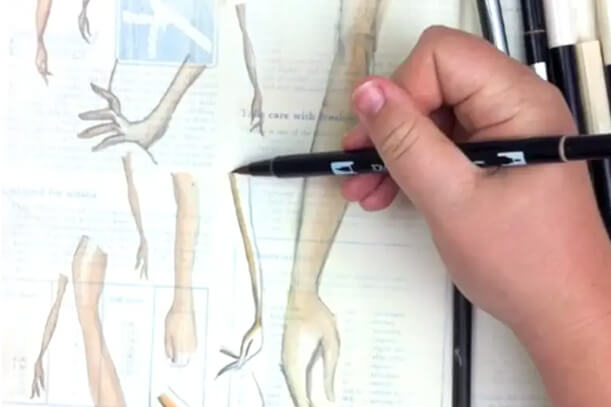 Confidence comes from conquering something you previously thought impossible.It's time to wave goodbye to fears of drawing hands and embrace our pens and pencils!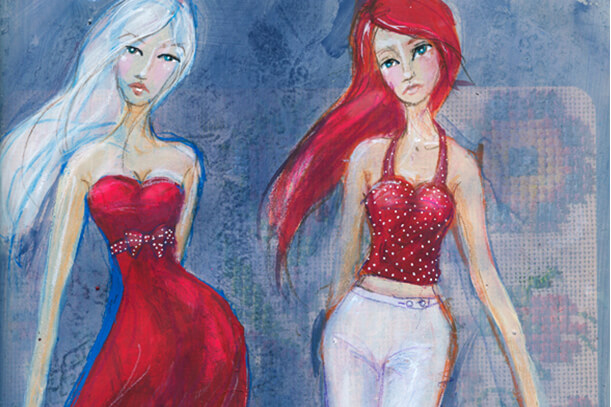 I share my techniques for drawing both simple and more complex arms and legs, so your figures can really strut their stuff!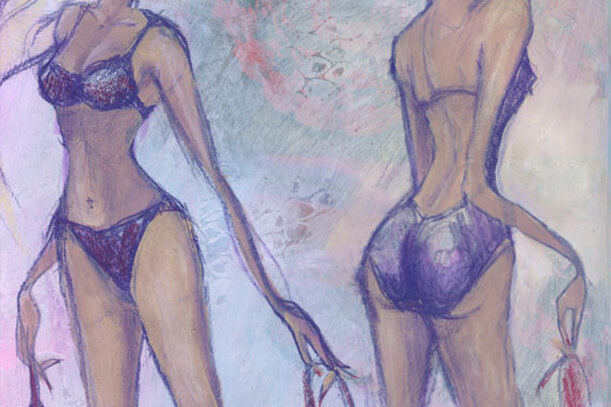 Let's get cheeky! I can't wait to show you why the derriere is the most fun to draw!
You'll get instant access!

This is an advanced level class designed for people who are already comfortable drawing. If you have done my Supplies Me Workhop, this is the next step …you are ready for I Heart Drawing!
Who is it not suited for?
If you're just getting started with your art, either the Draw Happy workshop or Supplies Me workshop would be a great starting place.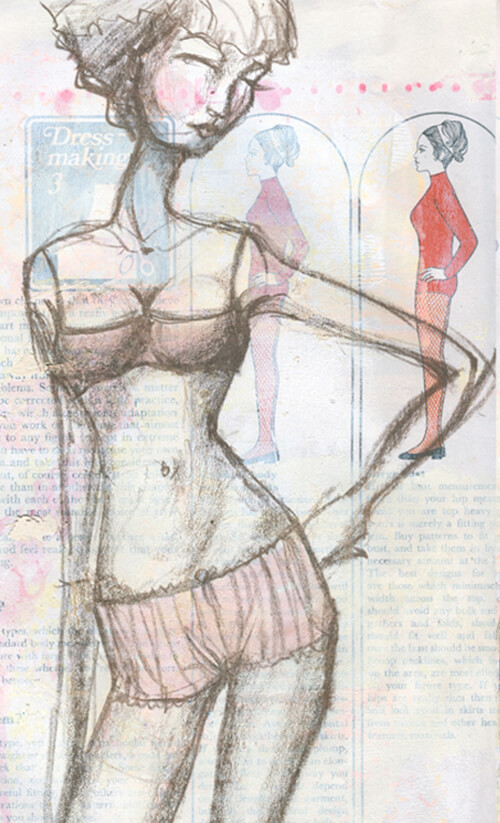 How the Workshop is Delivered

Pause, rewind and review each lesson as often as you like.
Private Community to meet with other artists!
Log into a private area of the JD website to access your workshop!
I have created this class so you can take all the time you need and let the magic happen!
All sessions for the Self-guided study classes are up when you arrive. This means there's no waiting for projects to be posted and you can take the course at whatever pace works for you.
You can revisit, rewatch, recharge and remind yourself of all the art supplies, all the drawing lessons, all the mixed media inspiration whenever you want.
You need never feel embarrassed about not 'clicking' with a new skill straightaway. It's a terrible feeling when you feel left behind, or that you dont 'get it' and everyone else does in a learning situation! But you will NEVER feel that way in my classroom because you can pause and rewind, and ask questions.
Full instructions are on the site if this is your first online class experience. You are in safe hands!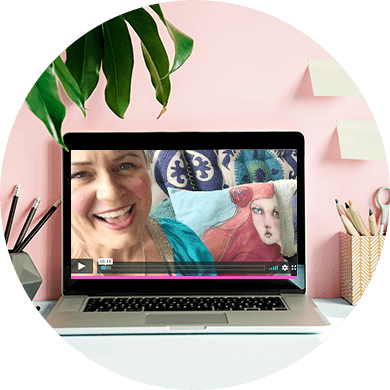 The classes are video based and typically between 7 and 20 minutes long each. Intense creative nuggets! I talk you through each of the art supplies, what they do and show you how to use them through a variety of drawing projects and exercises.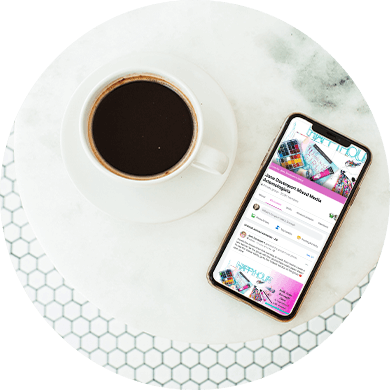 I will ask you to upload your drawings and experiments into our private Facebook Group. It may be nerve-wracking the first time you do it, but trust that you and your creative soul will benefit exponentially by being courageous and sharing your work!
You'll get instant access!

What you'll need for the workshop
A good internet service to watch the videos
For materials to create with:
I want you to use whatever colour art supplies you have!
If you do want to get some supplies to make your experience extra yummy, here is what I recommend: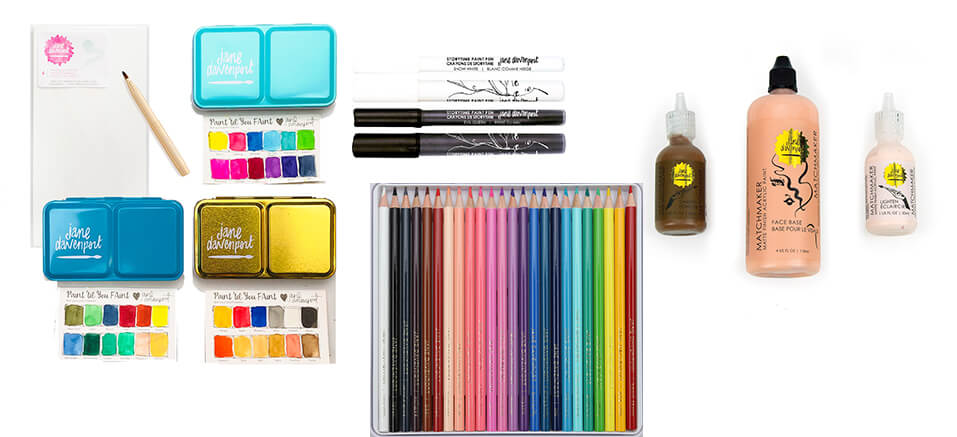 For materials to create on:
An old book to alter: full details are in the classroom
Watercolor Paper: full details are in the classroom
Watercolour Art Journal: full details are in the classroom
Book Binding items if you want to make your own journal:
Check out my Book Binding kit here
I will show you how to alter a vintage book into a journal in the workshop! Or you can use a sketchbook – the choice is yours, and all instructions are in the classroom.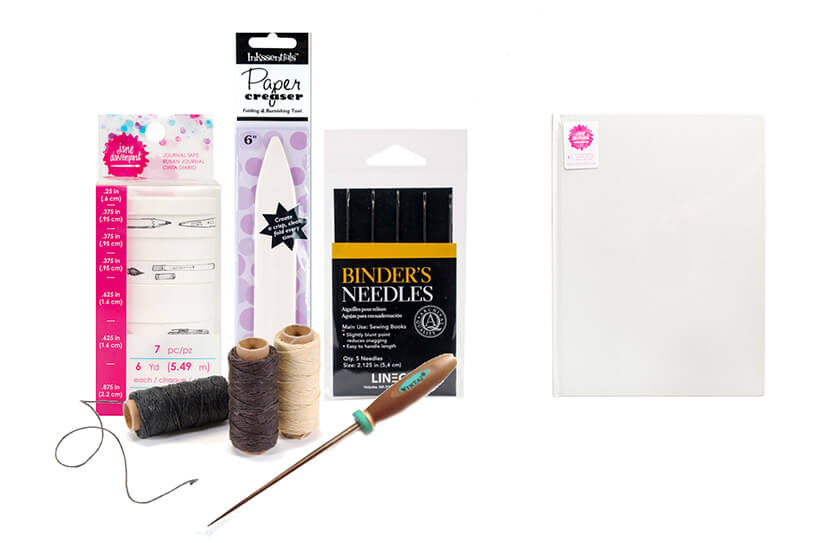 full of creative-minded spirits where you can feel free to be your arty self.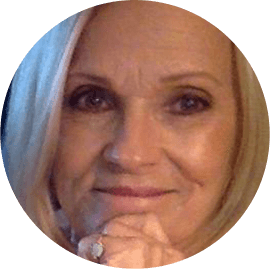 "This is a big milestone for me. I've been a collage artist and wanted to learn to draw people to put in my collages. After two workshops with Jane, I've married my collage with what I've learned from janedavenport.com."
Marsha, USA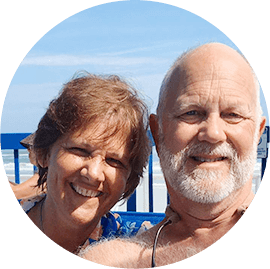 "Jane Davenport my hubby knows your voice from all lessons I rewatch and rewatch. He says it makes him happy to see me smiling and giggling when I watch — even my cat Jersey-Girl jumps on my lap when she hears your cheerful voice and she has to watch you on my mini-pad as you explain and teach. I can see I am making progress as I practice and rewatch the lessons. Thank you so much. I wish you could see all of our smiling faces."
Ann-Marie, USA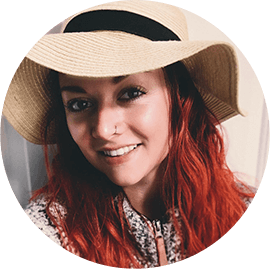 "Jane, you amazing, magical wizard, you! This secret heart technique is so incredible! My limbs are in need of serious training, but I'll get there. I'm loving how proportional she looks though! Head to shoulders to waist to hips… such a game changer!"
Jillian, USA