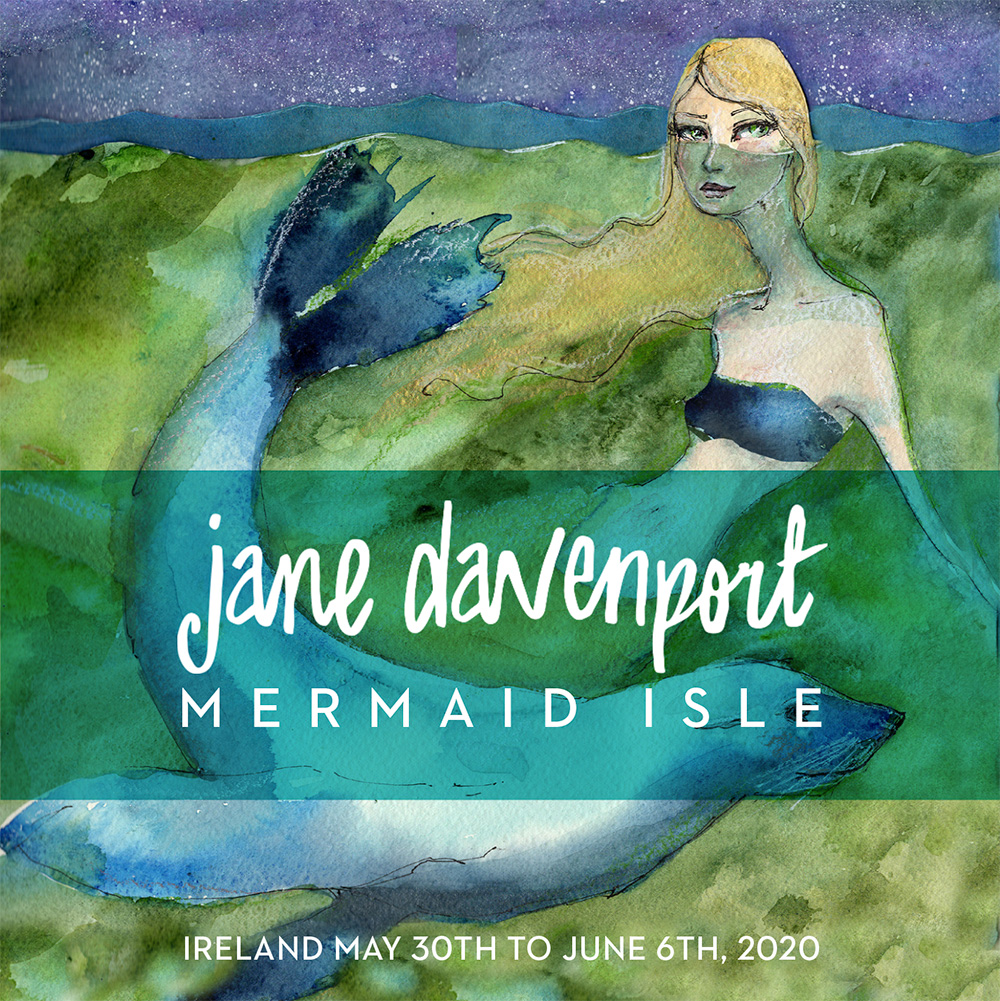 Class is full but you can wait list . ❤️
This is a rare opportunity to join me on a week -long retreat in a magical part of the world!

or email Lora: ‭ lora@essenceofmulranny.com
2019 Events
January : Creativation with Spellbinders in Arizona to preview the Making Faces and Artomology Collections!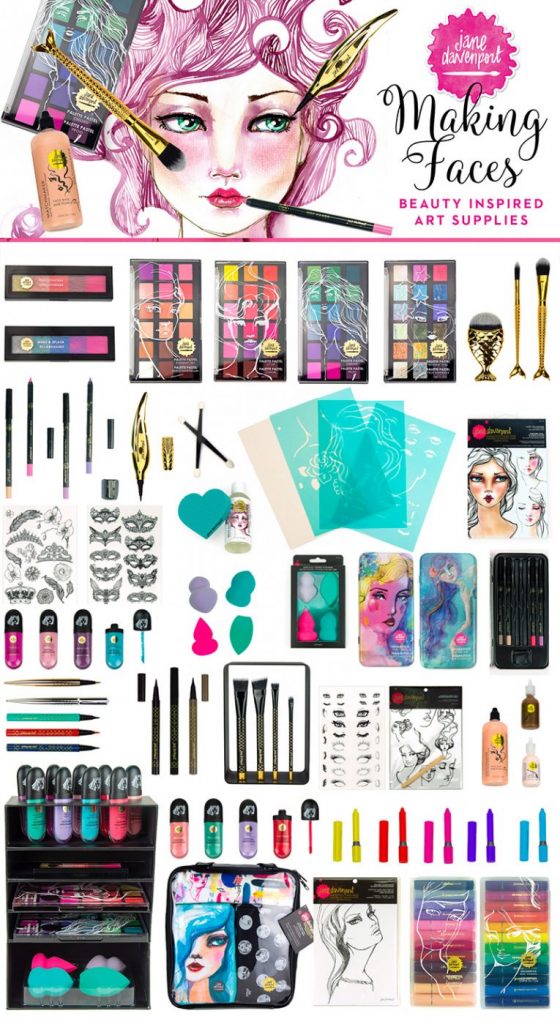 February :
Creative World, Frankfurt: Showcased the Artomology and Making Faces Collections!
Best Selling Show on Hochanda TV in the UK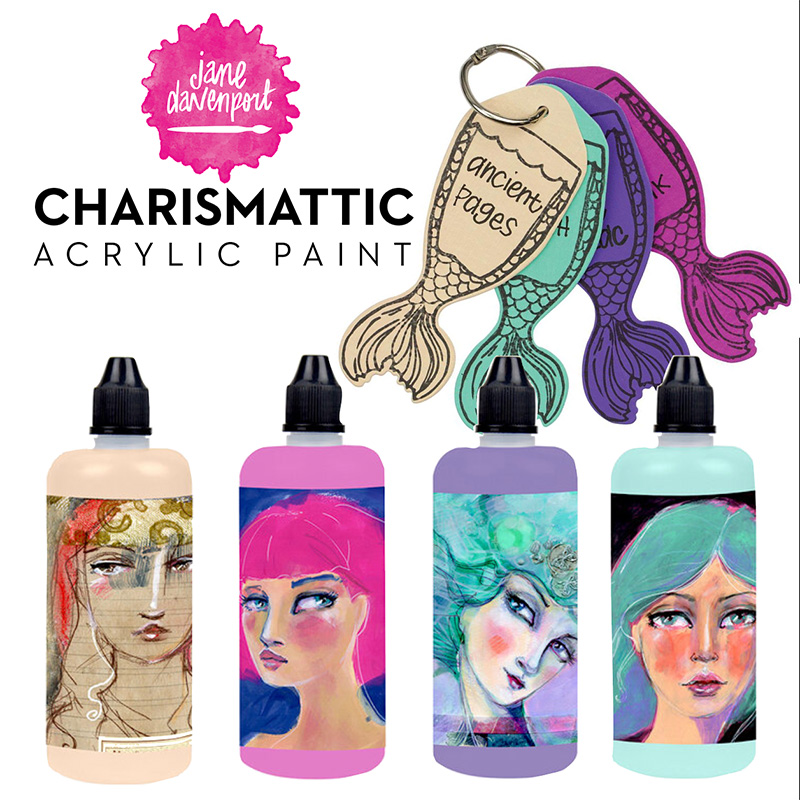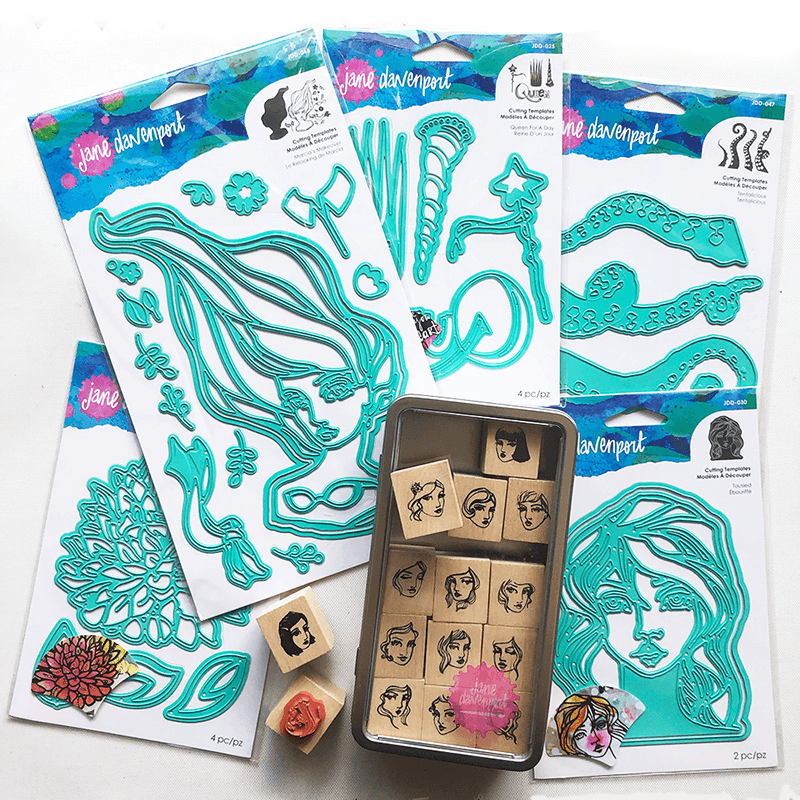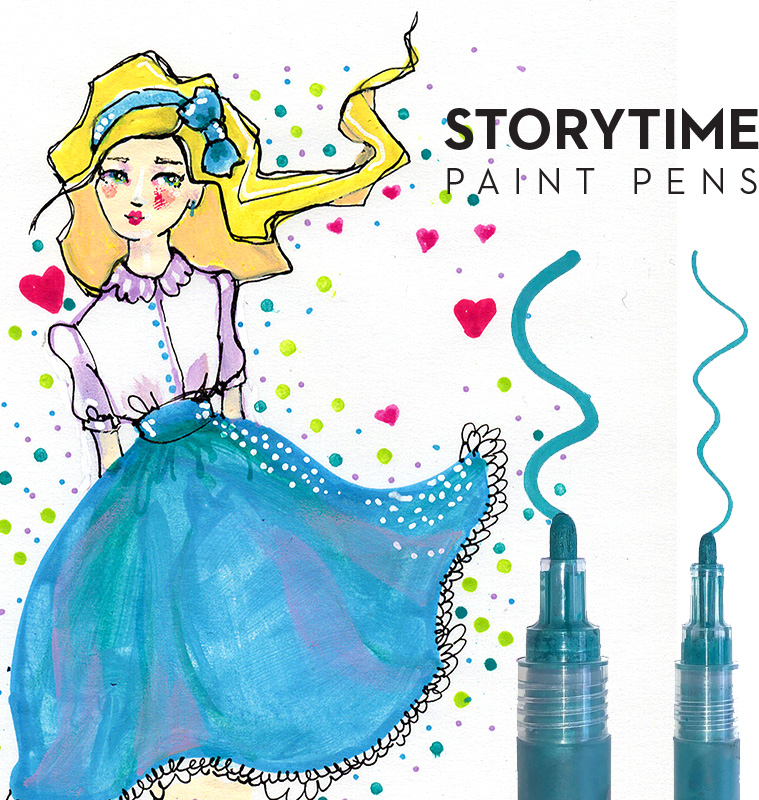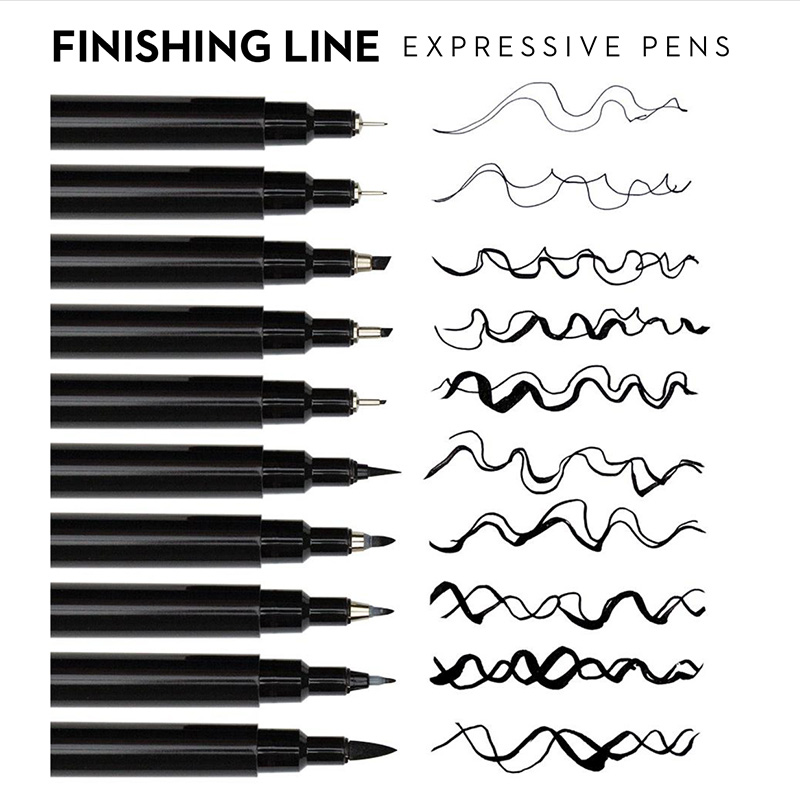 March
the launch of the Jane Davenport x Gelli Arts printing plates!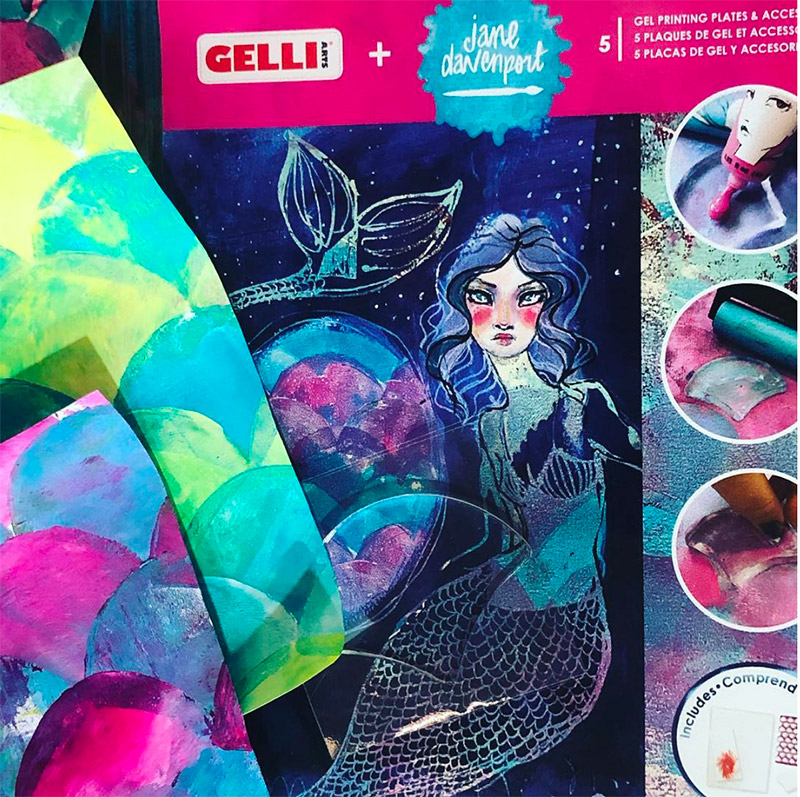 April:
Making Faces free online Workshop launches
April:
Layer cake Backgrounds workshop: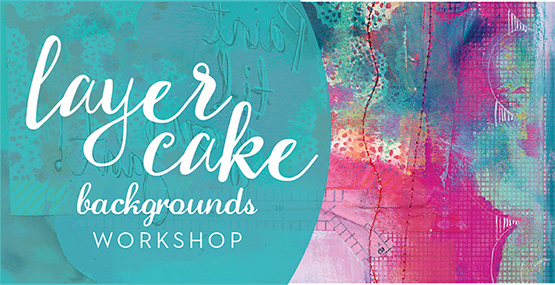 May:
HobbyCraft UK launches the Making Faces collection in all stores!
June :
Hobby Lobby sets Making Faces in stores across the USA
October 1st
'Imagine Out Loud' published
'Whimsical and Wild' published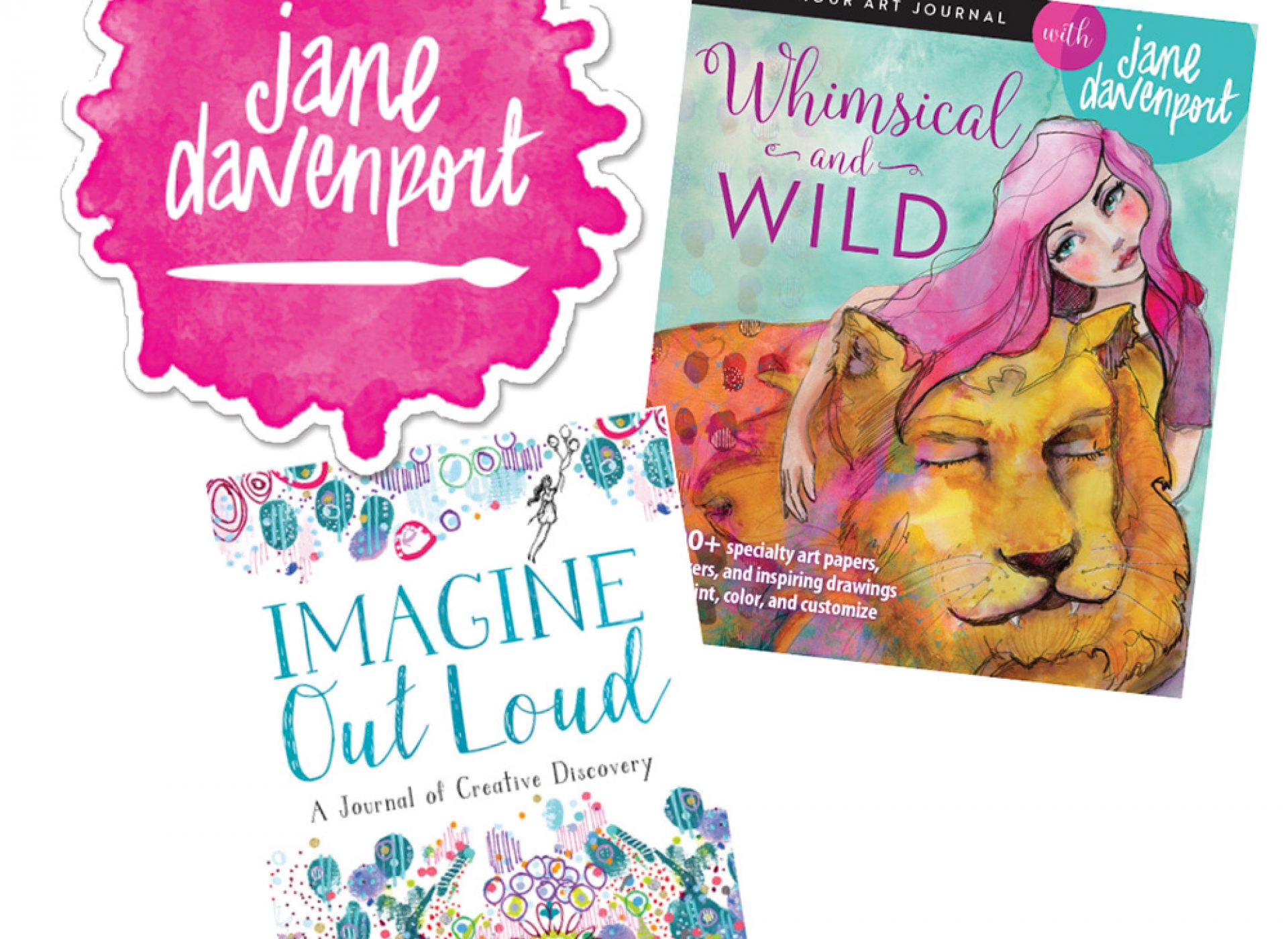 November: Whimsical and Wild Workshop:
2018
New Collaborations!
2018 started with Jane hosting her own space at Creativation to celebrate her collaboration with Spellbinders!
May : sees the launch of Jane Davenport Artomology Collection of stamps, dies, washi sheets, markers and her very own Die Cutter ( covered in Mermaids of course)! Click here to see.

New Books!
Fabulous Figures
Drawing from the imagination is a joyful thing, and this colorful book is loaded with Jane's  unique and fun techniques! Click here
Whimsical Faces
This is either the fanciest coloring book ever, or its a whole new type of publication! Click here


New Online Workshops!
Fabulous Figures: Click here to Register!
Kinokuniya Sydney Book Launch!
June 16th, 2018
What a fun day at Kinokuniya Sydney for a demo and work-along with author and artist Jane Davenport as she shows us how to draw Fabulous Figures!
Jane Davenport's fabulous, fun, and amazingly easy techniques nurture creativity and playful experimentation in aspiring artists. In Fabulous Figures, Jane lays out the basics and walks you through working with different mediums; drawing the head, face, clothing, hair, and features; and constructing figures inspired by fashion, fantasy, life drawing, and more.
2017
2017 started with a celebration! The launch of  my Art Supplies Line with American Crafts in 'Jane-uary' was a big, fun success!
Jane Davenport ® Mixed Media is now available in 1200 Michaels stores across the USA and Canada, and in amazing stores around the world!
As well as right here of course (Click here to see)!
October saw the launch of my second collection with American Crafts!

New Online Workshops
Two new online workshops were launched:
'Jane Davenport Mixed Media Workshop'
A free workshop created to celebrate my new art supply collection
'Over The Rainbow'
an Oz inspired creative tornado!
'Journal de Voyage'
The art of travel Journaling!
In-Person Workshops:
It's a quiet year for in-person workshops because I am working on several HUGE projects! Also we have been renovating the workshop are of the Nest! Join the newsletter in the sidebar to get news of the workshops when we are ready to roll again!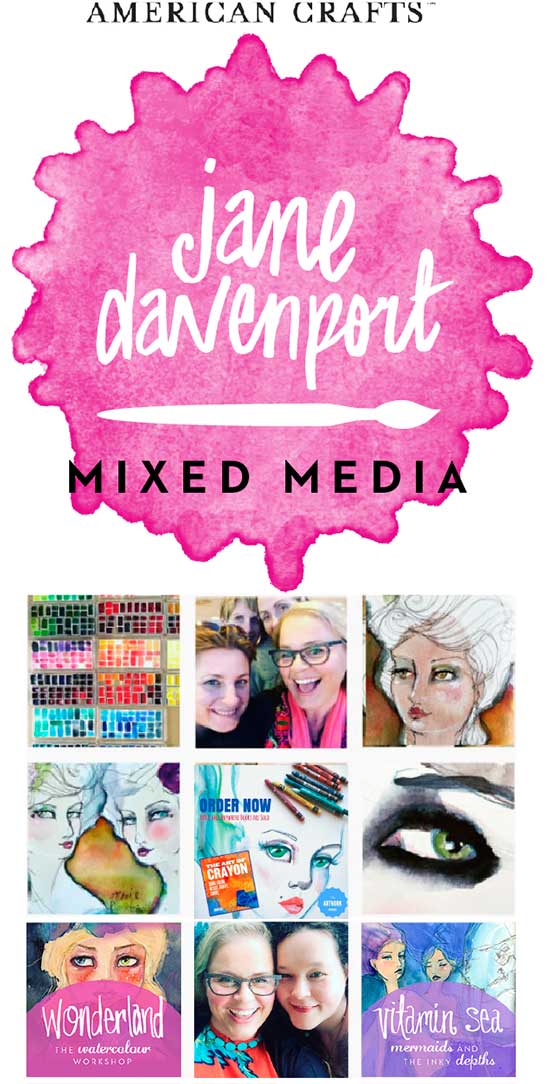 2016
New Online Workshops
'Wonderland' and 'Vitamin Sea'.
In-Person Workshops:
June
Donna Downey Studios, North Carolina
Daniel Smith, Seattle
Live demonstration, Book Signing and Workshops
Daniel Smith Art Store,  Seattle, Washington
September
Michaels Makers Summit,
Carmel Valley Ranch, California
October
Escape Artist Retreat, Orvieto, Italy
Workshops from Guest Teachers at The NEST, Byron Bay
Jamie Dougherty
Tamara Laporte
Julie Fei-Fan Balzer
Publications:
Jane looks at series in Cloth Paper Scissors
Featured in 'The Art of Crayon' by Lorraine Bell, Quarry
2015
My First Mixed Media Book is launched:
'Drawing & Painting Beautiful Faces'
500 reviews and a #1 Best Seller on Amazon!
In Person Workshops:
Viva Frida  – Mixed Media Retreat , Mexico City, Mexico
She Matters  retreat- Co-teaching with with Christy Tomlinson, Idaho
USA
Escape Artist London
Escape Artist Paris
Online Workshops
Beautiful Faces
Miss Quoted with Joanne Sharpe
'She Said' with Donna Downey
Guest Teachers at The NEST, Byron Bay
Donna Downey
Joanne Sharpe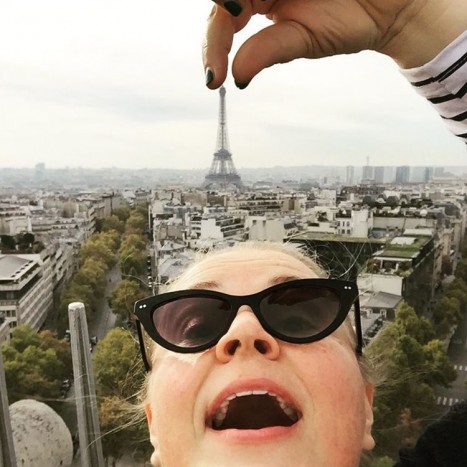 2014
What a wonderful year!
Highlights included:
Escape Artist Retreats in  Paris, Bali and Byron Bay
Christy Tomlinson at The Nest!
The Arty Party with Tamara Laporte in Brighton, UK!
Teaching at Donna Downey's Inspired Studios  ,NC, USA

2013
February 14 to 17 Craft Show Palmerston North: NZ, Guest Artist
February 23 and 24 Artomology :the Nest Byron Bay
March 1 to 3 Melbourne Scrapbook & Papercraft Expo
March 9 and 10 Artomology :the Nest Byron Bay
March 20 to 24 Melbourne Flower 7 Garden Show:
April 13 and 14 Artomology :the Nest Byron Bay
April 8 Mermaid Circus Online Workshop with Teesha Moore
May 23 to 26 Perth Craft Show
June 8 to 10 Brisbane Papercraft Expo
June 12 to 16 Sydney Craft Show
Sept 9 to 15 Bali Escape Artist October: Artomology at the Nest Print & Scan Online Workshop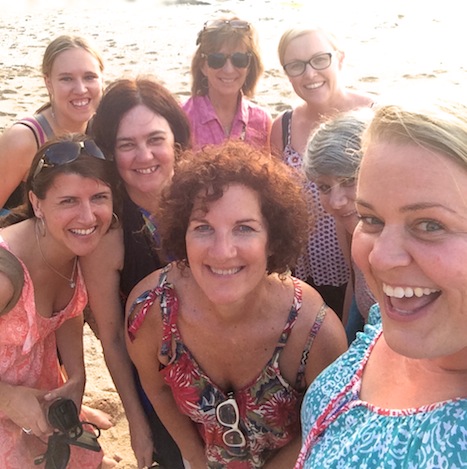 2012
February 3 to 5 Seattle Workshop –Draw Happy and Comfort Drawing – Seattle, Artfest Annex , USA
March 8 to 11 Craft and Sewing Show – Rosehill
March 28 to April 1 Melbourne Flower and Garden Show
April 5 to 18 Royal Easter Show, Sydney
May 19 adnd 20 Perth Artomology Workshop
May 25 to 27 Perth Craft & Quilt Show
June 9 to 11 Scrapbook and Papercrafts Expo – Brisbane
June 13 to 17 Sydney Craft Show – Darling Harbour
June 13 to 15 Art Expo – Brisbane Convention Center
June 26 to 29 Melbourne Craft & Quilt Show
September 14 to 16 Better Homes & Garden Show September:Escape Artist : Bali Retreat October: Lifebook online Class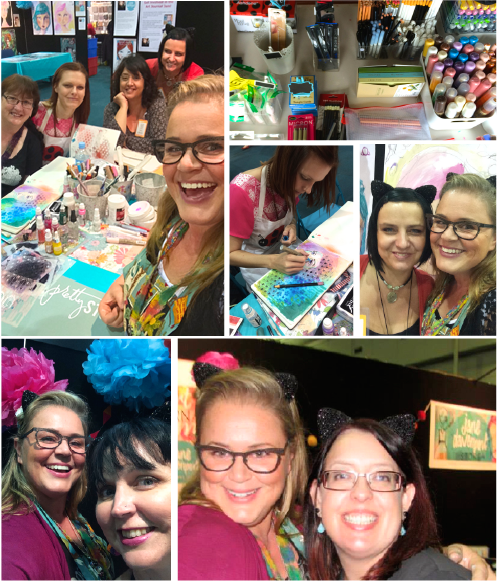 2011
Melbourne Flower and Garden Show
Royal Easter Show
21 Secrets Online Class
PaperCraft Expo Brisbane – Award for best stand!
Teesha Moore Workshop Portugal
NewCastle Craft Show
Brisbane Papercraft Festival
October 19 to 23:Craft and Quilt Fair, Brisbane Entertainment Centre
2010
Melbourne Flower and Garden Show
Royal Easter Show
Toowoomba Carnivale
2009
'Lifted' exhibition at the Institute of Cute.
April 1 to 5 The Melbourne Flower and Garden Show
April 9 to 22 Sydney Royal Easter Show
June 3 and 4 The Leafmore Gardening School
September 17 to 27 Melbourne Royal Show
2008
January 1 the Institute of Cute opens in Byron Bay!
March Sydney Royal Easter Show
April 1 to June 30 Perth Zoo – Blink: and You'll Miss it.
April 2 to 6 Melbourne International Flower and Garden Show
April 18 to 20 ABC Gardening Australia Live, Brisbane
May 10 Bangalow Gardening Club Guest Speaker
May 24 and 25 FEHVA – Visual Arts Festival – Artomology Workshop at Waywood Gallery, Byron Bay.
May 16 to 31st On The Verge Exhibition: Wayward Gallery, Byron Bay
May 31st Theme: The art of digital capture. Guest speaker.
June 1st Expanding the Canvas: panel discussion
September 18 to 28 Gardening Australia Live, Sydney
September 19 to 21 Carnival of Flowers, Toowoomba:
2007
January 6 to 14 Clifton School of Arts – Love & DevOcean Gallery Exhibity
Feb 8 to 16 Festival of Flowers, Christchurch
March 23 to April 10 National Rhododendron Gardens – Ladybird , Ladybird Travelling exhibition
March 28 to April 1 The Melbourne Flower and Garden Show
April 1 to June 30 The Perth Zoo – Frogology
June 10 World Environment Day. Byron Bay Wetlands July 6 to 8: Nambour Garden Expo. Garden Guardians Travelling Exhibition
August 24 to 26 Gardening Australia Live, Sydney
September 1 to October 1 The Kings Park Wildflower Festival
September 21 to 29 Melbourne Royal Show. Institute of Cute Pop-Up store.
November 14 to 18 The Ellerslie Flower Show, The Hunter Valley Gardens
2006
January 10 to 30 National Botanic Gardens,Canberra – Travelling Exhibition
April 5 to 9 Melbourne International Flower and Garden Show, Carlton Gardens Travelling Exhibition
April 28th to May 3 Perth Garden Week, Perry Lakes – Travelling Exhibition
May 4 to 7 Childrens Book Expo, Book Signing – Darling Harbour
May 6 to 7 Ladybird's picnic, Eden Gardens – Lane Cove
May 15 to June 31 What's the Buzz? Installation at the Perth Zoo
May 18 to 21 Brisbane Garden Show , Book Signing
June 29 to 31 Garten de Shmetterlinge Butterfly Garden At Sayn Castle, Travelling Exhibition@ the WORLD CUP, Germany
August 12 and 13 PhotoShop Workshop, Horticulture Media Association
August 25 and 26 Gardening Australia Live, Sydney
September 1 to 17 "Ladybird, ladybird' Travelling Exhibition. Toowoomba Carnival of Flowers
October 6 to 8 Melbourne Gardening Australia Show- Book Signing
November 15 to 19 Ellerslie Flower and Garden Show . Auckland, New Zealand
December 9 Eden at Byron – Book Launch