Are you ready to do more with your art?
Making art is fun and deeply rewarding . Have you dreamed of getting your artwork out of the journal and Off the canvas and out into the world on walls, in hands and into hearts? It's easily do-able and in Print & Scan I show you how!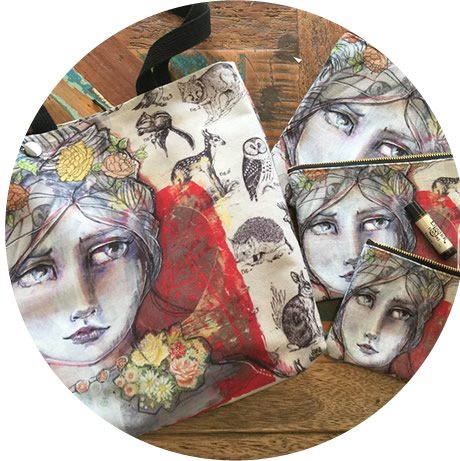 In Print & Scan I share my secrets for:
Creating the very best quality with the equipment you have.
What it takes to create true Fine Art Digital prints.
Selecting your best Artwork.
Getting great photographs and scans of your work
Tidying up, manipulating and altering your artwork to make it even stronger.
Choosing the right paper, ink and printing method for your art.
Taming the whole work flow of image capture and printing.
Creating quality work for Portfolios and Exhibitions.
Preparing work for publication with magazines and books
Creating amazing prints for gifts and for your Etsy store.
Preparing your work for outsource printing eg: Society 6/Red Bubble

Best-practice standards to pursue your Artistic dreams.
"Let's focus on preparing your artwork so it captures all the time, effort and joy that you have lovingly poured into it!"

What makes a good print?
 Lesson 1 – Hello Photoshop
Insider tips and techniques for preparing your digital file for output. Building Drama into your prints and Colour Adjustments – when, why and how! Manipulation of key elements to modify and improve composition
Lesson 2 – Scan
Professional quality prints start with fabulous scans and the settings you need to get great results My methods for scanning larger scaled work, Journals and other challenging surfaces
Lesson 3 –Scan Challenges
Dealing with textures, gutters and many other scanning tricks
Lesson 4 –Photo 
Especially for larger artworks, textural paintings and 3D works. Decide when to scan, when to photograph and when to do both! Dealing with metallic paint, shimmers and fluorescents.
Lesson 5 – Enhance
Preparing files for Society 6, Red Bubble and the like! AND MUCH, MUCH MORE!
Lesson 6 – Print
Preparing your digital file for the best results. Harnessing the strengths of your own printer. Printing tests and selecting the right paper for the job. Outsourcing your Fine Art Prints Creating Files for printing onto a plethora of other fun items such as clothing, home wares, stationery and technology covers
Lesson 7 – Package
Preparing and Sending your precious work out into the world. Digital 'packaging' , Watermarks and Copyright. Print handling and Storage, and packaging.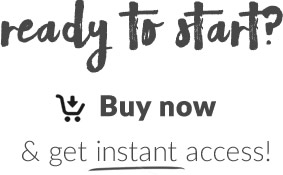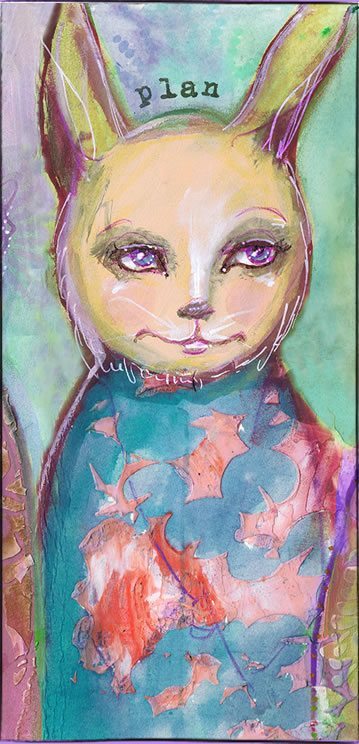 A few more details…
I have created this class so you can take all the time you need and let the magic happen!

All sessions for the Self-guided study classes are up when you arrive. This means there's no waiting for projects to be posted and you can take the course at whatever pace works for you.

You can revisit, rewatch, recharge and remind yourself of all the art supplies, all the drawing lessons, all the mixed media inspiration whenever you want.

You need never feel embarrassed about not 'clicking' with a new skill straightaway. It's a terrible feeling when you feel left behind, or that you dont 'get it' and everyone else does in a learning situation! But you will NEVER feel that way in my classroom because you can pause and rewind, and ask questions.

Over my 13 year career as a professional Artist I have sold tens of thousands of reproductions of my artwork. I have also created Exhibition Quality prints for over 15 solo Gallery Shows. On a daily basis I prepare my artwork for my Licencees, Galleries, Exhibitions, my store, promotions and for publication.

As a result I know a lot about creating the finest quality reproductions of my artwork so that it sparkles wherever it is seen.

Supplies
To capture and reproduce your work, you will need a scanner, camera, computer, Imaging software and printer.
You are invited to participate in the class and then decide on purchasing decisions based on what you discover in the class. You don't need the same equipment as me!
I have listed my current equipment here, so if you are planning an upgrade or purchase, this may guide you. The images will take you to review pages on Amazon.
An inkjet printer with photographic quality capability: I use an Epson Photo R3000
ink for your printer: I suggest Genuine ink for your printer for best results.
Quality paper: We will go through the options in the class, but you will need some good quality paper for your test prints.
A scanner: I use an Epson V300 Photo for ultimate quality scanning


and EPSON WF-7620 for A3 size scanning

A camera: I will be demonstrating on a Canon 5D mark II and iphone 5S

Digital Editing software: I will be demonstrating on Photoshop CS6 and CC ( Creative Cloud).
A computer capable of running an imaging program: I use an iMac.
What do you need?
Let me just emphasise that you don't need all the art supplies in the universe to complete your assignments! You can use whatever art tools you have. You will learn new ways of using what you do have, and be able to pinpoint what you may like to add to your creative life in the future without expensive trial and error.
You must have a fast computer & high-speed internet service to process & watch the videos, as enough technical know-how to navigate the website.
Who is this class for?
 I have created the workshop I wished I had access to when I was working all of these skills out for myself!  What took me years of trial and error I am so happy to share with you.
This class is perfect if you have some computer skills, and basic knowledge of PhotoShop ( ie are not scared of it!).
If you are ready to scan your journals and photograph your paintings for reproduction to share with the world via your blog, magazines submissions, gifts, licensing, Etsy, Society 6 or your own store
Who is this class not for (yet) ?
This workshop does not address basic computer skills. I do cover each process within PhotoShop step by step, but it may be too much for a complete computer 'newbie'.  I recommend that you attend a basic computer class at your nearest Adult/ Continued learning facility.
We cover Packaging your prints in this workshop, but not selling or marketing your work. That will be the focus of a future workshop. But you are welcome to discuss strategies and ideas with the Print & Scan community.

I couldn't help but watch all the videos before putting my nose to the grindstone and nutting all this wonderful info out. I know I paid good money for this course, but words cannot explain the gratefulness I have for your openness in sharing this knowledge with us. You are an inspirational women and I know personally that I could not have come this far without investing in your amazing workshops. Thanks...gotta go now and chase my dreams.

One of the greatest experiences in my life has been finding Jane Davenport and her amazing Art classes. Jane is by far the best art teacher I have ever learned from, she provides an extremely professional tutorial filled to the brim with exciting techniques and visual delights. Jane's classes are fun filled , value for money and enable outstanding outcomes at all levels. Thank you Jane your one in a million xxx

I've lost count of how many classes I have done with Jane lol. A year ago I found her on on the Internet when I was searching what "journaling" was.... as someone suggested I start an art journal. I have learnt so many different mixed media techniques from Jane's classes and she is the one who introduced me to the amazing Daniel Smith Watercolours. Her classes been such an inspiration for me along with all the lovely supportive people in class Facebook groups and the combination have pulled me out from a pretty dark place . Jane is such a great teacher and she makes the classes so much fun. Thanks so much Jane and Angus ??xx
Student gallery You learn, have fun and save $!!