All of Jane's Art Books signed!
All of the books coming from janedavenport.com are signed copies!
Beautiful Faces
Imagine Out Loud: A Journal of Creative Discovery
With Jane Davenport's stunning art, and her motivational quotes and prompts, this journal will send women on a satisfying journey of self-discovery.
Bombarded by constant demands from work, home, family, friends, and social media, women crave the opportunity to slow down and reflect on what is truly important. Journaling is a proven therapeutic process that promotes well-being and sparks creativity, but newcomers can feel intimidated the first time they face a blank page. Where should they begin? Imagine Out Loud combines famed artist Jane Davenport's inspirational artwork, trademark "Jane-isms," and quotations with compelling journaling prompts. Readers will be moved to write, make lists, doodle, and draw. Designed to encourage introspection and self-discovery, Imagine Out Loud will be a constant companion in the search for creative and personal fulfillment.

Whimsical and Wild: Happy Hour Art Journal
"Make more time for creativity!
In the follow-up to her popular Whimsical Girls, internationally known artist Jane Davenport once again offers her signature fanciful female figures, now accompanied by a menagerie of animal friends: cuddly koalas, noble lions, exotic birds, and more. Inspirational prompts and Jane's stunning illustrations accompany the journal pages, which are printed on a variety of fine-art papers, including coloring paper, marker paper, and watercolor paper, all perforated for easy display. Colorful collage papers and bonus stickers with even more original art and quotations round out this gorgeous package."

Whimsical Faces: Happy Hour Art Journal

"Reclaim your creativity with this one-of-a-kind workbook of fabulous females to personalize! It's perfect for coloring enthusiasts and mixed-media artists."
This is not your typical coloring book. Created by celebrated artist Jane Davenport, and dedicated solely to images of women, Whimsical Girls is bursting with Jane's signature-style figures, faces, and fanciful drawings to color and customize. The unusual combination of four types of high-quality paper—coloring, marker, watercolor, and kraft paper—encourages users to experiment with a variety of mediums and techniques. Inspirational examples and prompts help allay budding artists' nervousness, while bonus stickers and brilliantly hued collage paper—to cut or tear and glue to the pages—provide added fuel for creativity!"
"Start with a heart shape . . . and end with a beautiful finished piece of art!
You'll love Jane Davenport's fabulous, fun, and amazingly easy technique for drawing figures.
For aspiring artists, drawing people can be intimidating—but it doesn't have to be. Over years working as a fashion illustrator, Jane Davenport devised her own method of creating in-proportion figures. Her clever core technique involves using equal-size hearts to build the body's structure. And Jane's results have been astounding: her students go from "I can't draw a stick figure" to producing gorgeous, well-proportioned illustrations. After laying out the basics, her imaginative guide walks you through working with different mediums; drawing the head, face, clothing, hair, and features; and constructing figures inspired by fashion, fantasy, life drawing, and more."
---
Marvelous Mermaids
Make a magical mermaid splash! Following her bestselling I ❤️Drawing: Fabulous Figures, Jane Davenport dives deep into the ocean to explore the wondrous world of mermaids. She shows how to draw and paint these sensuous sirens, with their perfectly proportioned figures, shimmering scales, and all.
Jane's evocative instruction touches on every aspect of this fantasy realm:
Oceans of Color: Paint beautiful backgrounds in which your mermaids can dwell.
Go with the Flow: Convincingly draw these sinuous creatures in undulating poses.
Mermaid Hair Don&;t Care: Paint the flowing tresses that are every mermaid's trademark.
Keep Urchin Up: Depict mesmerizing facial features.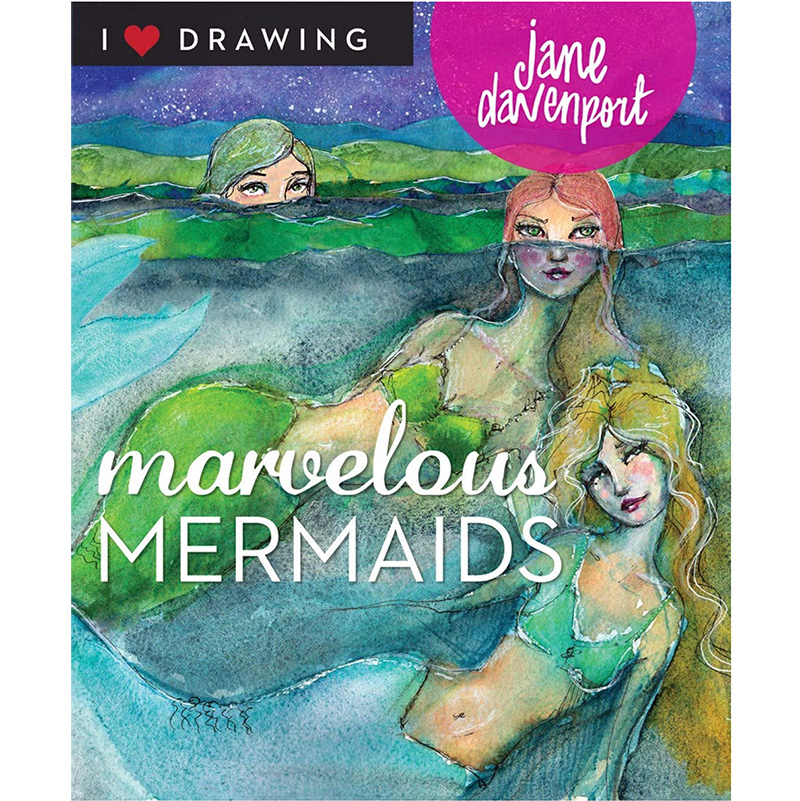 This bundle brings all of me best-selling books together in a signed set with a lovely saving for you!
What you might like to know
Please note: because of their weight, books are not part of our free shipping offer. Thank you for your understanding. ❤️
| | |
| --- | --- |
| Weight | 2.9 kg |
| Dimensions | 26.7 × 22.5 × 6 cm |
Fabulous Figures | How to draw people in proportion
| | |
| --- | --- |
| Title | Fabulous Figures, Whimsical Girls, Both NEW Books, All 3 of Jane's books |
Whimsical Girls Art Journal | Beautiful faces to colour on a variety of papers!
| | |
| --- | --- |
| Title | signed Fabulous Figures, Signed Whimsical Girls, Both NEW Books – signed!, Signed copies of all 3! |