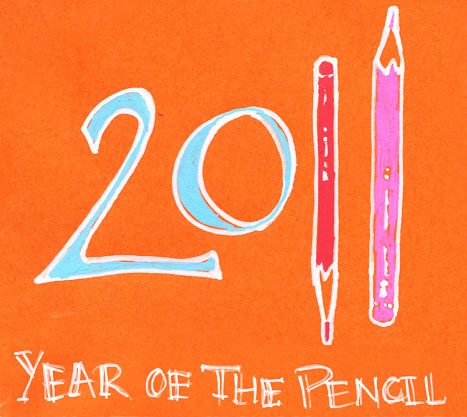 Yes – I am calling it! It's 2011 and it's the Year of the Pencil!
Surely I am not the only one obsessed by these little sticks of colourful goodness? well I know for a fact that I am not, because I have been watching ebay LIKE A HAWK for a particular discontinued brand, and they are going for big money (well, in coloured pencil terms!). I am talking USED pencils, people! Holy soft lead Batman…I can't get NEAR them! And lets not even remind me of the mysterious Japanese 150 coloured pencil set that I am planning a trip to Tokyo just to get….
I have in excess of 800 coloured pencils now – not counting the repeats. Yes, you read that number correctly. I am counting my pastel pencils and watercolour pencils in that vast sum, because in my experience they are interchangeable. And I love them all. I have special pencil sharpeners for each brand because they are all a different.
I am working on a series of reviews for all of them. In short, I am now a pencil nerd. Pencil pencil pencil!
There is a lot to be said for them as an art tool. They are so IMMEDIATE! No set-up time, no washing up. No waiting to dry between layers. I can't spill them.They don't seem to go 'off'. They don't smell  bad (each brand does have its own scent though!). I can use them at the beach because sand doesn't worry them (sand and paint or oil pastels – bad combinations!)They are expressive and fun to use. And the colours….oh, the colours…
They look so pretty just sitting on my desk, waiting patiently for me. But i also have a travel set in a super-nifty binder where each pencil is held separately (no banging around in a pencil case for my pencils!). I have a set in the TV room, so I can pencil-potter during movies. I have a set up near my computer desk. I have sprinkled their rainbowy goodness all around me.
So YAY, YAY, YAY for my skinny little colourful friends in their special year – the Year of the Pencil!
I am planning a big party for my pencils on the 11.11.2011!  They will all be a lot shorter by then…they would have helped me draw many, many more things…
What's your favourite coloured pencil?