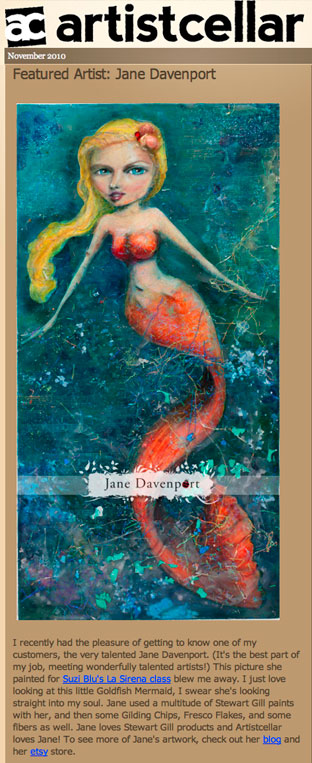 Ok, so if you are an online Ning friend you will have heard me rattling on about art supplies…it's my favourite topic (see my video to witness the depth of my obsession)…and you would have heard me banging on about Stewart Gill paints. There is magic in those little Scottish pots, let me tell you! My favourites are Afterglow and Willow Blue – wait, add Porcelain and Vanilla to that list…oh! and Paua shell, Sea spray, Mermaid, Seraphym, oh heck! just add all 26 of the colours I have collected to the list! ….wait a minute…I have forgotten what I was talking about….ummmm..I'll be back in a mo… I just have to go and paint something…
OK! back again. Yes. Stewart Gill Paints! I get mine from Artist Cellar. Lisa is super helpful and really loves the product she represents. Her postage nous is something to behold, and I appreciate it when the person packing my order takes the extra care to save me money and get me my goodies in perfect condition, quick as a flash!
Anyhoo, Artist Cellar featured my Goldfish Mermaid on the website and in the latest newsletter! Yes the very same mermie who is gracing the Suzi Blu main page. I discovered SG paints through Suzi, and I will love her forevermore just for that (let alone being a great teacher and her all round brave suziness).
Go sign up for the free Artist Cellar newsletter and now they do gift vouchers…so I know what to request for Christmas! ( I need Chocolate, Whirlwind, Sugar Plum…).
( And my phone just rang with a request for images for a magazine article about one of my books… all this love for Jane-oh's work? Bring it on baby! hee hee!)