You can easily make-do with a pencil and notebook to start Art Journaling. However! If you would like to treat yourself to a wonderful start with your drawing and journaling, this list is populated with some of my most recommended essentials. They are wonderful supplies that will get you arting in style
This is the perfect kit for starting my online workshops and you save!
Join the  'Draw Happy' Workshop click here
In this video I go through this kit and show some of my Draw Happy journals!
Join the  'Draw Happy' Workshop click here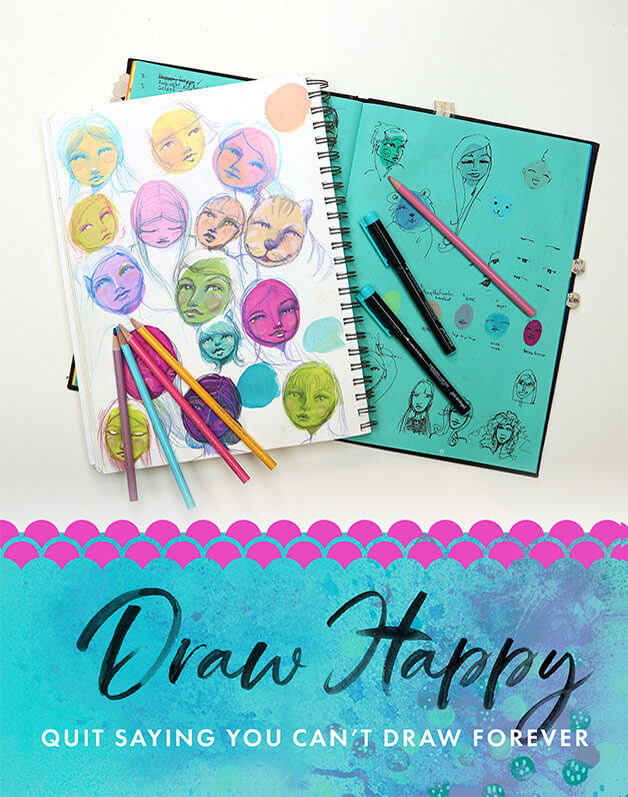 What you might like to know
| | |
| --- | --- |
| Weight | 1.95 kg |
| Dimensions | 32 × 26 × 16 cm |
Large Watercolour Art Journal 9x12
| | |
| --- | --- |
| Weight | .83 kg |
| Dimensions | 31 × 21 × 2 cm |
Draw Happy Pencil- Rainbowitis Edition
| | |
| --- | --- |
| Weight | .05 kg |
| Dimensions | 12 × 5 × 1 cm |
Bookish Eraser Set JDHQ Exclusive
| | |
| --- | --- |
| Weight | .15 kg |
| Dimensions | 5 × 5 × 5 cm |
Magic Wand Color Pencils
| | |
| --- | --- |
| Weight | .34 kg |
| Dimensions | 20 × 19 × 2 cm |
Finishing Line Pens - Expressive Set
| | |
| --- | --- |
| Weight | .02 kg |
| Dimensions | 14 × 8 × 3 cm |
Storytime Paint Pens- Snow Queen Set
| | |
| --- | --- |
| Weight | .15 kg |
| Dimensions | 15 × 7.5 × 2 cm |
Charismattic Paint- Ancient Pages
| | |
| --- | --- |
| Weight | .05 kg |
| Dimensions | 10 × 4 × 4 cm |
Charismattic Paint - I Love You Pink
| | |
| --- | --- |
| Weight | .05 kg |
| Dimensions | 10 × 4 × 4 cm |
Charismattic Paint- Minty Fresh
| | |
| --- | --- |
| Weight | .05 kg |
| Dimensions | 10 × 4 × 4 cm |
Charismattic Acrylic Paint - Look at Me Lilac
| | |
| --- | --- |
| Weight | .05 kg |
| Dimensions | 10 × 4 × 4 cm |
Jane Davenport Flower Girl Stencils
| | |
| --- | --- |
| Weight | .10 kg |
| Dimensions | 28 × 20 × 1 cm |