21 Secrets was my first online teaching experience. And now Connie, the founder, has come up with a wonderful new concept!

21 SECRETS is turning five years old this 2014
and we are throwing a special workshop to celebrate our ka-tooties off!

Come join a group of past 21 SECRETS teachers in 21 SECRETS LIVE!–
you don't have to find a hotel, break the bank on airfare, or even get out of your pajamas!
We are bringing the LIVE! workshops home to you!
Starting January 15 your host Connie Hozvicka of Dirty Footprints Studio and a past 21 SECRETS teacher will meet every Wednesday at 6pm EST for a LIVE! video broadcast where you can art journal along with us in real time, ask us questions through a chat format, laugh your hiney off, sip margaritas, and feel like we're right there with you in your studio LIVE!
Can't make the LIVE! broadcasts? No problemo! Each 21 SECRETS LIVE! broadcast is recorded and available for all members to keep and return to again and again!
But the party doesn't just stop there–we'll keep the loving going in a private Facebook group and Flickr gallery too–so you can share your work, give and receive feedback, and be a part of a heart-centered supportive community of Artists!
HERE'S WHO'S HEATING UP WEDNESDAYS IN
21 SECRETS LIVE! IN 2014:

Julie Fei-Fan Balzer Dion Dior Jane Davenport Andrea Schroeder Aimee Myers Dolich

Alma Stoller Carissa Paige Dale Anne Potter Violette Clark Roben-Marie Smith

Rachel Whetzel Natasha Reilly Rae Missigman Diana Trout Gretchen Miller

Hali Karla Rachel Awes Traci Bunkers Lisa Wilson Kate Crane

Tracy Verdugo Kelly Barton Connie Hozvicka (Your Host)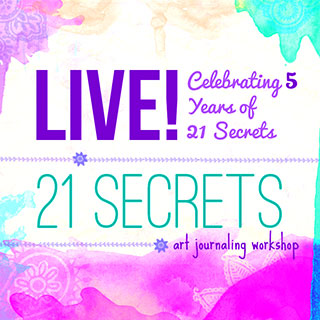 Click here to view more details
21 SECRETS LIVE! begins January 15, 2014 and consists of 21 consecutive Wednesdays where your host Connie Hozvicka of Dirty Footprints Studio and one of the following teachers will be LIVE! for an art journaling workshop and fun!

Click here to view more details
All the teachers in 21 SECRETS LIVE! have taught in one or two years of the previous 21 SECRETS!