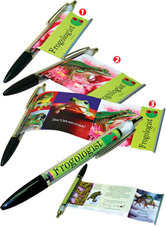 I created the installation  'Frogology' for the Perth Zoo in 2007 and it has been on tour ever since (see some of the  Frogology artwork here). Frogs are having an extremely tough time, with habitat loss, increased UV levels and pollution. The large-scale,outdoors art installation exhibition allows you to look eye-to-eye with these charismatic creatures. The Zoo's education department created a whole program around the exhibition and provided  positive actions we can all take as individuals to make life easier for amphibians.
As part of the frog fund raising initiatives I created a really special pen with Quillboards. It writes beautifully (as it is a high quality pen made in Germany), but has a streamlined tab along the barrel, that when pulled, rolls out a vivid selection of the artwork from the Exhibition – pretty cool huh?!
If you LOVE frogs and would like to declare yourself to the world as a Frogologist and help raise money for Frog Research, then a pay a quick visit to the  Queensland Frog Society, grab the code and follow the link to order the pen set.
Now, I really must get my Frogology book finished!