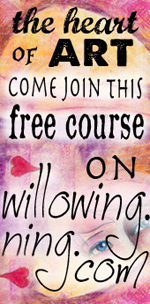 I discovered Tam Laporte's Willowing network at the beginning of the year.  I followed the breadcrumb trail from her cute You Tube vids on art journals… Tam just has a wonderful, gentle energy that flows through the ether – that's her in the photo below.
I loved getting involved in her 'World of Whimsy' art class – and I created lots of work I really like as a result (Pandering for Attention in my last post was created during the class!). And a whole series of artwork has flowed on since it finished just a few weeks ago.
Well, now Tam is offering a free class – so even if you have never drawn, or you feel you are not creative at all, but would like to be, or if you are crazy about creating – join me for some fun!  Tam is also a firm beleiver, as I am, that art can mend the spirit and shed illumination on our troubles. The network is mainly made of gentle women, with an amazing variety of experience and expertise.
Healing and Art for everyone! 🙂 ♥
The fun starts on 18th October 2010.
I assume that the uptake is going to be HUGE – there will be tons of inspirational energy to bouy the spirit. It's going to be a delight! Maybe I will see you there? Hope so!
Choose Happiness,
Jane