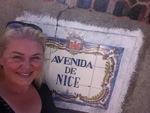 Hoo boy…I'm on the cloud above cloud 9. I'm staring down at cloud 9 with binoculars.
I came to Portugal expecting an Art workshop, sitting and journalling in cafes, and eating a bit of Portugese chicken at some point. The reality was far greater as I really got to experience Portugal in an insanely intense swallow. Our trip organiser set up a hugely ambitious schedule, but I think the added time pressure to 'get things done' worked in my favour…because when we were in the workshop, I was a flurry of paper, paint, pencils and pens. I can't even say I'm exhausted, I'm exhilarated.
I am head-over-heels in love with Teesha and Tracy Moore. Two of the best, most generous, and talented people walking on the planet. Plus they love Battlestar Galactica and are therefore super-awesome. I am still spinning from the privilege of having so much time with Teesha, who I idolize, even though she's now my friend. And Tracy is hilarious and the most perfect example of grace under pressure. Plus he is a Lomo Freak and is therefore completely cool. I've been invited to teach in Seattle at The ArtFest Annex, their art workshop space – I mean – hello?!!! I can't even talk about it yet because it's so exciting.
My classmates were a great group of women, with much hilarity. I lifetime bonded with Elisafish ( my roomie and newest BFF), Cynthia ( who is the most amazing Flea Market treasure hunter/ Magpie), Maxine ( who was always laughing with me) and Taylor ( my darling Ratay, which she would hate me telling you-  the darling part, not the rat part. She likes being a rat…you had to be there…! ). Because the week was so INTENSE we grabbed each other and hung on. I picked up an AWESOME nickname…"Danger". Danger Davenport! ( We even had a special way of saying it : Dane-jah….! ). So I will now only answer to that. Too funny!
On the first evening, we all painted our own Portugese tiles. We were instructed by the tour organiser to stick to the traditional stencils provided. This caused a few shockwaves of resistance…telling a group of artists what to paint? A risky move! I of course did not obey… and with narwhales and unicorns on my mind from Paris, I wasn't at all surprised to see what I painted.
But back to the MAIN EVENT. My workshop Art Journal is my Precious. I love it so much… It started off with a bang, and then I hit the wall on the 3rd day…it was ugly, disjointed, i was lost in all its collage-yness.
Creating is like a roller coaster….you start full of thrills and anticipation as you head to the big dippers…but then comes the chugging up the big hill part, where you have time to think and notice how high and out of control you are, that you feel a bit nauseous…you start to wonder "why am I doing this again", "Get me off!" …but then you hit the top of the hill…and for a split second you are suspended in a clear vacuum and you can see the final loop the loop approaching. And that's when I rememeber, "oh, yes, this is what i was heading for all along, weeeeeeeeeeee!". So by Day 5 I was flying again, my hair streaming back in the creative rush of loopdaloops!
I recorded my new journal coming together from the start, so I'll add a video next week when I get back to Australia.  So keep your antennaes tuned…
Here's a little sneak peak of the unfinished cover…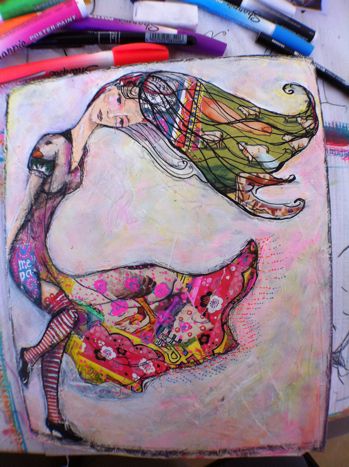 x Jane
Pp.s. And Sunny, if you are reading this, I did indeed hello from you to the Moores, and they big smiled, she's awesome-ed  back!