Tattoo ink | 9 new water-resistant inks!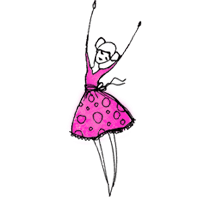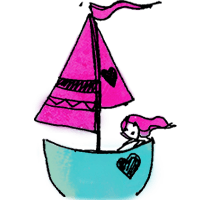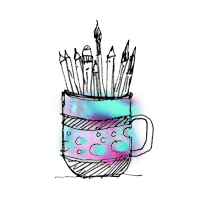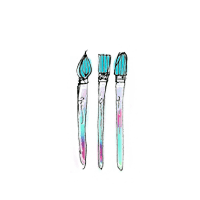 Letter, draw, paint, & spray!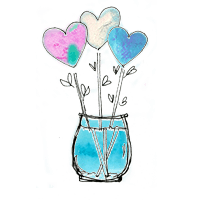 30 ml of Amazing ink for paper!
Tattoo Ink is a water-resistent, nano-pigment ink for paper.
Their smooth flow makes them perfect for drawing fine lines, which dry faster and can be painted over more quickly. Although they are waterproof when dry, they can be used to make washes while still wet. They are ideal for artists, journalers, sketchers, tanglers, doodlers and scribblers!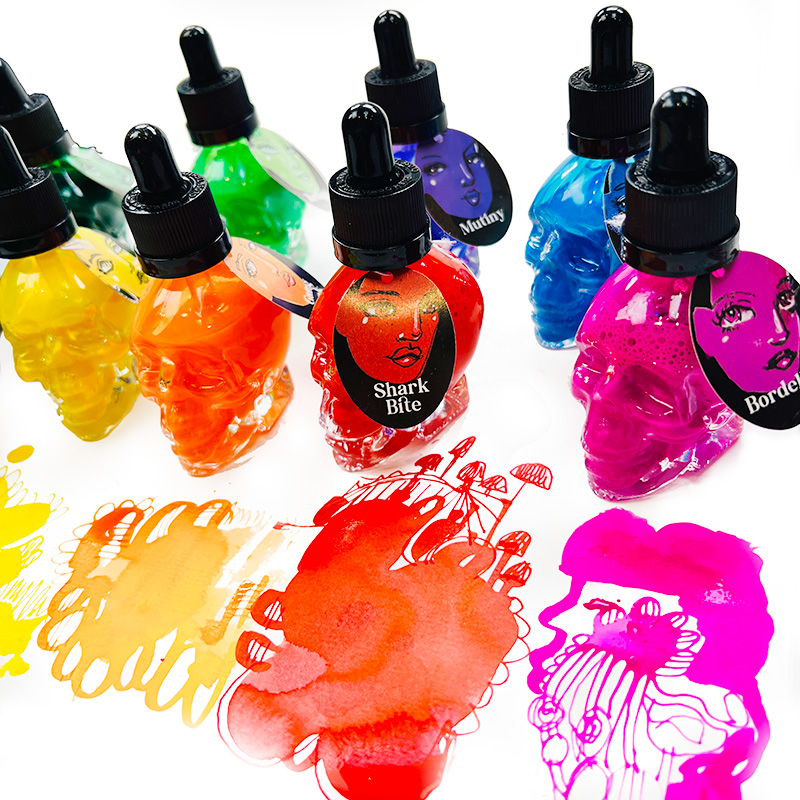 These 9 new colours are vivid and useful!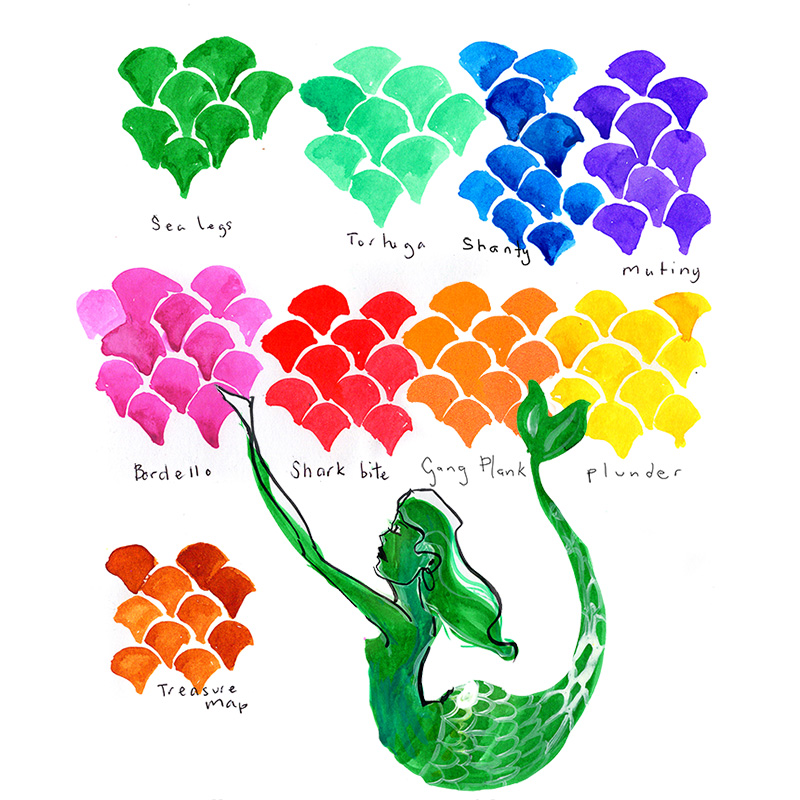 For the Mixed Media artist!
You can apply Tattoo Inks like a watercolour ink, but once dry they are highly water-resistant so you can layer watercolour and other watersoluble media on top of them without blurring. More than that, they don't like to disturb under-layers of your art. They tend to sit up on top of other other art supplies. they are water based for easy clean up and can be added to any ink tool such as mister bottles, markers and  waterbrushes ( See the video below for more ideas and details).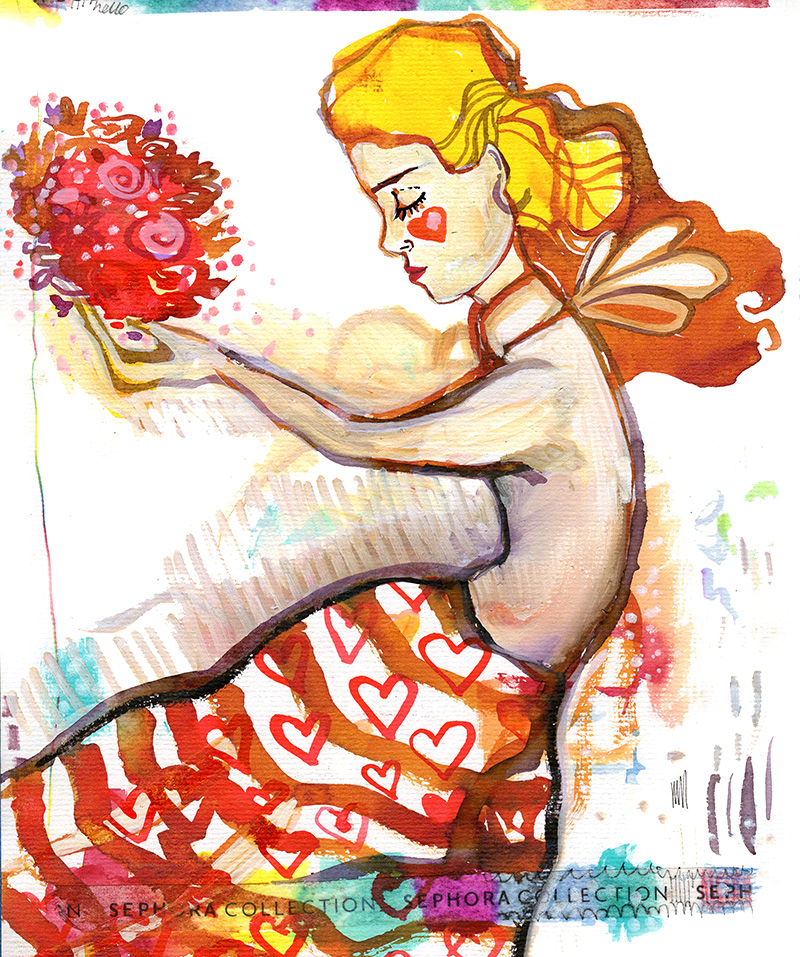 For the Calligraphers and Sketchers!
Add Tattoo inks to a fountain pen, PinPoint pen, Meet your Marker or Inkbrush
Smooth Writing
Stable Performance
fountain-pen-friendly.
the deep colour is formed with pigment, not dyes.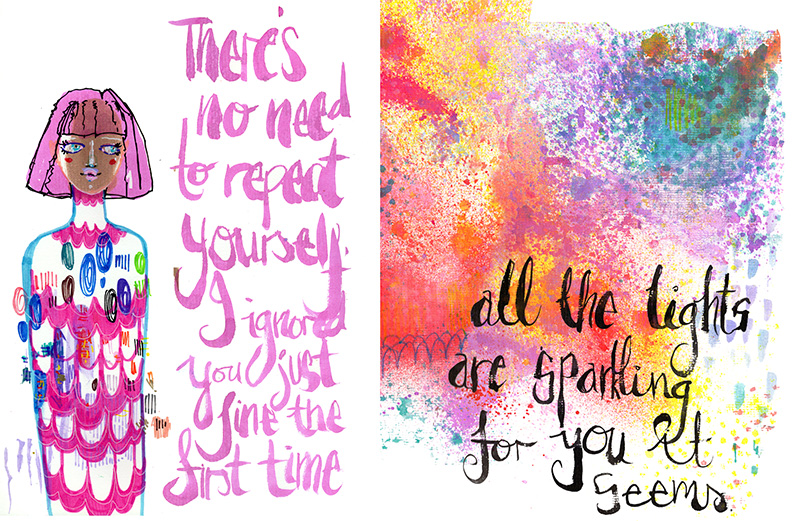 Each bottle contains a generous  30ml of ink
Secure push and twist cap
Dripper top, so you can ceate straight from the bottle!
Eco-friendly materials and manufacture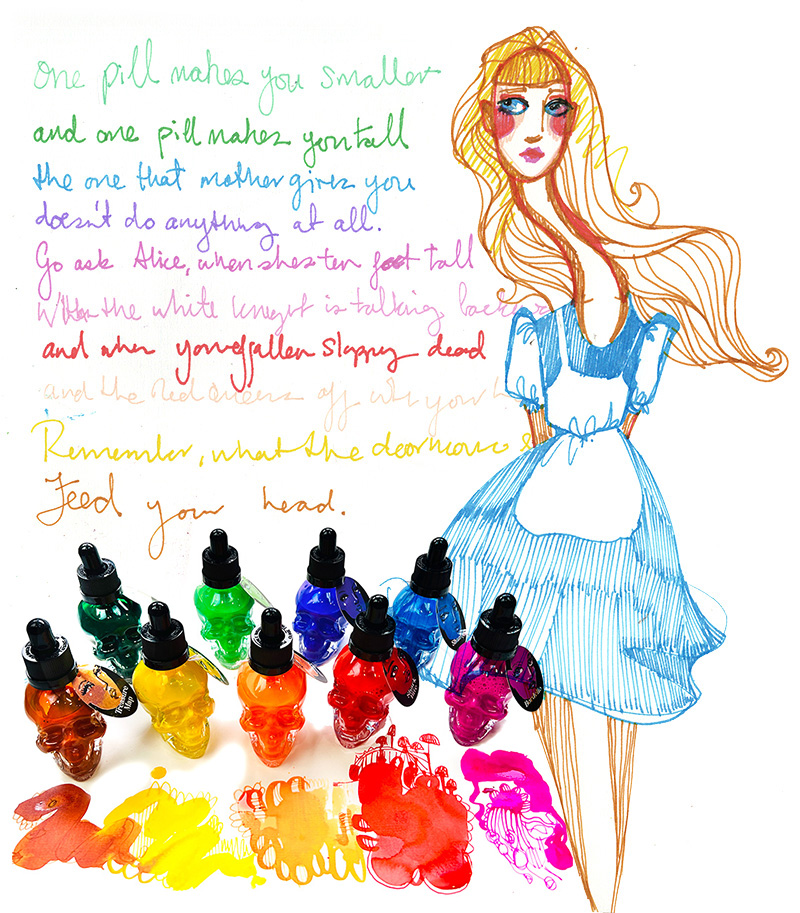 Water Resistant | What does that mean?
Technically, as a fountain pen ink, these are classified as water-proof, because a fountain pen lays down such a fine amount of ink.
However, as artists, we will use these inks in many other ways, and denser application can cause the nano-particles in the pigments to settle differently, and there can be some wash-out with enough if enough water is added. Each colours will react differently on various papers and conditions. Knowing that, you can use these properties to your artistic advantage!
See the video for more!
These 9 new Jolly Rodger colours each has it's own personality!
Shanty is a true ocean blue with turquoise undertones, 

Tortuga is a gleaming sea-turtle green,

Sea Legs is a deep kelp forest green,

Bordello is a sumptuous, lively magenta

Gangplank in the most energetic orange you will ever see!

Mutiny is such a clear and strong purple,

Sharkbite is an intensely pigmented red,

Treasure Map is a lively sepia 

Plunder is sunshine in a bottle.
I love to use them in the Funtain pen Rollerball tips as everday-writing and drawing pens!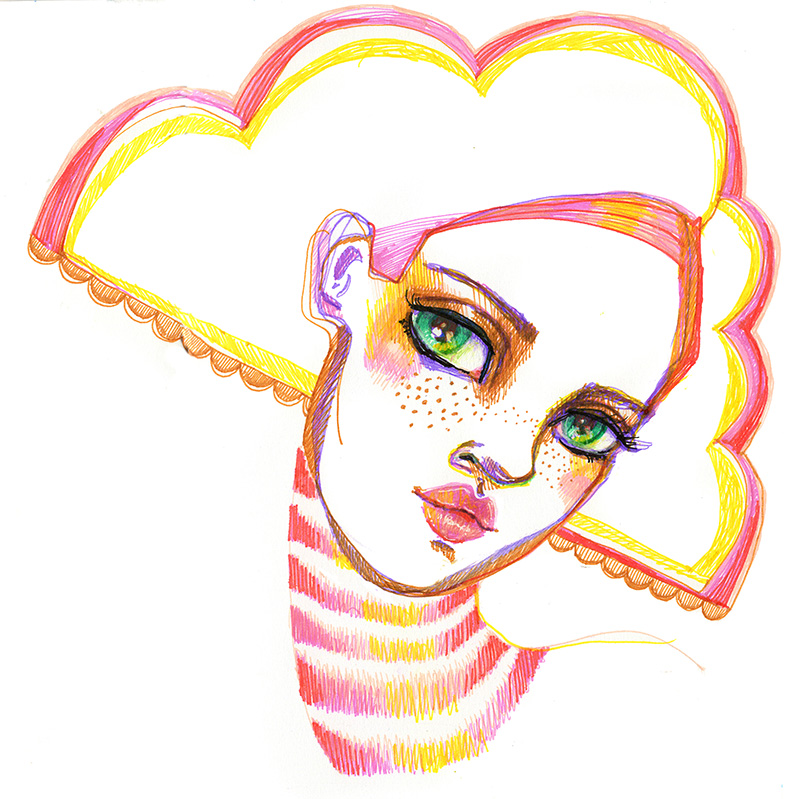 Load the inks into our FUNtain pens!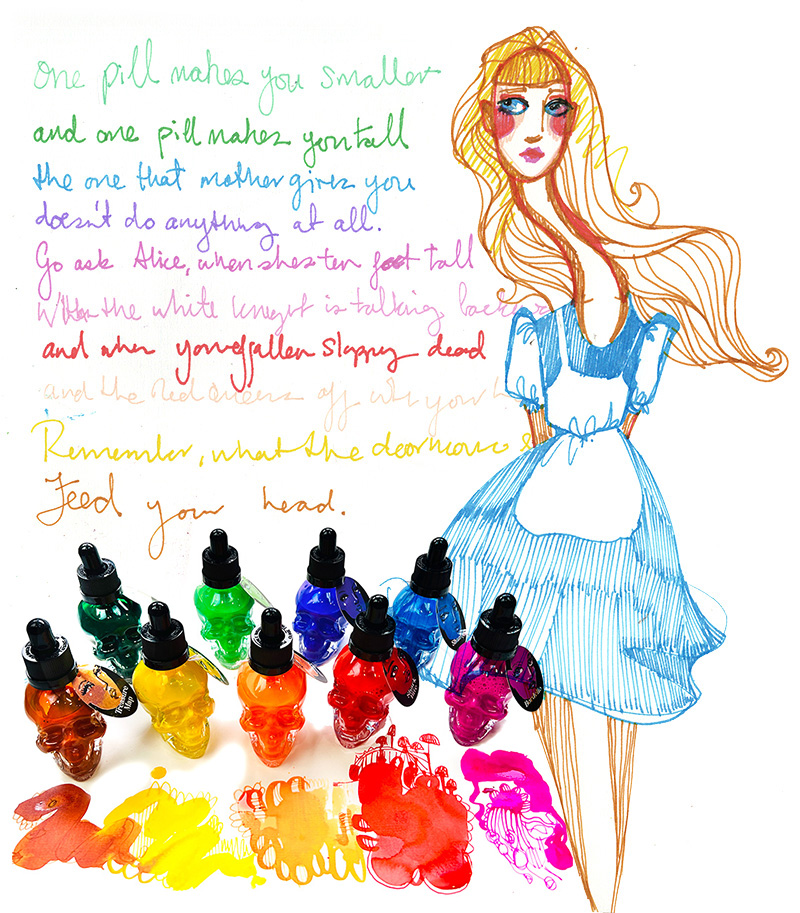 You can dilute Tattoo ink with water for lighter washes, or layer it for more intense colour.
It is waterproof when applied from a pen or in thin washes.
In deeper or more dense applications, there can be some slight colour shift with water.
But overall the water-resistance is excellent!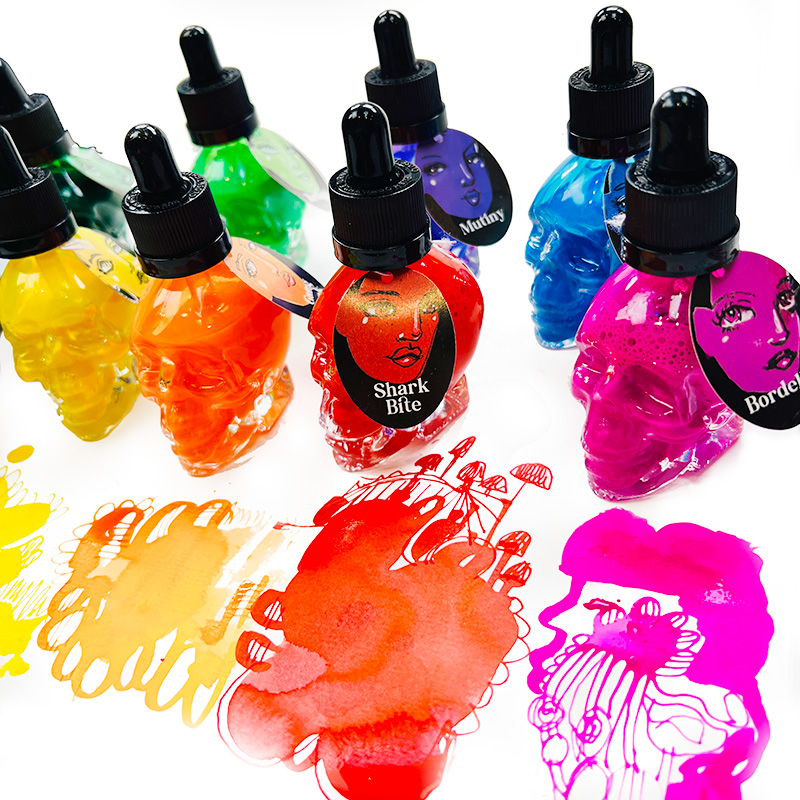 Load tattoo ink into all types of fountain pens, spray bottles, markers. Use with Dip pens and brushes. Draw paint and Mist with it!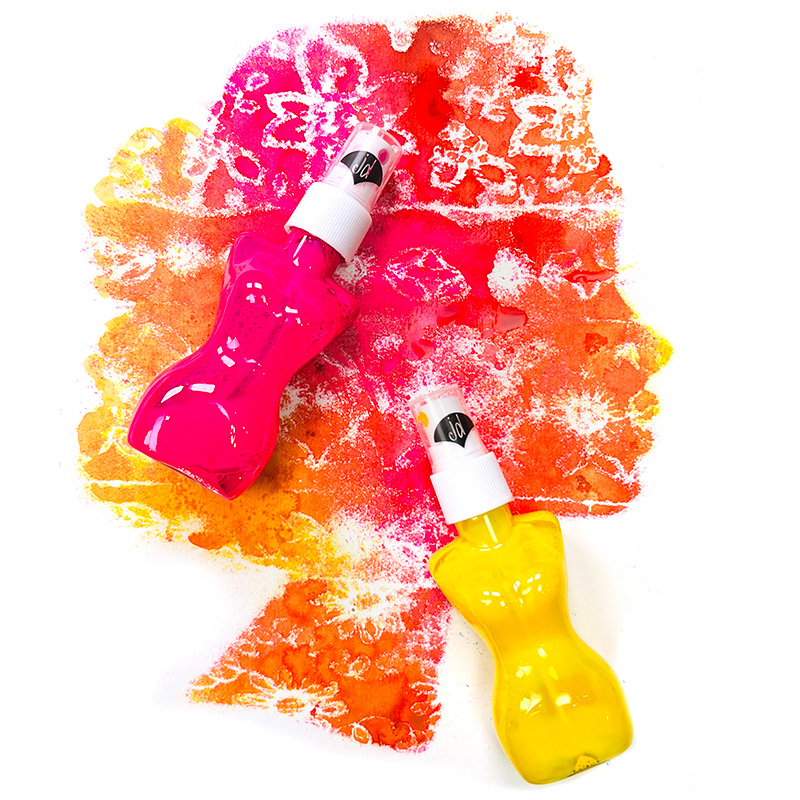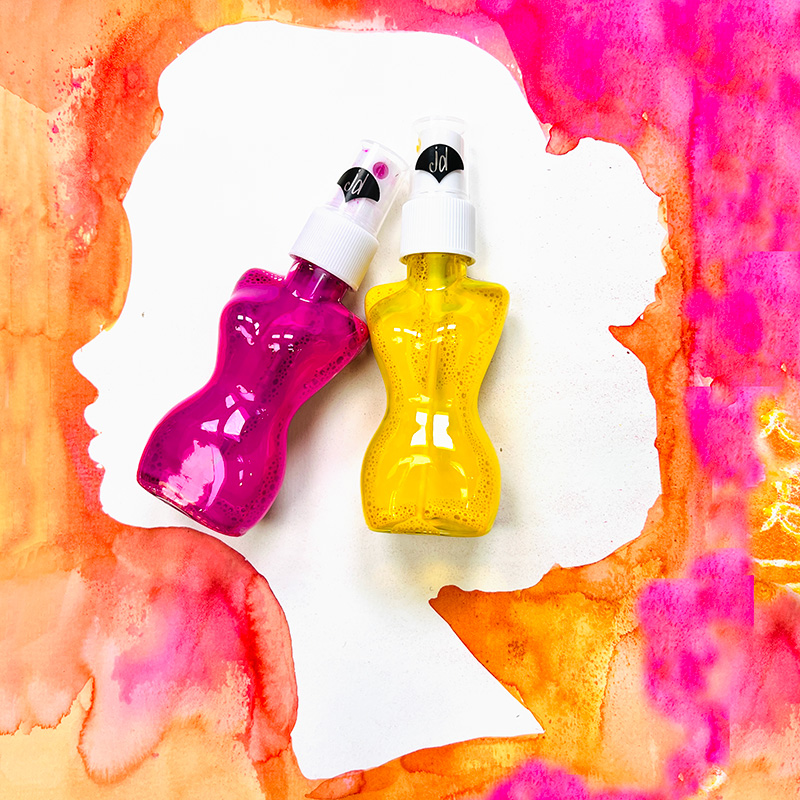 What you might like to know
Water-Proof vs Water Resistant
The Tattoo Inks all have different water-resistance qualities.
In the chart below i sprayed each colour so we have an intense application of each ink, then added some lines with the ink in a Waterbrush, then some very fine Fountain pen lines.
I let the ink dry, and then added water with a paintbrush over each swatch and let it sit there until it was dry.
I have a summary of the results below the chart.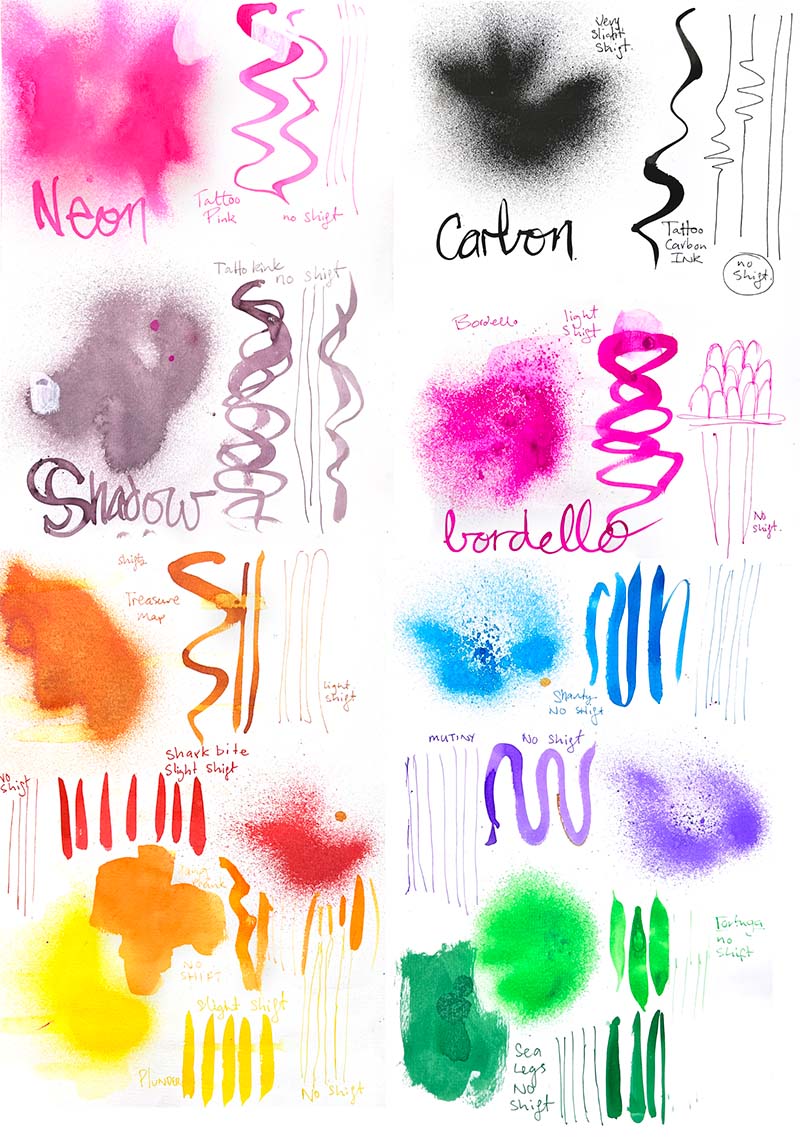 In short, Tattoo inks in fountain pens,  ie very fine application, has no shift.
On the more dense applications ( the sprays and waterbrush lines, there is a variety of effects.
Neon Pink : no shift

Carbon Black: dense areas can have very light shift,

Shadow: No shift

Bordello  magenta: dense areas can have very light shift

Treasure Map sepia : this has the most shift, but it is very attractive!

Shanty blue : no shift

Sharkbite  red: no shift

Mutiny  purple: no shift

Gangplank Orange: no shift

Tortuga light green: no shift

Plunder yellow : dense areas shift

Sea Legs deep green: no shift
………..
Care tips
Please note: These inks are safe to use in fountain pens, but regular care and cleaning should be done, as pigment ink can be damaging if allowed to completely dry up inside the pen. To be safe, we recommend cleaning your pen every 4 to 6 weeks, or if you don't plan on using the pen for a week or longer. To clean flush it with water.
If your pens with Tattoo inks have been standing for a while and appear dry, rinse the nib and wipe on a lint free cloth to remove any dry ink particles. The ink will flow freely again!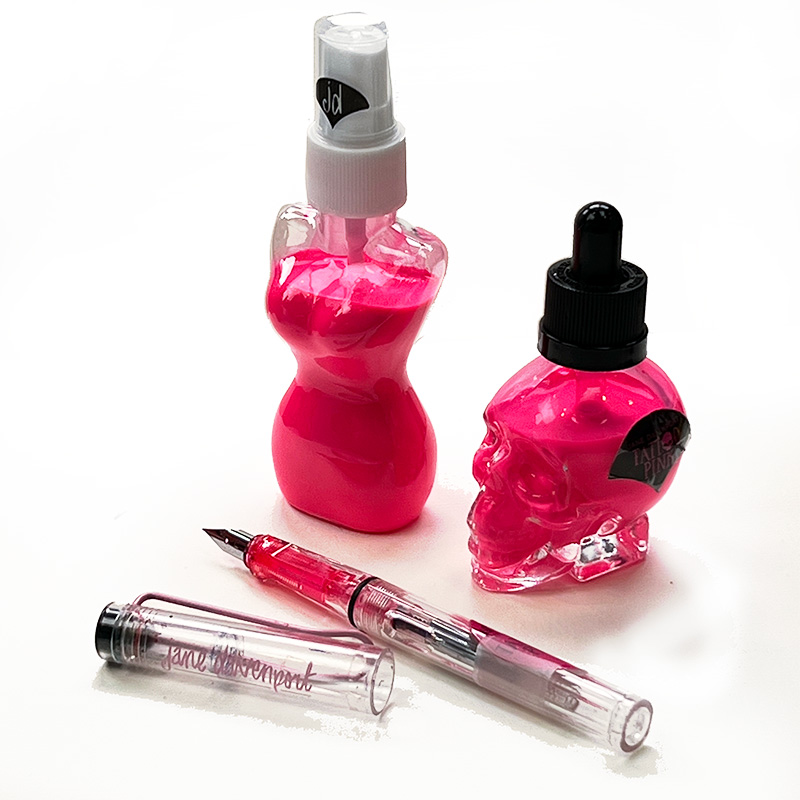 Although skin-safe, these inks are for paper and art surfaces, not drawing on skin, drinking, sniffing or anything else!
See the Bundle of the original colours here: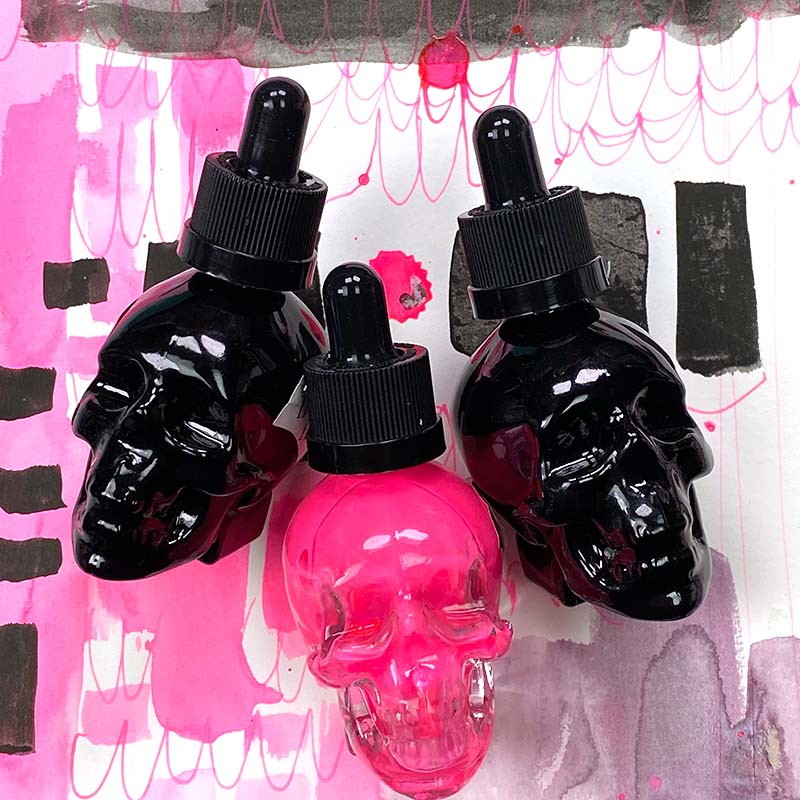 Please do not store the ink in direct sunlight or subject to extreme temperature changes.
| | |
| --- | --- |
| Weight | 2 kg |
| Dimensions | 5 × 5 × 8 cm |
| Colour: | Treasure Map brown, Plunder Yellow, Gang Plank orange, Shark Bite red, Bordello pink, Mutiny Purple, Shanty Blue, Tortuga green, Sea Legs, All 9 new colours! |