Clear Thinking Stamping Bundle!

Each of the pieces in the 'Clear thinking' plexiglass collection are practical, functional and beautiful! I ADORE creating items in this strong and durable material!
This Bundle brings together all the ;'Clear thinking' collection together!
We have :
the sturdy 3 piece 'Stamp Block' set,
the 'Storage & Symmetry ' 3 piece set with Favourite things Board, Symmetry Grid and the Deco table stand
The Mini Mixer palette and palette knife
The unique 'Face Math Ruler' to help with proportions
The 'Washi Tape Tower' – to keep all of your fave tapes at hand!
Scroll for details on each piece in this bundle!
STAMP BLOCK SET
The three perfectly proportioned stamp blocks have 1cm grids in Jane's signature 'Bali Blue'
Easy to find on a busy art surface!
The acrylic is thick, and easy to hold and handle with no danger of warping.
The sizes makes it easy to fit various stamps and apply them with precision.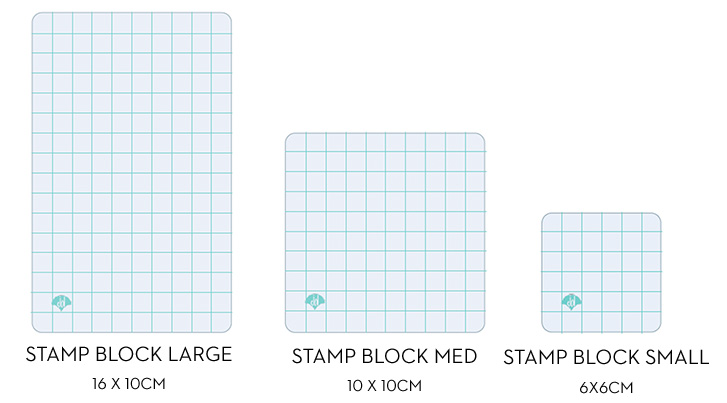 STORAGE & SYMMETRY SET
The Symmetry grid can be used :
to align face proportions in your drawings
as a large stamp block,
stamp storage
as a lined grid for your artwork
as a ruler
The 'Favourite Things'  board is the perfect place to store your most used stamps. I attach them all over the front and back. It's the best stamp storage I have personally used!  I switch the stamps with sets that i have stored in my stamp binder.
to align face proportions in your drawings
as a large stamp block,
stamp storage
as a lined grid for your artwork
as a ruler
attach favourite dies and other light items with washi tape
use it as a note board with a dry-erase pen
The mirrored Clear Thinking Deco Stand is finished in a gorgeous laser mirror finish.
Simply stack your stamp blocks, Favourite Things board and Symmetry Grid.
The sides are open which makes the contents easy to access while remaining neat and organised.
Store a few favourite stamps on it as well.
There is plenty of room to add other items such as the Face Charts, Palette pad and Mini Mixer palette.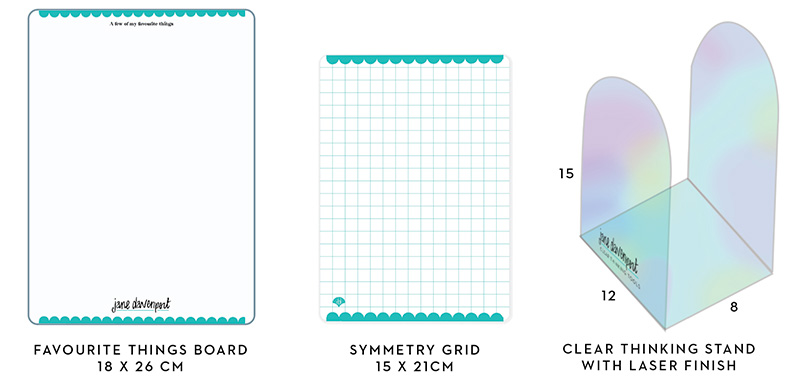 MINI MIXER PALETTE
I created this mini Acrylic palette for mixing paint on the fly. It is robust, doesn't take up to much room and is easy to clean.
It can be hand-held and  used to 'audition colours' in your artwork.
The metal spatula is a very handy art table essential that can be used for mixing and scraping.
They are housed in a neat envelope.
Paintbrush not included – it is here to show the handy size.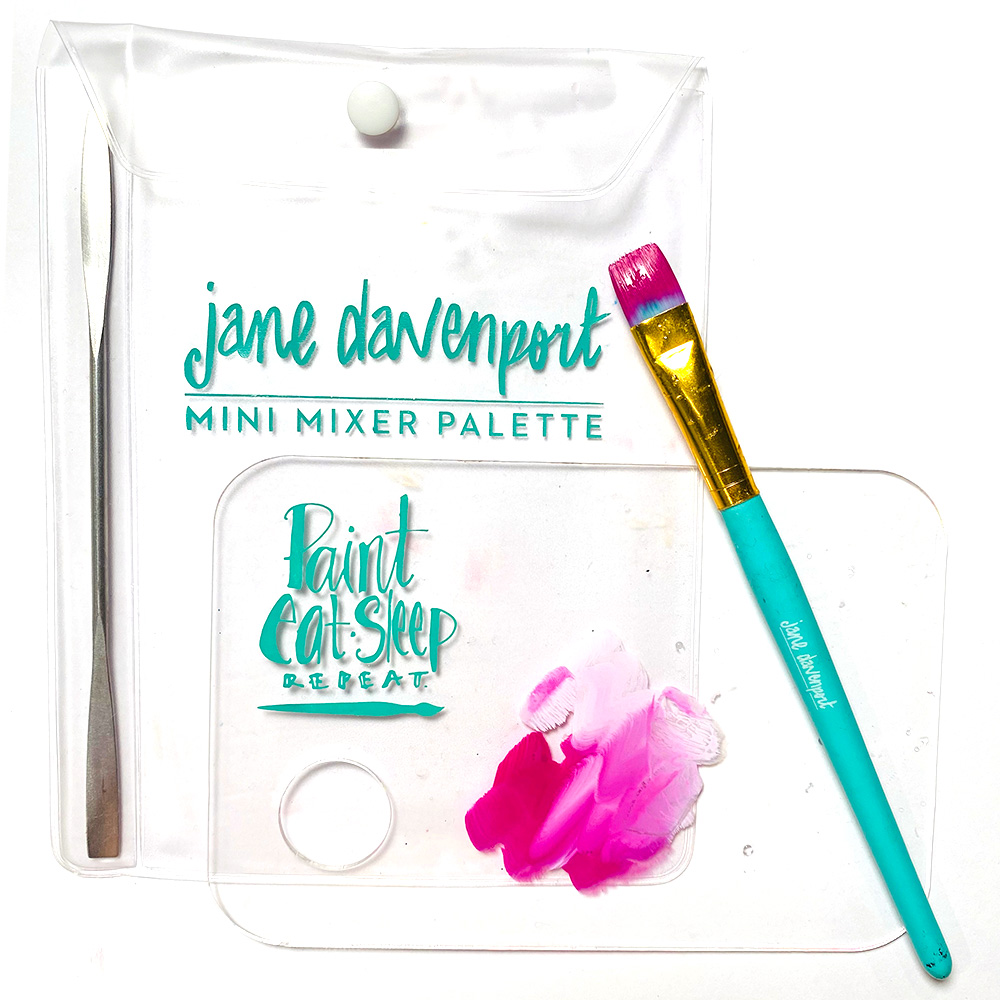 WASHI TOWER
Create a village of washi tape wherever you want it!
Easy to assemble, stable and crystal clear, so all the emphasis goes on your favourite tapes.
The Washi Tape Tower comes with gel feet that add extra stability.
Suprise bonus  feature : The base can also be used to trace out a circle – which has been SO HANDY! I didn't realise how much i needed this exact size circle template on my art table.
FACE FACTS RULER
This is a brand new concept to help you draw whimsical faces with ease and joy, just like Jane!
You have a set of eternally handy  ovals and circles templates, as well as the face proportions guide from Jane's best-selling book 'Beautiful Faces'.
On the sides you have measurements in both cm and inches.
Made in sturdy , crystal clear plexiglass.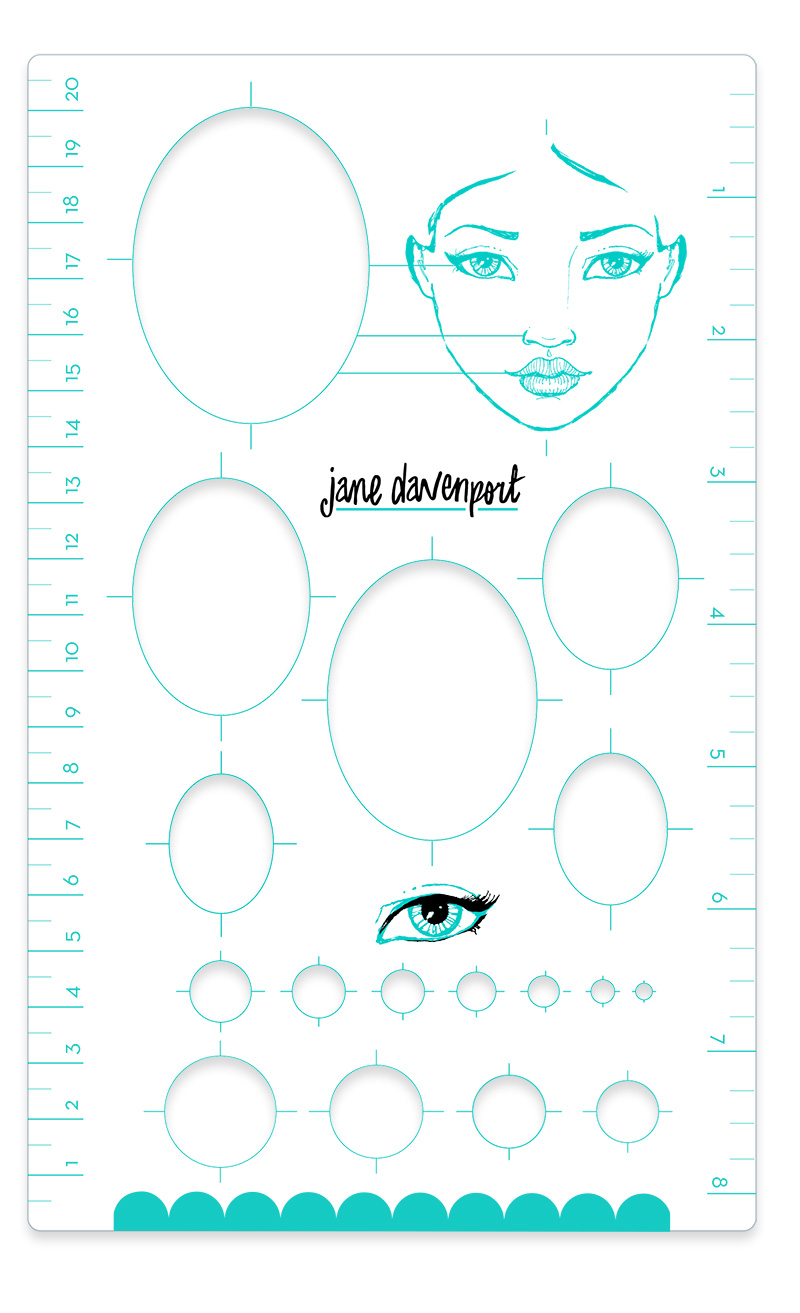 Please note, there is a protective film lining on some items which  can easily be peeled off.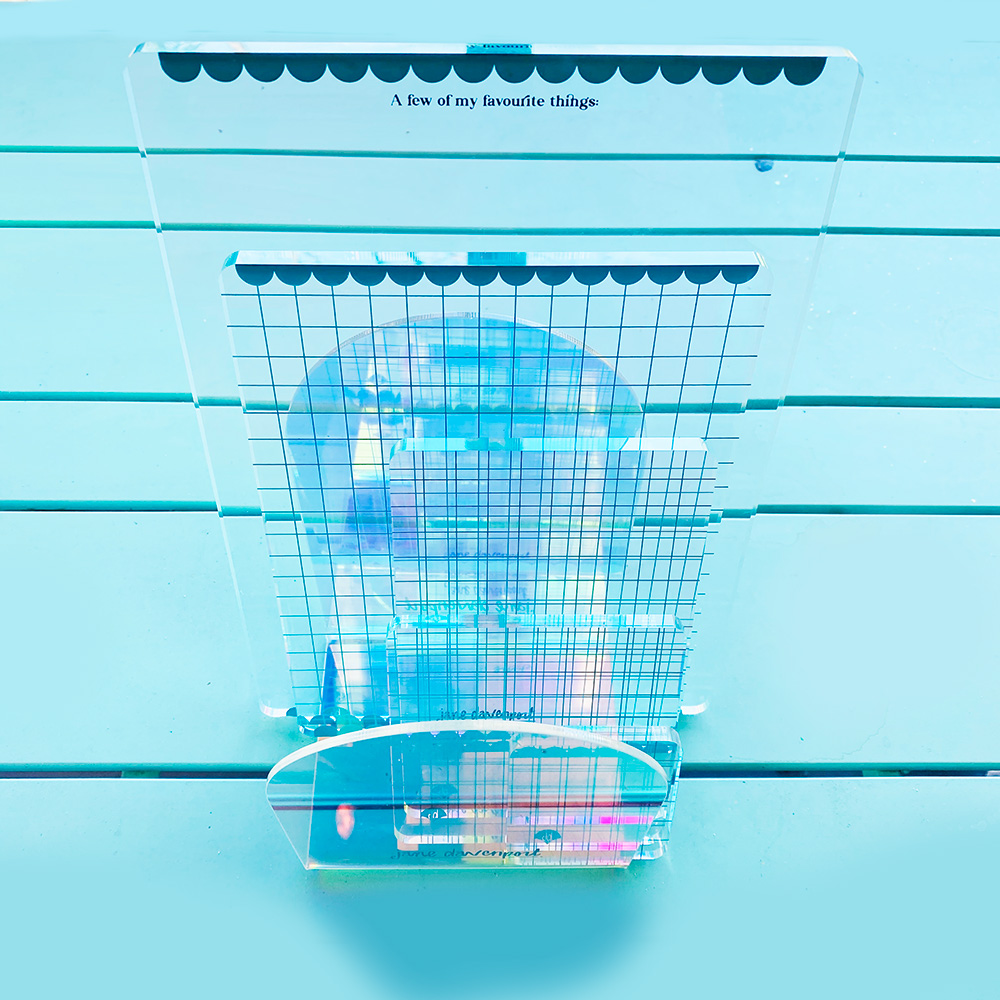 The Clear Thinking Collection has been thoughtfully designed and beautifully made. I am just so proud of each item in this collection and look forward to adding more to it!
What you might like to know
| | |
| --- | --- |
| Weight | 1 kg |
| Dimensions | 20 × 15 × 14 cm |
Clear Thinking 'Storage & Symmetry' Set
| | |
| --- | --- |
| Weight | 1 kg |
| Dimensions | 20 × 20 × 14 cm |
Clear Thinking Stamp Block Set
| | |
| --- | --- |
| Weight | .4 kg |
| Dimensions | 16 × 10 × 3 cm |
Mini Mixer Palette
| | |
| --- | --- |
| Weight | .1 kg |
| Dimensions | 17 × 14 × 1 cm |
Jane Davenport 'Face Facts' Ruler
| | |
| --- | --- |
| Weight | .1 kg |
| Dimensions | 15 × 8 × 1 cm |
Washi Tape Tower!
| | |
| --- | --- |
| Weight | .05 kg |
| Dimensions | 12 × 6 × 1 cm |