Description
The most convenient form yet devised to keep watercolours clean and available for instant use.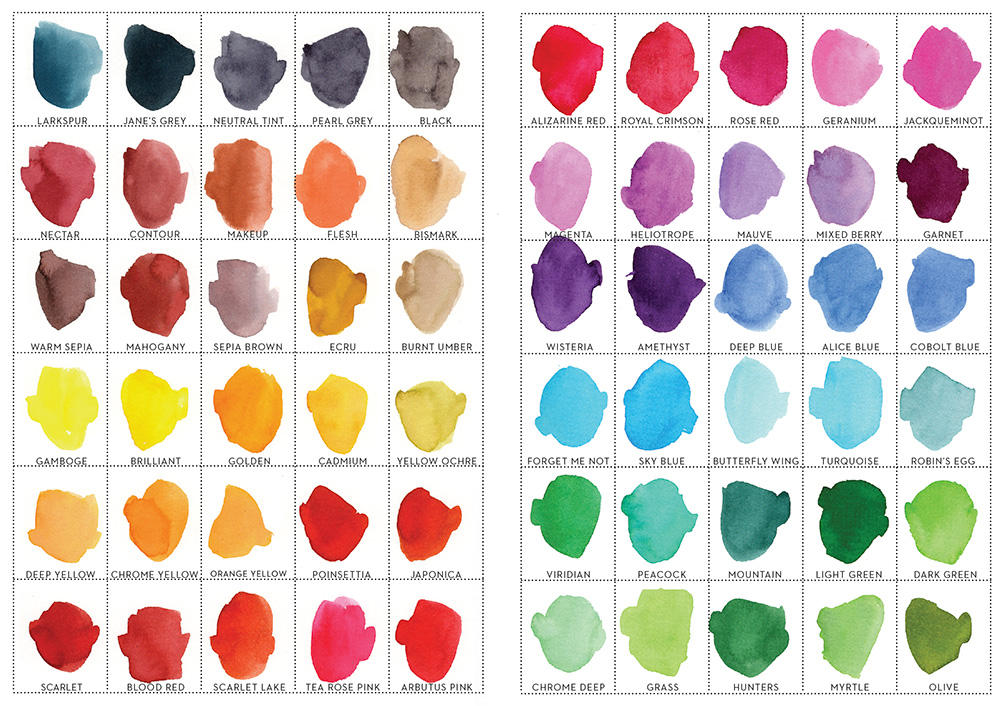 You can literally fit a rainbow in your Journal!
"I adore these Peerless water Colors because the colours are so vibrant and yet transparent. They are professional artist quality and self-blending which means they are pigment rich and flow without streaking.
I can record colour notes, ideas and inspirations 'in-situ', never having to wait until later to add colour, when the memories have faded.
I keep my hand-made palette of them in my bag at all times. I am happy to share my 'Artomologist's Peerless Palette'  in the images and video below!
When teamed up with my Inkbrushes, they allow me to add instant colour to a travel sketch or journal page wherever I am.
Jane Davenport | Artomologist
Click on the video for instructions on making my
'Peerless Palette'
…………………………….
This 'Jane Davenport Signature Set 'contains 60 individual colours

Each Peerless paint chip in this set is 2 inch x 2 inch.
The concentrated paint is coated on one side of a special paper fabric that readily discharges when it comes into contact with water or any soluble mixture. The other side shows the colour the paint really is.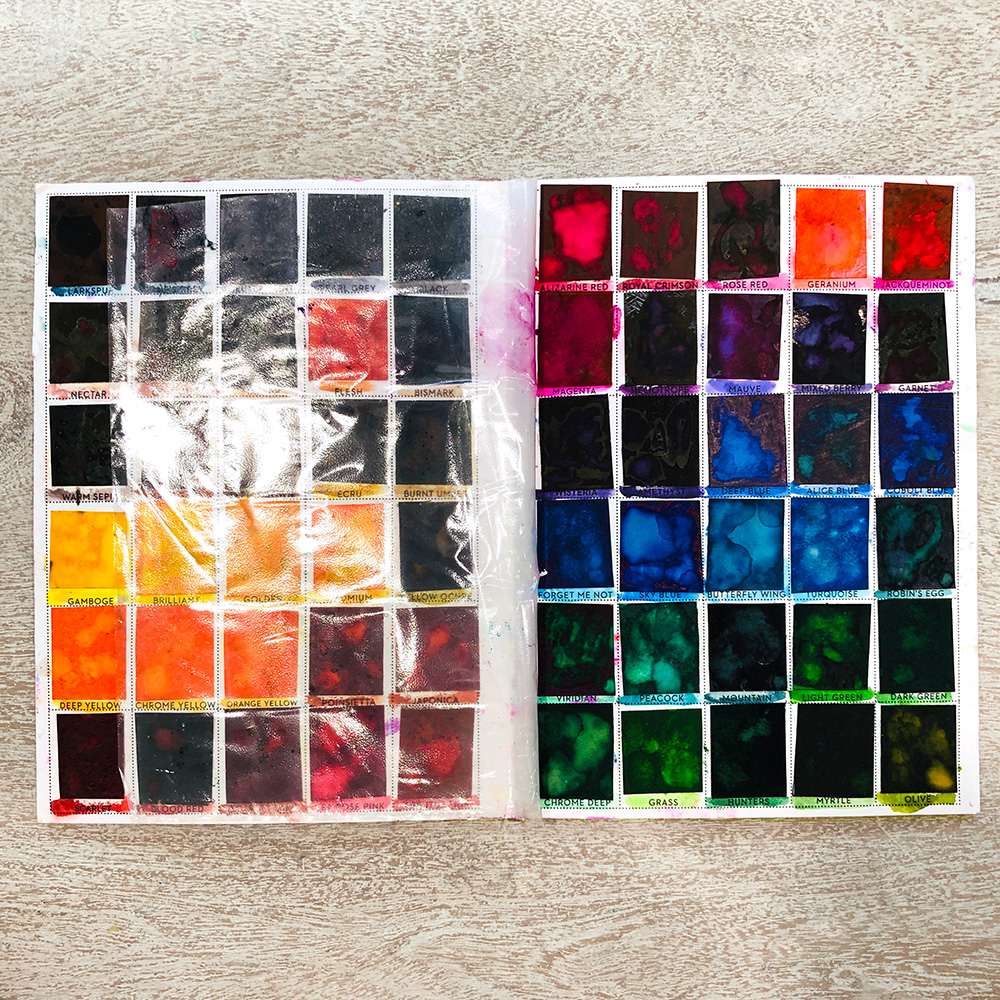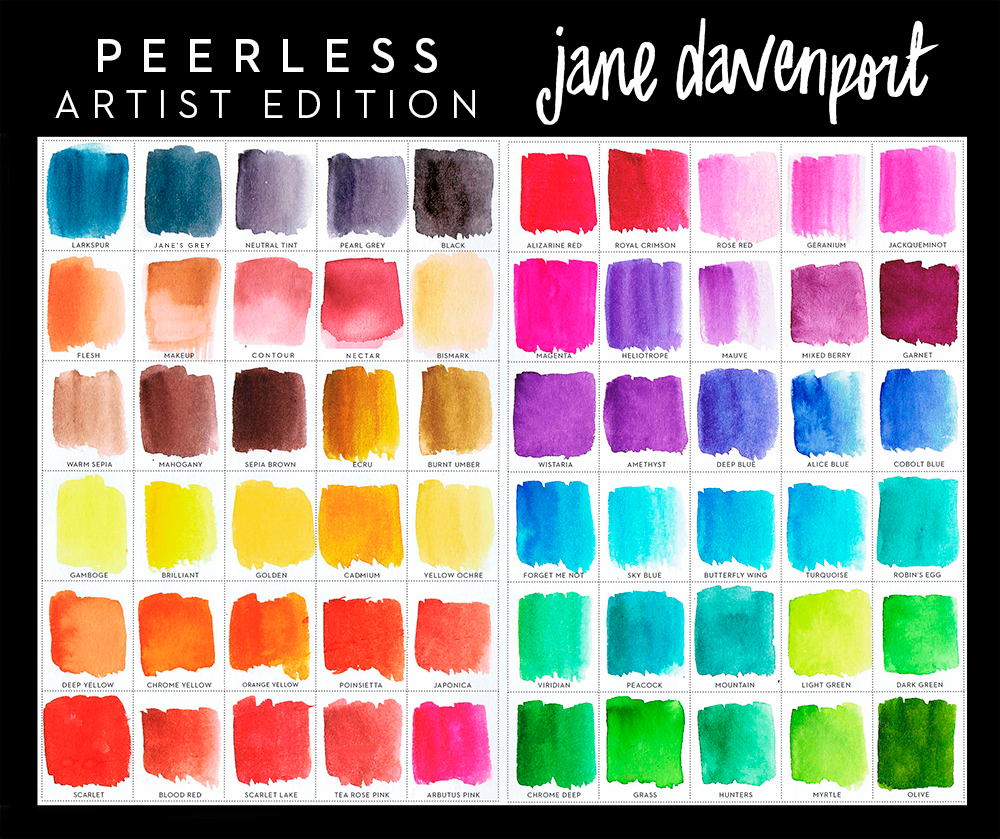 On this page you can see all the colours and work out  what the name of each one is if you feel the need to, but what i discovered fairly quickly is it doesn't really matter. What is important is to number the main swatch and the chips, so that you can replace the colour chip when you have used all the paint from it. You can see on the video how I set my Peerless Palette up…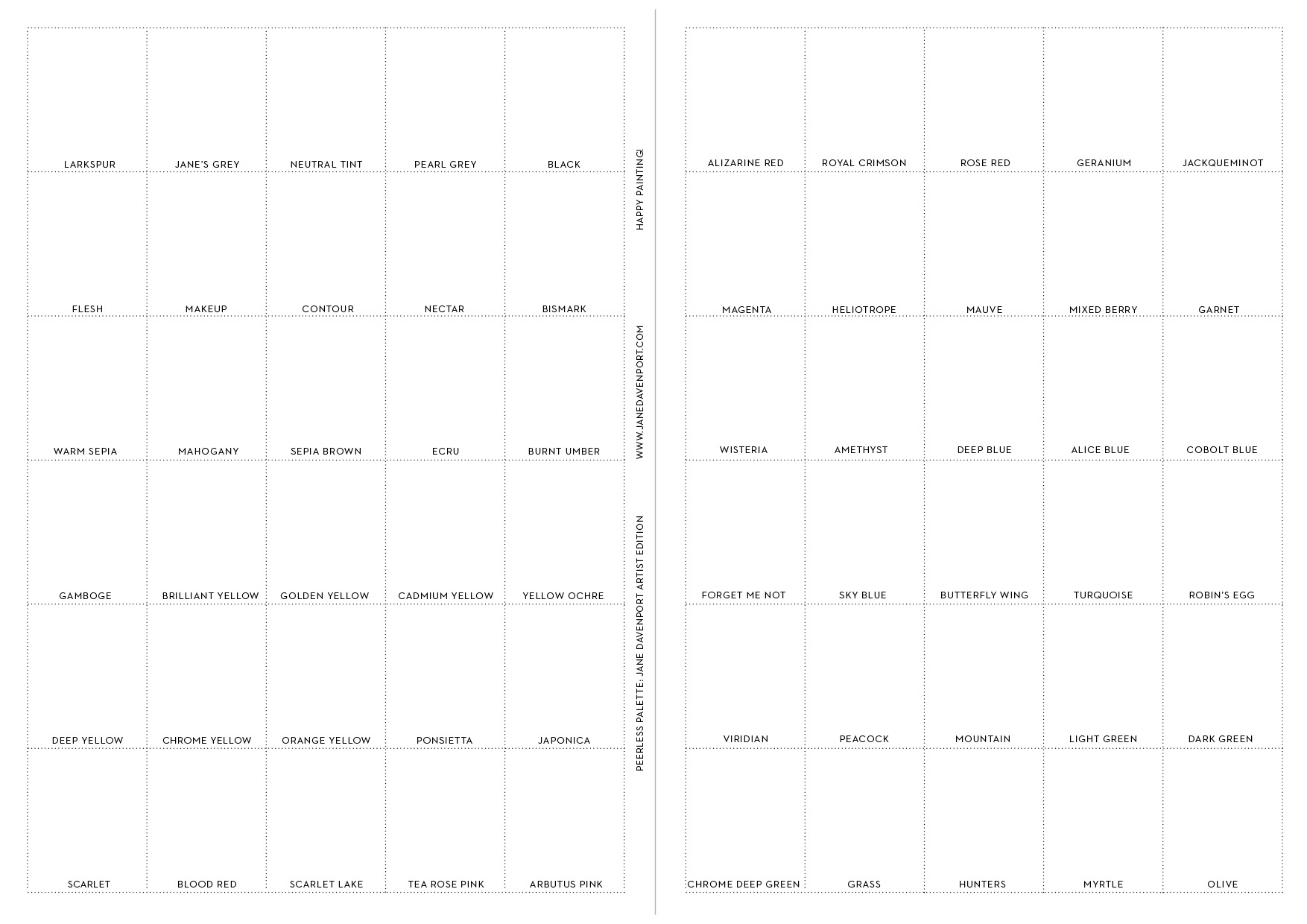 I divided my cardboard folder into 60 squares with a ruler and pencil ( there's a sample template on this page for the 60 colours)
i place a small number in each square from 1 to 60. (I can place the color name alongside later.)
I arranged all the Peerless colours in a rainbow ( using the lighter, non- paint side of the swatches)
I numbered them all on the back ( non-paint side) from 1 to 60 in that color order.
I cut a portion of the swatch to fit my palette ( make sure to leave room for adding a brushstroke of the watercolor.)
I numbered each 'baby' chip to match the 'mother' swatch ( then if things get out of order I can easily reorganise them.)
using a glue stick or double sided tape, place each swatch in the matching palette well.
Add a brushstroke of each watercolor under the chip and name it if you want to.
On my first set, I named the swatches, but found it distracting, so on other sets, I left the names out.
I like making a new palette for different journals.
I just made a bigger one to carry in my larger journals and I find it a lot of fun to do!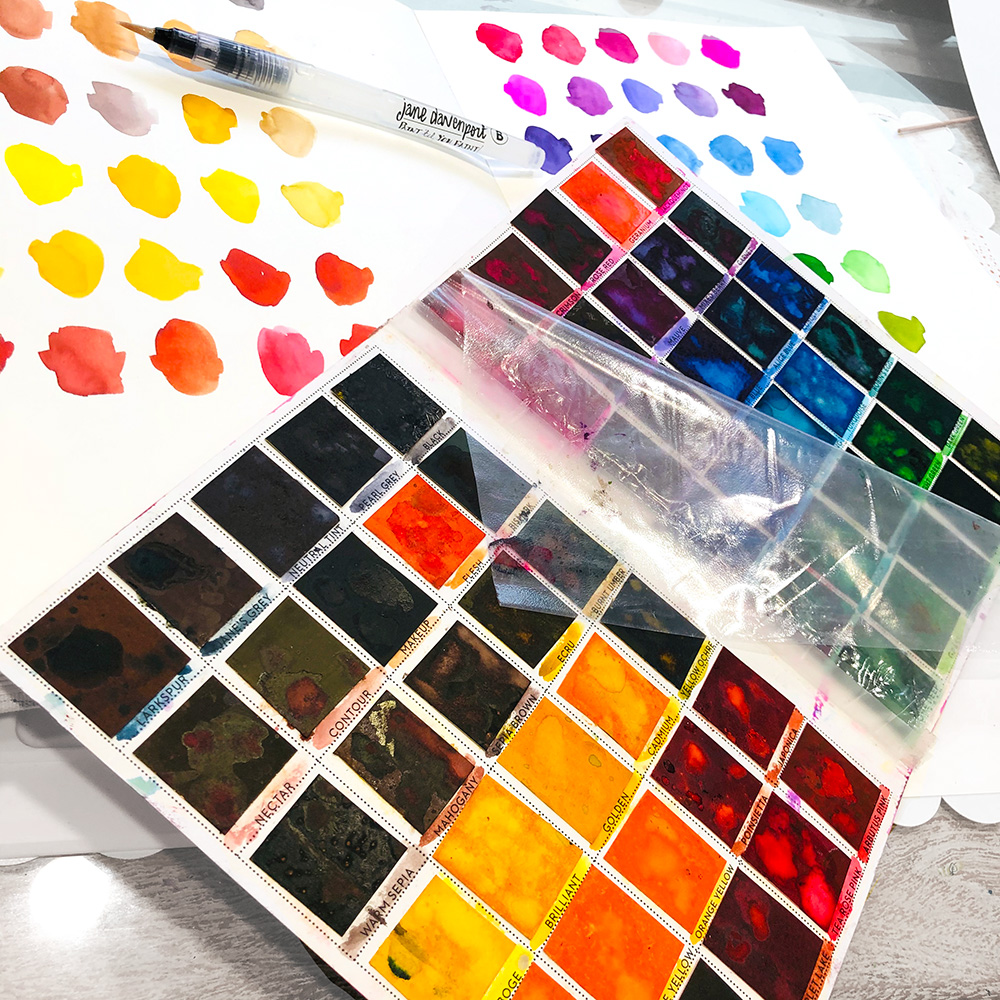 I hope you have fun making yours.
……………
Drag and drop the template to your desktop to help you construct your own Peerless Palette!
Simply print one onto some watercolor card/paper,
Cut your Peerless swatches to fit
Attach them- I use double sided sticky tape or glue.
Attach a piece of clear acetate in the middle with tape. ( this keeps the swatches from rubbing on each other and provides a colour mixing palette.)
go and paint!
Please note:
Sometimes the swatches have names, sometimes half do, half don't, sometimes none do. It's just luck of the draw on how they come from the Peerless because each swatch is hand-made!
This is a blank version so you can make your own colour combinations: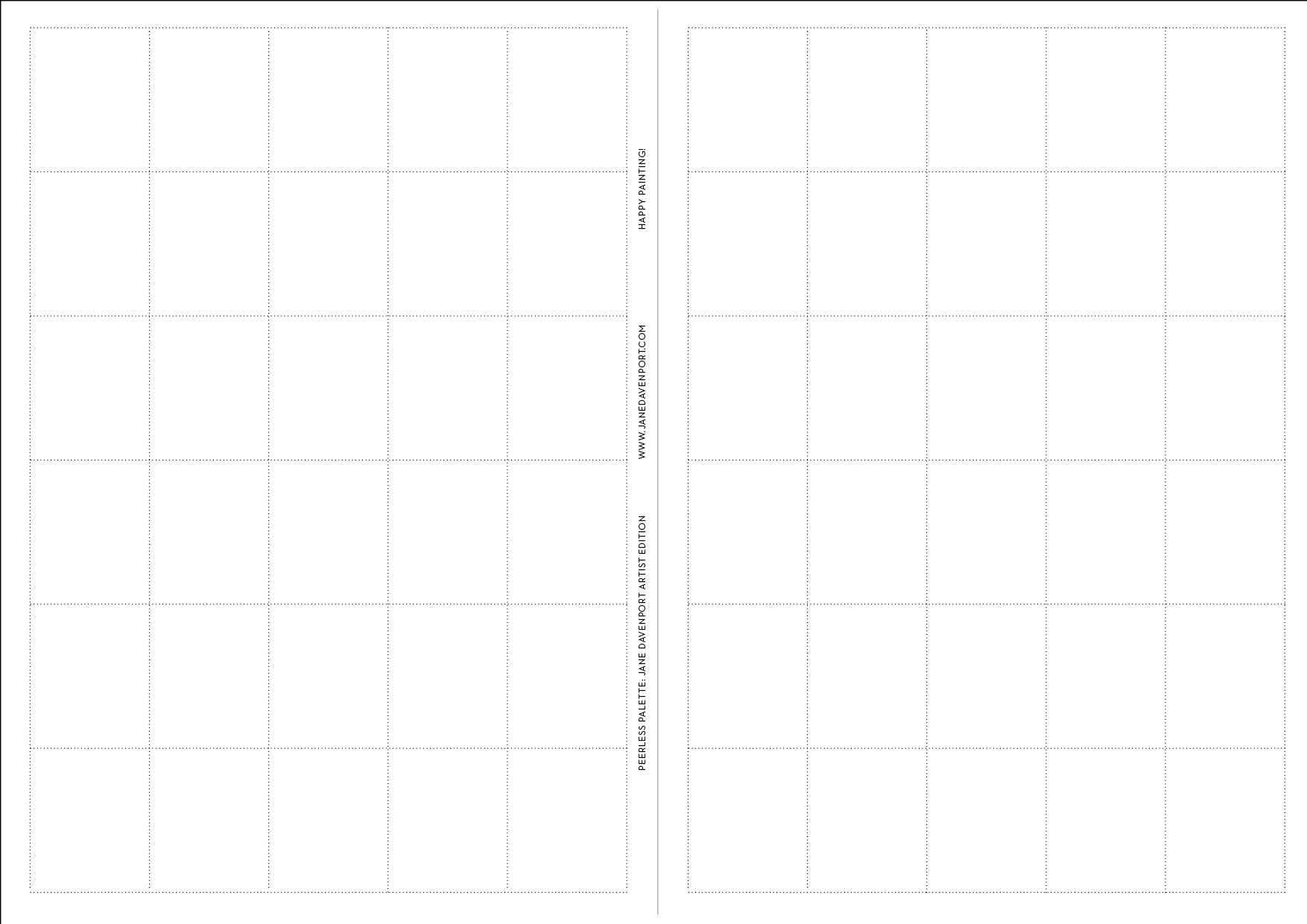 The History Of

"Peerless Transparent Watercolors were developed in 1885 by Charles F. Nicholson. After many years of "revolutionary" chemical research, he developed the self blending line of Peerless Transparent Watercolors in sheet form. His unwavering ideal was to create an original form of presentation for watercolors.
After many years of perserverance, he successfully developed Color Film, or paper leaflet paint as many used to call them. Watercolors had never been offered in dry form and the novelty of the idea seemed to shock the artistic sense of the professional colorist. Even after 122 years, the self blending Peerless Transparent Watercolors still shock the amateur as well as the professional colorist! Charles F. Nicholson was certainly a genius. The formula he created for his special watercolors in 1885 has never changed. After 122 years, the same process is used in the creation of the colors."
Basic Instructions
Product is highly concentrated and intensity is easily controlled by adding more or less water.
Apply as a 'normal' watercolour with brushes, Q-tips, cotton balls  or sponges, etc
Moisten applicator with water and touch sheet to pick up color. Dry sheet form does not require large quantities to discharge the color.
Remover color for the darkest side of the sheet.
When finished let individual sheets dry before storage.
Tips for hand tinting your Photographs!
Peerless works on all types of photo paper (matte, glossy, or sepia tones, etc.) by directly applying color from the sheet.
No affixates are necessary on the photo.
When applying Peerless use smooth strokes as if you were painting. In other words, don't dab on the color or it will have light and dark tones on the photo.
Detail work should be done with small brushes (size "00" or "000"). For other areas larger brushes should be used.
When tinting black & white photos, colors should be diluted with water before applying.
When colorizing a photo, a higher intensity of color should be used.
When Peerless Transparent Water Color dries it becomes part of the emulsion and does not distort the photo.
Special Note For Glossy Photographs (Black & White or Color): Less water is required when applying tint or color to photos.
…………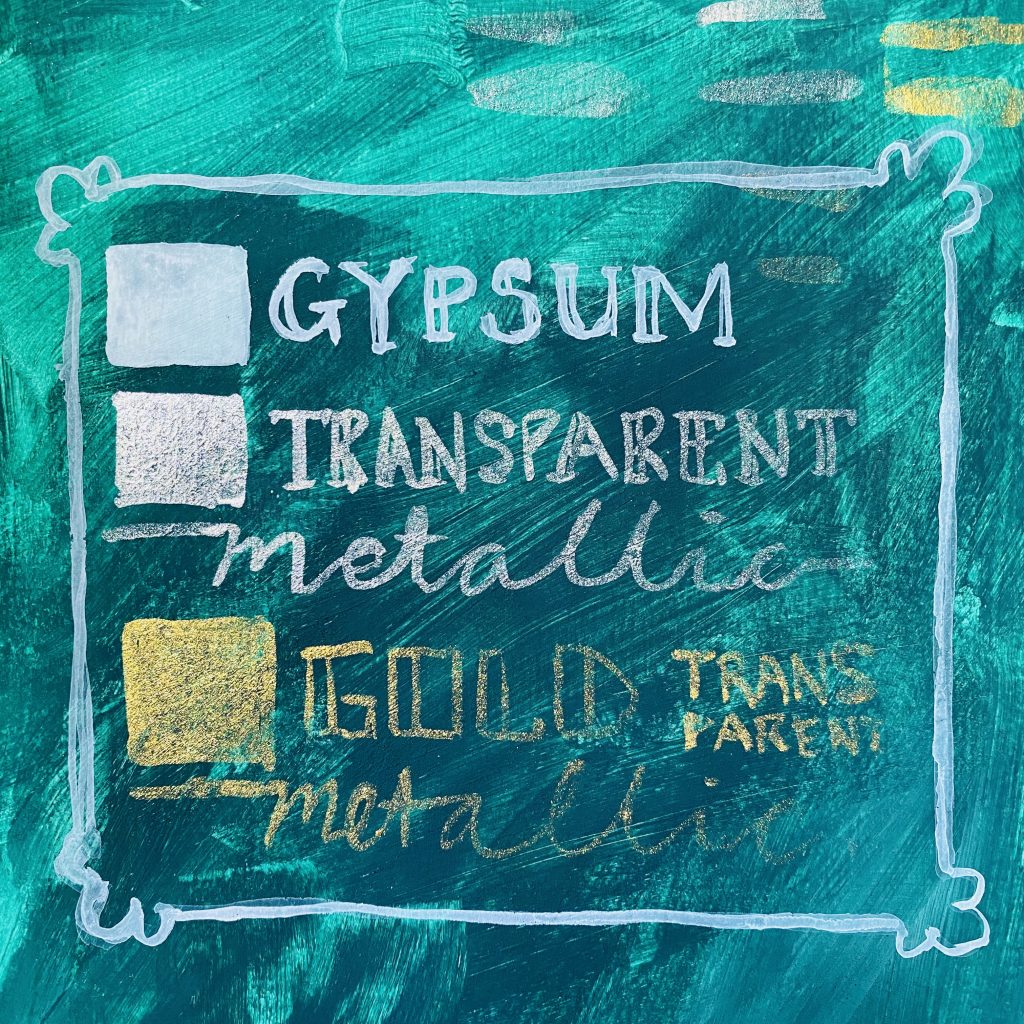 Transparent Metallic DrySheet Color 2×6″ swatch Transparent Metallic is an age-old recipe developed in the early 1900's. We have revived the old recipe to add the Metallic DrySheet color back into our stock items. Each Transparent Metallic sheet is loaded with shimmer. Not to be confused with glitter, the shimmer adds a subtle metallic sheen to any color or surface. It will not flake off like glitter! Instead, it will sit tight on your paper surface and provide a reflective sheen that is unmatched! The image to the left displays the Transparent Metallic layered over black. Try it on any color! Try it on a paper bag. Try it on scrap paper. Try it over colored pencils, markers or acrylics! Try it everywhere!
2×6″ swatch of Gypsum White. Although 'white' is not a typical watercolor paint, we have brought back an old vintage favorite from 1920. This transparent white watercolor paint is great to embellish a dry painting or mix with wet watercolor paints to create a chalky pastel effect. As always, all of our colors are non-toxic and safe for all ages.
…….
They are exceptionally long lasting, convenient and beautiful!
I hope you enjoy your amazing Peerless watercolours,
They are one of my favourite art supplies because the colours are so vibrant and clear.