I worked with Peerless to create 5 custom colours for the 'Jane Davenport Peerless Artist Edition'! You get them within the full 'Artist  Edition of 6o glorious colours!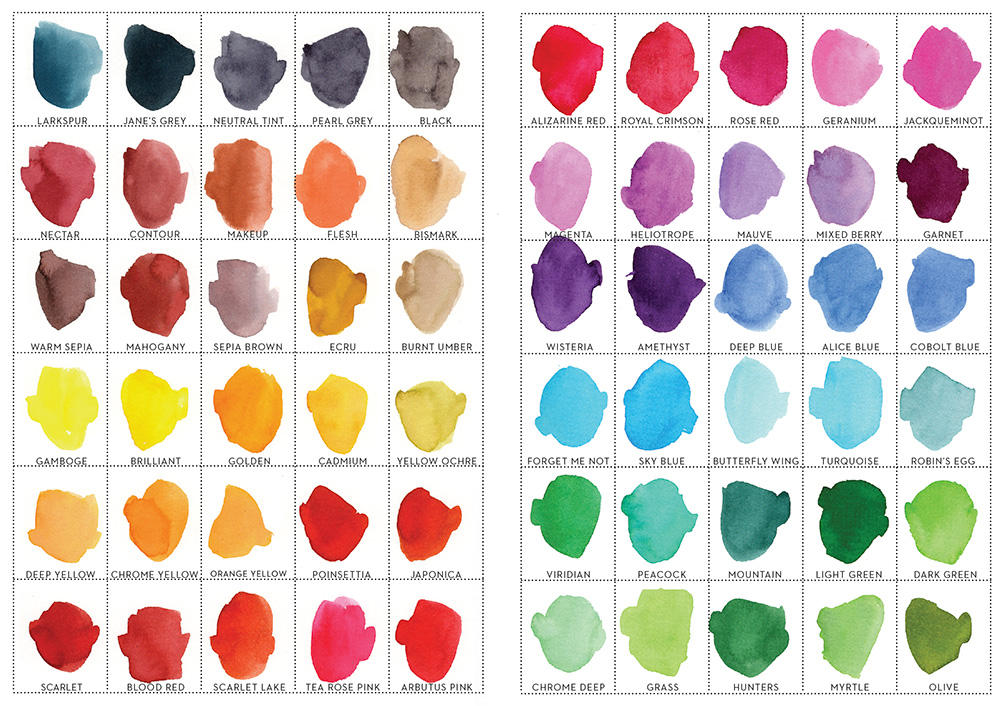 Each of the custom colours is exclusive to the Jane Davenport sets:
LarkSpur: A deep storm-is-coming teal .
Jane's Grey: Imagine steely Paynes grey with a touch more deep indigo.
Makeup: A warm neutral that makes a fabulous base for many skin tones.
Contour: A peachy pink that is perfect for rosie cheeks and natural lips.
Nectar: This reddish pink is a beautiful lip colour that adds life!
We also have the new :
Transparent metallic, Gold Transparent Metallic and Gypsum White full Sheets!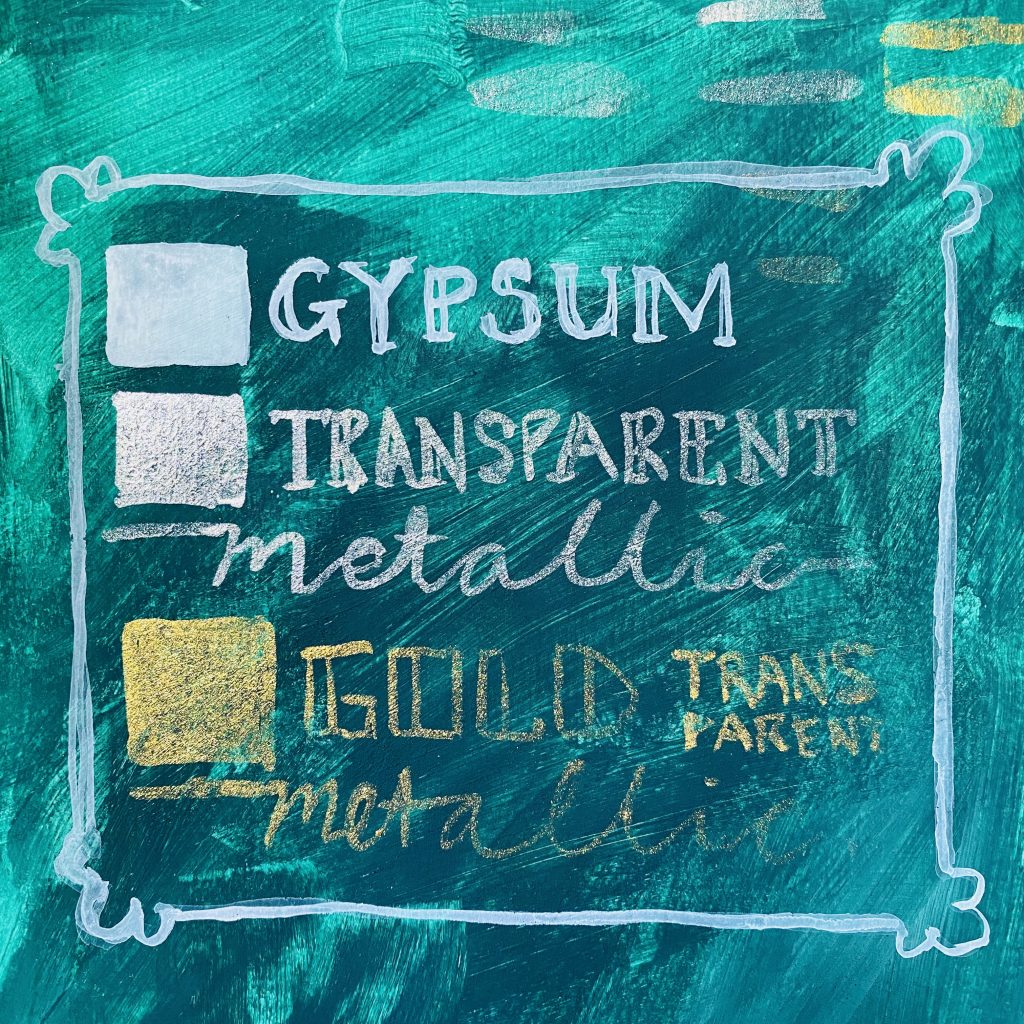 When teamed up with my Aqua Brushes, they allow you to add instant colour to a travel sketch or journal page!
You can literally fit a rainbow in your Journal!
"I adore these Peerless water Colors because the colours are so vibrant and yet transparent. They are professional artist quality and self-blending which means they are pigment rich and flow without streaking.
I can record colour notes, ideas and inspirations 'in-situ', never having to wait until later to add colour, when the memories have faded.
I keep my hand-made palette of them in my bag at all times. I am happy to share my 'Artomologist's Peerless Palette'  in the images and video below!
When teamed up with my Inkbrushes, they allow me to add instant colour to a travel sketch or journal page wherever I am.
Jane Davenport | Artomologist
What you might like to know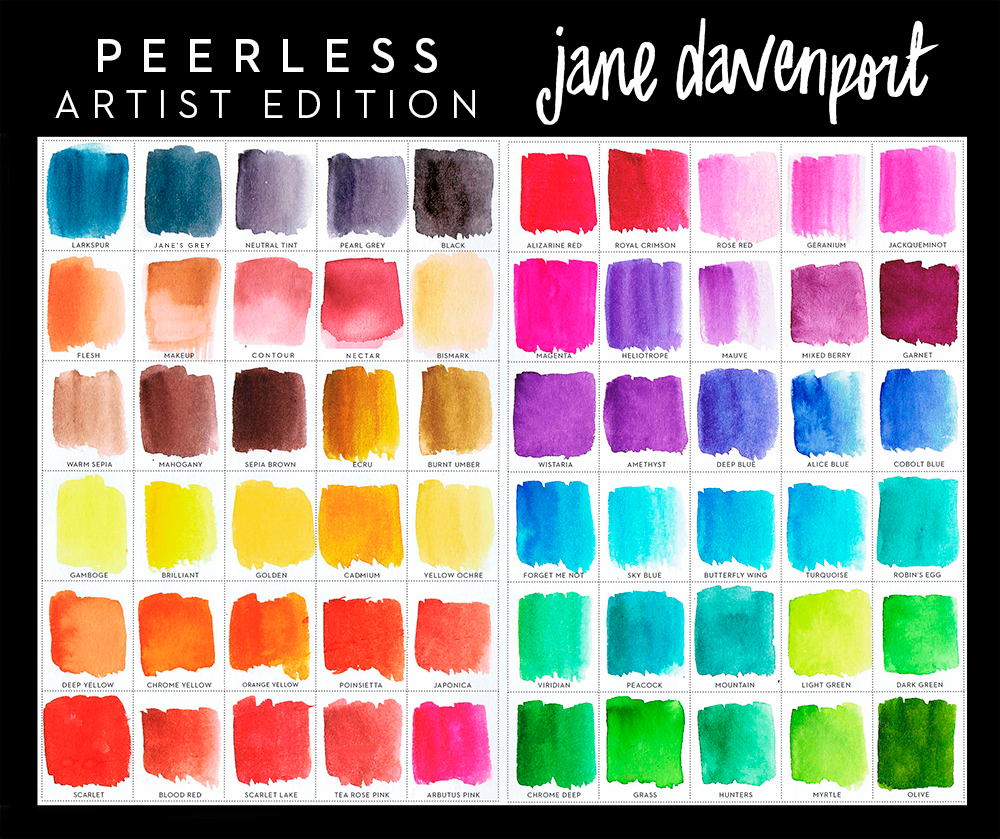 On this page you can see all the colours and work out  what the name of each one is if you feel the need to, but what i discovered fairly quickly is it doesn't really matter. What is important is to number the main swatch and the chips, so that you can replace the colour chip when you have used all the paint from it. You can see on the video how I set my Peerless Palette up…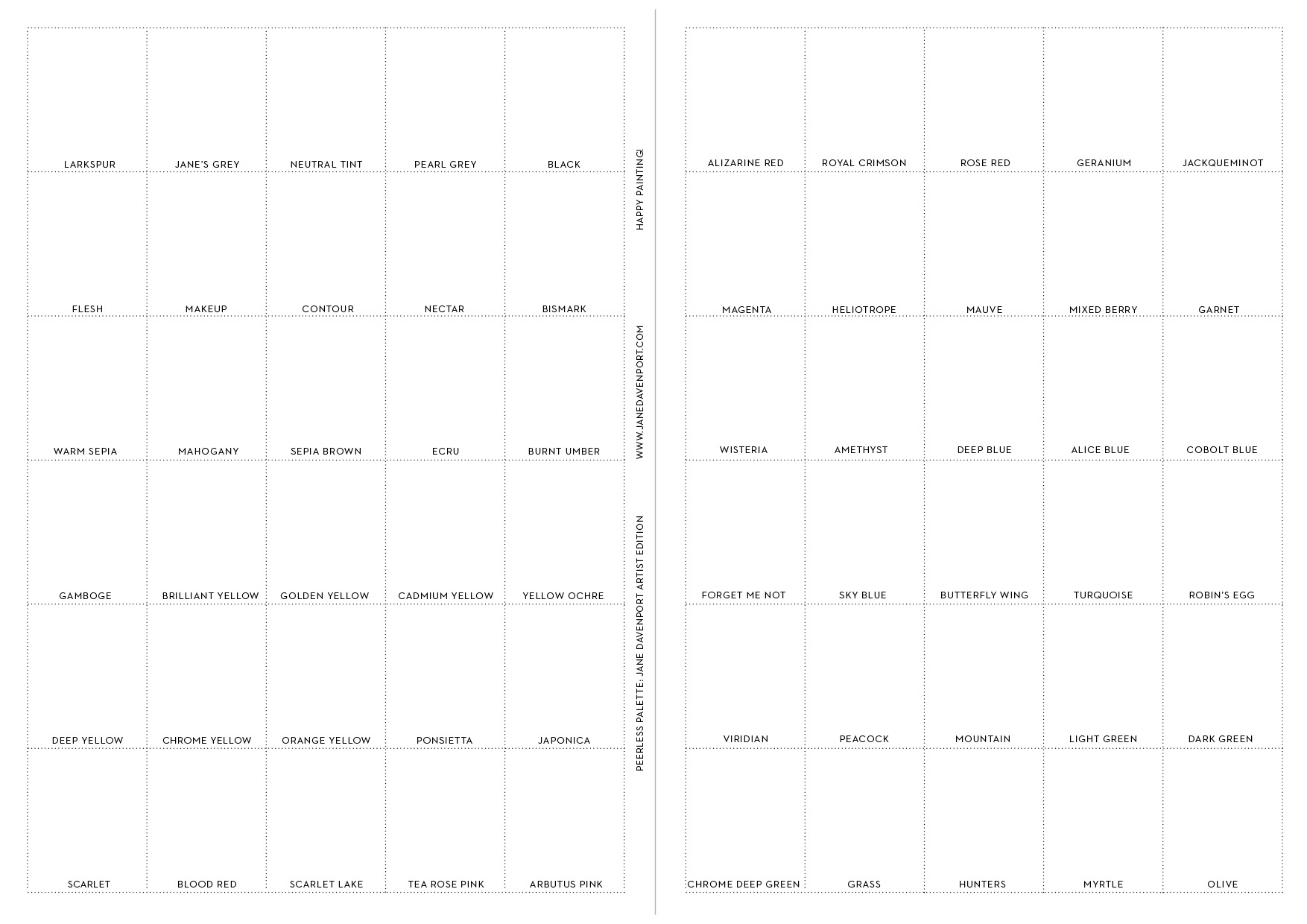 I divided my cardboard folder into 60 squares with a ruler and pencil ( there's a sample template on this page for the 60 colours)
i place a small number in each square from 1 to 60. (I can place the color name alongside later.)
I arranged all the Peerless colours in a rainbow ( using the lighter, non- paint side of the swatches)
I numbered them all on the back ( non-paint side) from 1 to 60 in that color order.
I cut a portion of the swatch to fit my palette ( make sure to leave room for adding a brushstroke of the watercolor.)
I numbered each 'baby' chip to match the 'mother' swatch ( then if things get out of order I can easily reorganise them.)
using a glue stick or double sided tape, place each swatch in the matching palette well.
Add a brushstroke of each watercolor under the chip and name it if you want to.
On my first set, I named the swatches, but found it distracting, so on other sets, I left the names out.
I like making a new palette for different journals.
I just made a bigger one to carry in my larger journals and I find it a lot of fun to do!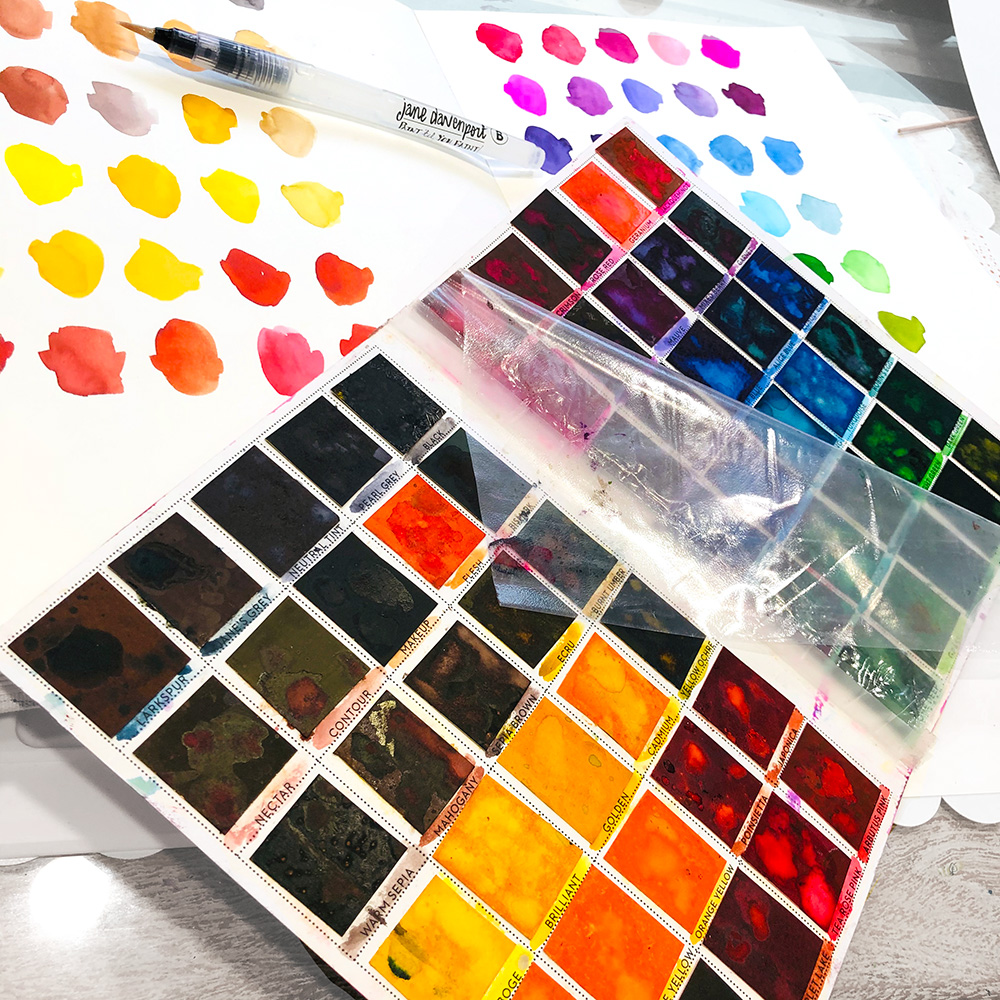 I hope you have fun making yours.
……………
Drag and drop the template to your desktop to help you construct your own Peerless Palette!
Simply print one onto some watercolor card/paper,
Cut your Peerless swatches to fit
Attach them- I use double sided sticky tape or glue.
Attach a piece of clear acetate in the middle with tape. ( this keeps the swatches from rubbing on each other and provides a colour mixing palette.)
go and paint!
Please note:
Sometimes the swatches have names, sometimes half do, half don't, sometimes none do. It's just luck of the draw on how they come from the Peerless because each swatch is hand-made!
This is a blank version so you can make your own colour combinations: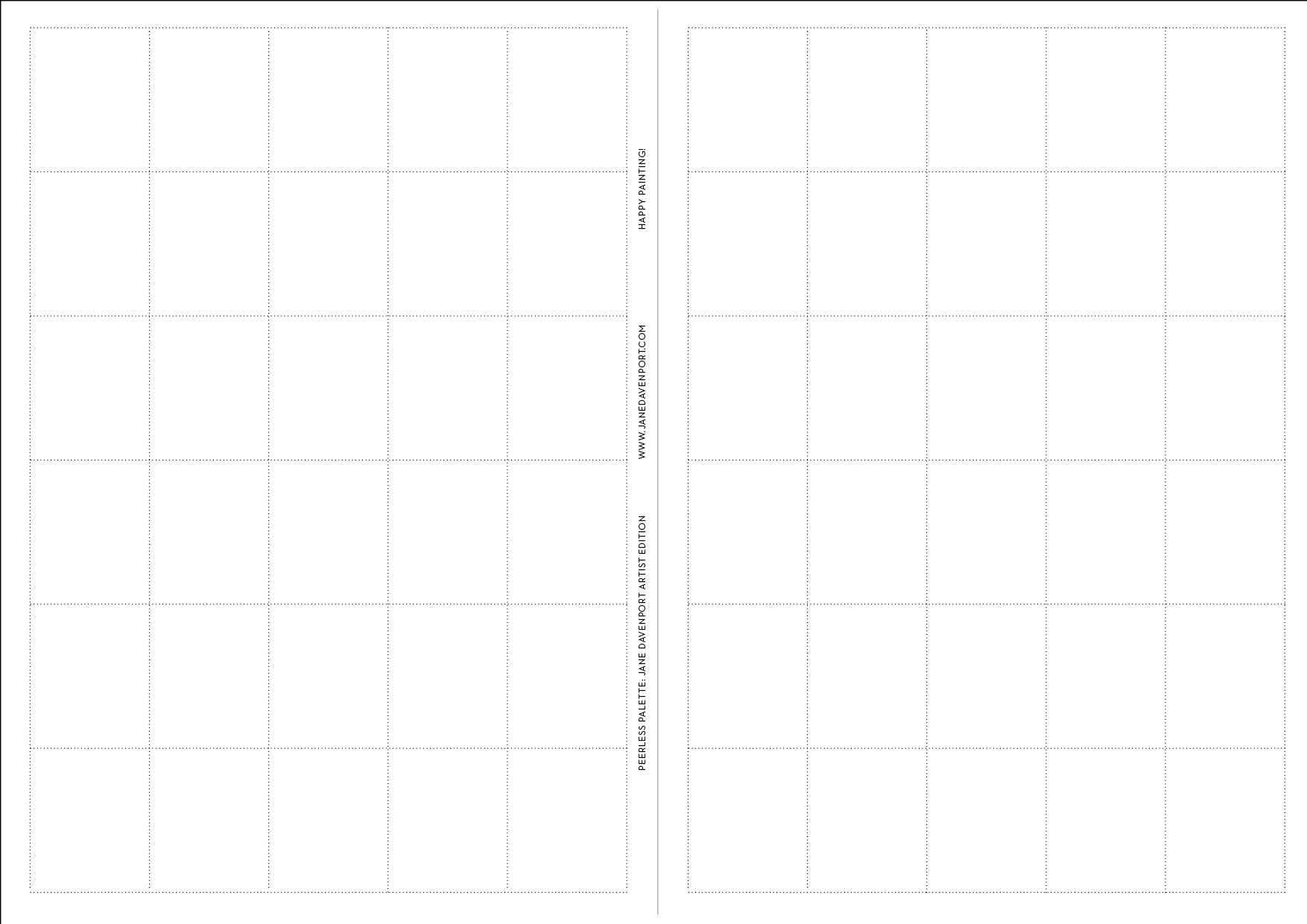 | | |
| --- | --- |
| Weight | .2 kg |
| Dimensions | 7 × 7 × 2 cm |