WaterColour Library | Bundle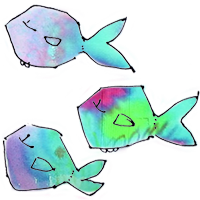 24 useful and beautiful colours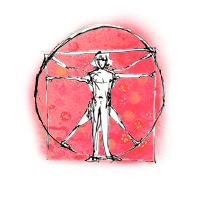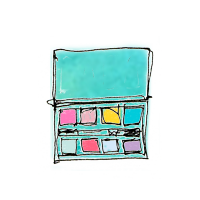 Make your own watercolour pans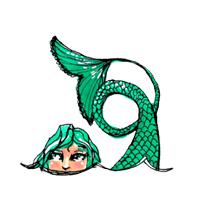 Create Watercolour sprays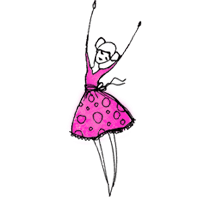 Generous 12ml serves in each tube!
These 24 gorgeous tubes are more than deliciously pigmented watercolour paints.
They have the power to remind us of the intense beauty in the world,
and that we can create it ourselves!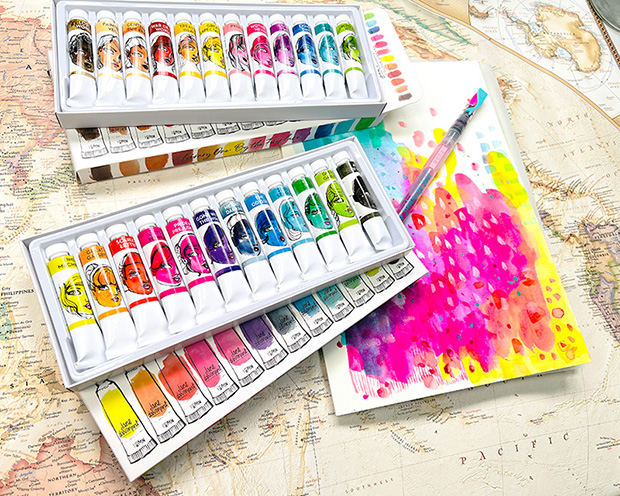 Each hue in the Colour Library is named for a wonderful book that has captivated readers through time and the world over.  The way I name colours in Jane Davenport® art supplies is my special way of expressing the love, the thought and  playful spirit inherent in each of them!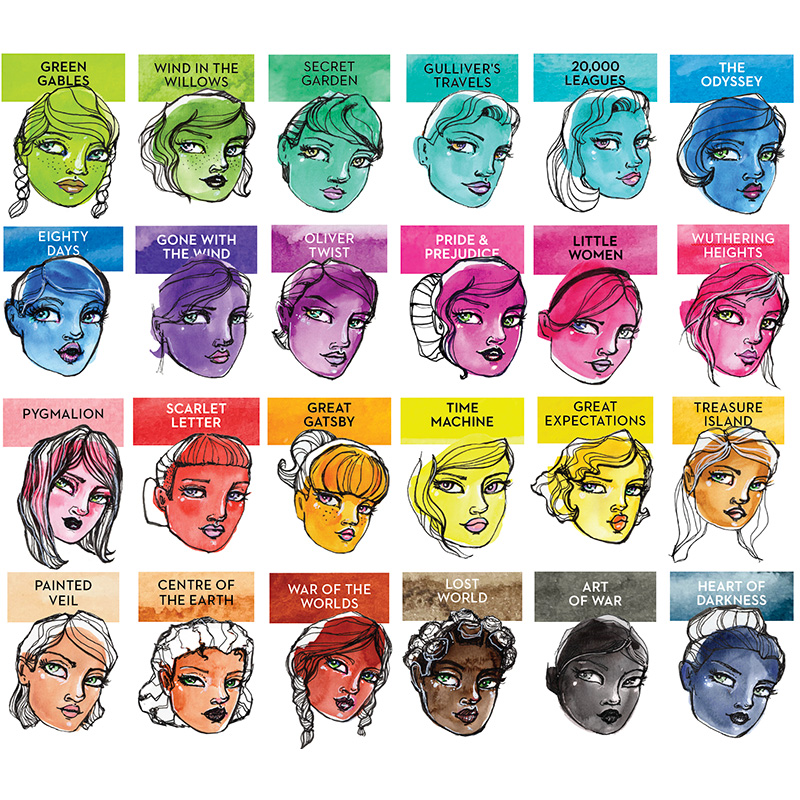 The challenge to deliver colours truly worthy of such beloved literary classics was one I relished! Take 'Pride and Prejudice' for example, as one of my favourite books, I had to capture the highest point of pink possible to match my passion for the characters. As Darcy put it "You have bewitched me, body and soul, and I love, I love, I love you. I never wish to be parted from you from this day on."
And that's how exactly how I feel about this incredible colour…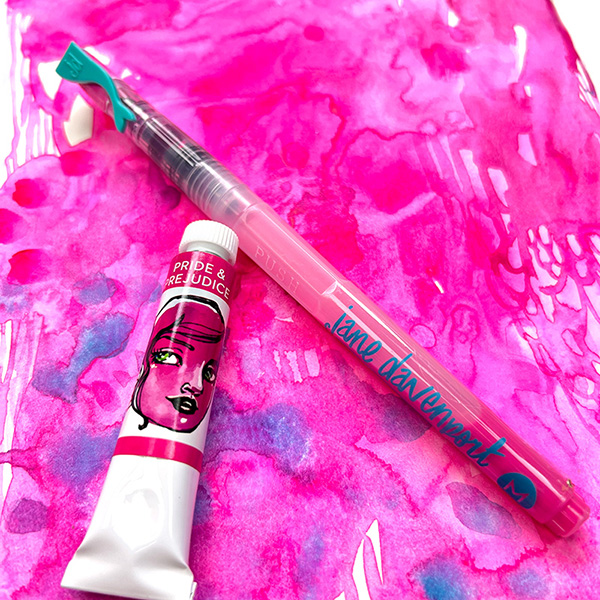 Watercolour is a muse, an inspiration, a love. It fills the artist with wonder and excitement, and brings life to the day.If you have never tried it, now is the time. As Rhett Butler advised Scarlett in Gone With The Wind,  "Never pass up new experiences,  they enrich the mind."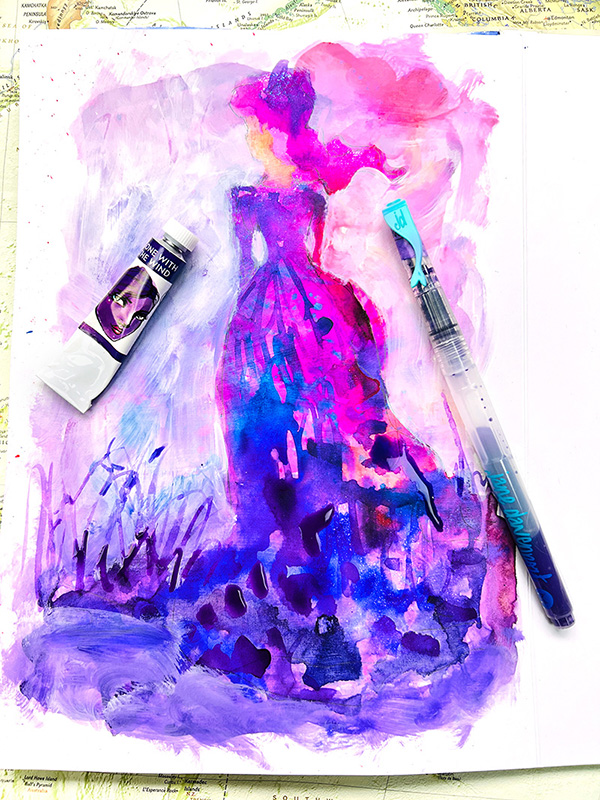 I feel that Watercolour has a language that speaks to the soul. It can evoke memories, stir emotions, and connect us to something deeper as we use it.  When we paint, we are not just creating a pretty picture, we are creating a world of emotion that speaks directly to the heart. In Around the World in Eighty Days Jules Verne wrote "Anything one man can imagine, other men can make real". As artists we can imagine and make real, that is our gift. Especially with art supplies that support your journey!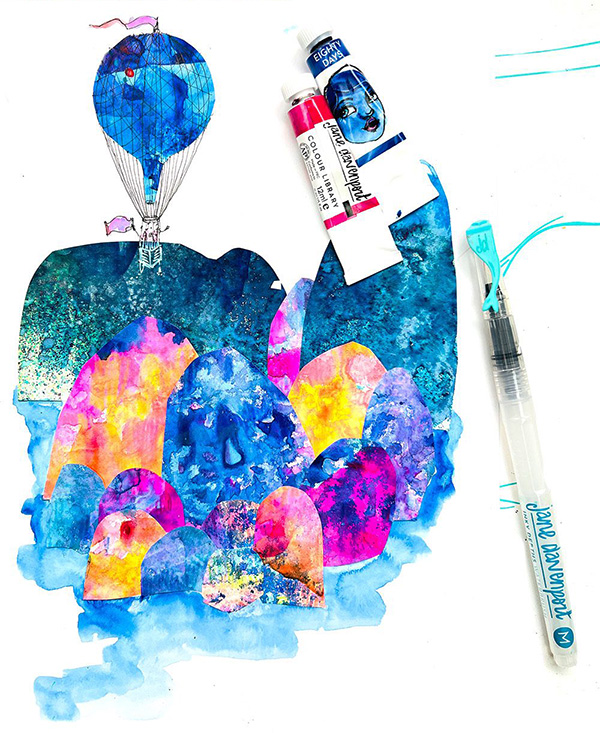 I hope you will be as captivated as I by the way the Colour Library hues dance and play together, how they blend and shift, and how they can express emotion and tell a story.  Here is Anne with an E in the fields created with 'Green Gables'.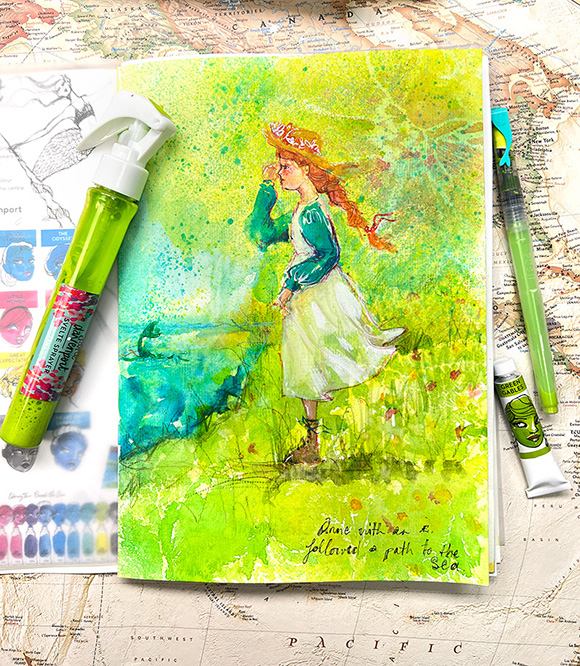 In a world that can sometimes feel gray and dull, color is a beacon of hope and joy.
So let us embrace the love of color, and let it fill our hearts with creativity and light. Oliver Twist is a magenta-purple that always makes me ask "Please sir, can I have some more".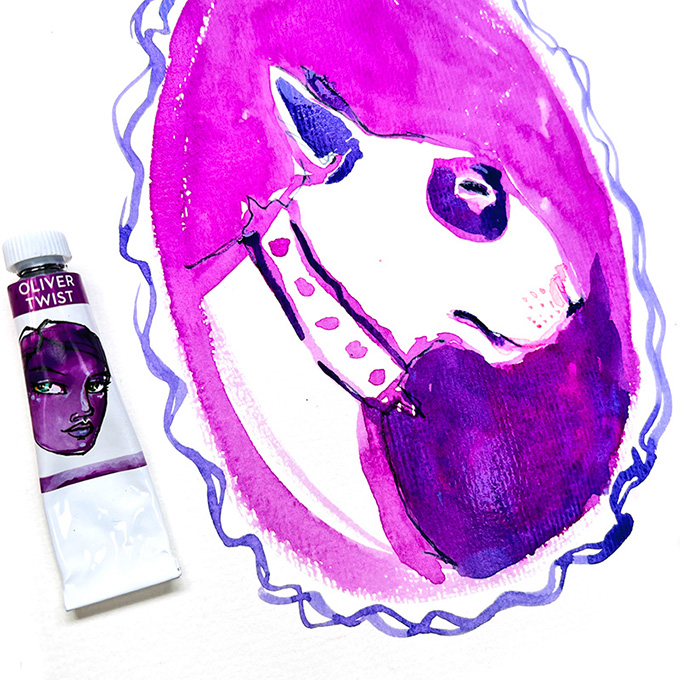 I am constantly inspired by the beauty and diversity of these superb colors. 20,000 Leagues holds an ocean's depth of intense cobolt turquoise.
Jules Verne inspired the search for this colour: "The sea is everything… Its breath is pure and healthy… The sea is only the embodiment of a supernatural and wonderful existence. It is nothing but love and emotion; it is the Living Infinite. "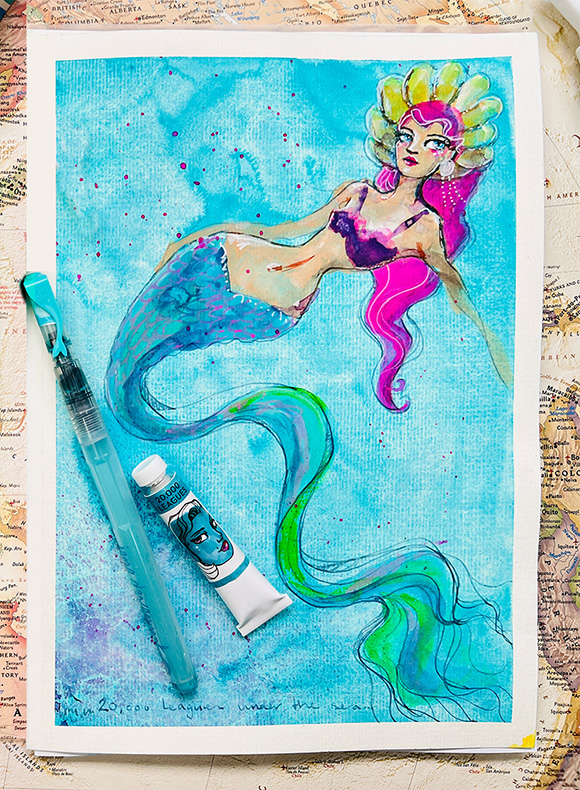 There is nothing quite like the rush of excitement I feel when I mix an unexpected, new color, or the thrill of seeing my palette come to life with a rainbow of hues.  When Homer penned The Odyssey 3000 years ago, he said
"some things you will think of yourself,…
some things God will put into your mind".
Maybe we could add, "and some will be put on your palette".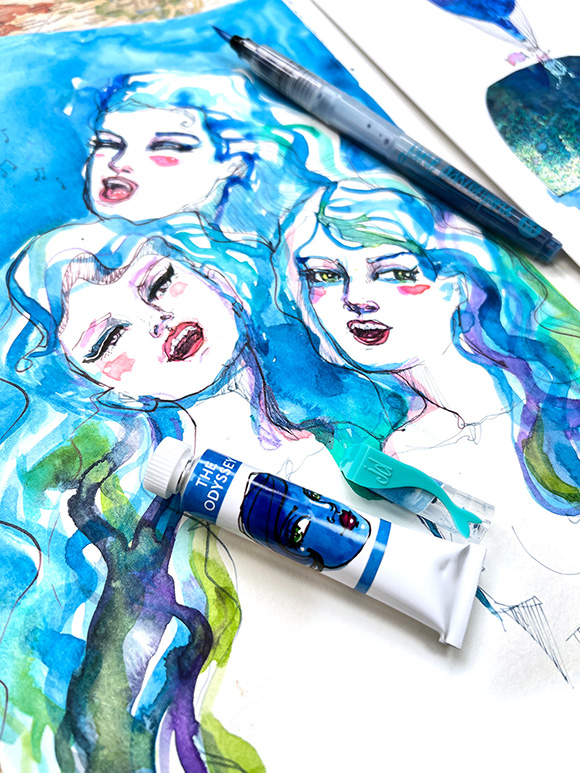 There's something truly magical about using a watercolour paint that brings a sense of joy to the creative process. With just a few brushstrokes and a splash of water, colours blend and bleed together in a way that feels almost alive, creating a beautiful, ethereal effect that can capture the imagination and ignite the soul.
"Vision is the art of of seeing things invisible." Jonathan Swift in Gulliver's Travels.
In The Secret Garden we read "I am sure there is Magic in everything, only we have not sense enough to get hold of it and make it do things for us" until now…
because these watercolours interact with us in a truly mesmerising way as the paint seems to dance and flow across the page, creating  unique and organic patterns with each stroke.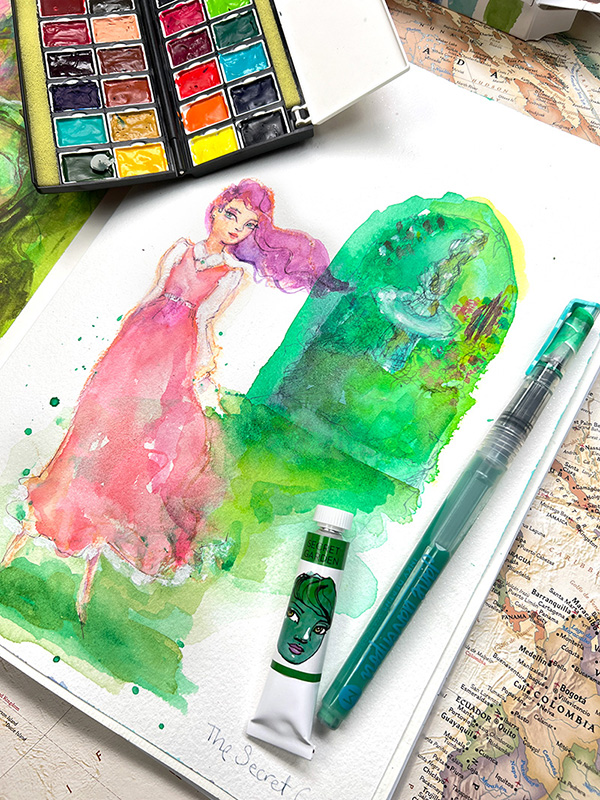 Whether you're using vibrant, bold colours or soft, muted tones, there's a sense of lightness and airiness to watercolour that can make any piece feel alive.
As  Mole says in  the beautiful Wind in the Willows:
"Believe me, my young friend, there is nothing – absolutely nothing – half so much worth doing as simply messing about with watercolour."…
( well actually he says boats, but it may as well be!)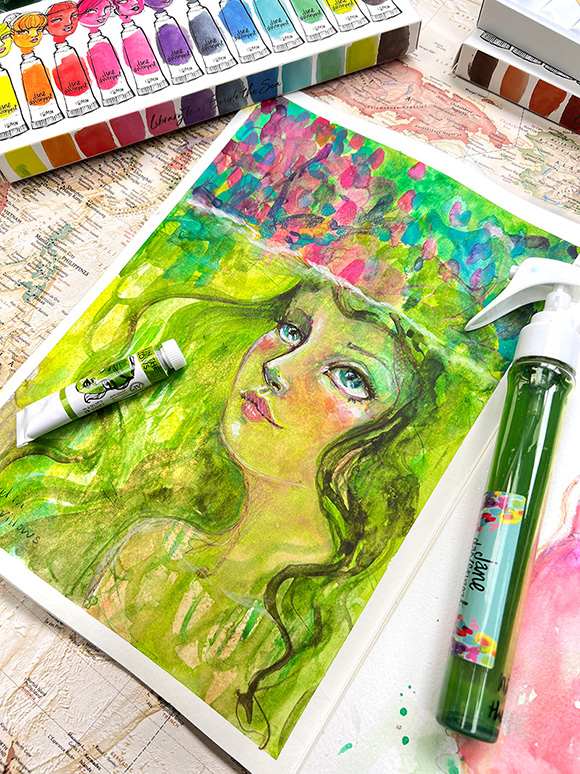 Watercolour paint is truly a joy to use, and whether you're an experienced artist or just starting out, it's an inspiring and uplifting medium that can help you to express your creativity and connect with your inner self in a truly beautiful and magical way.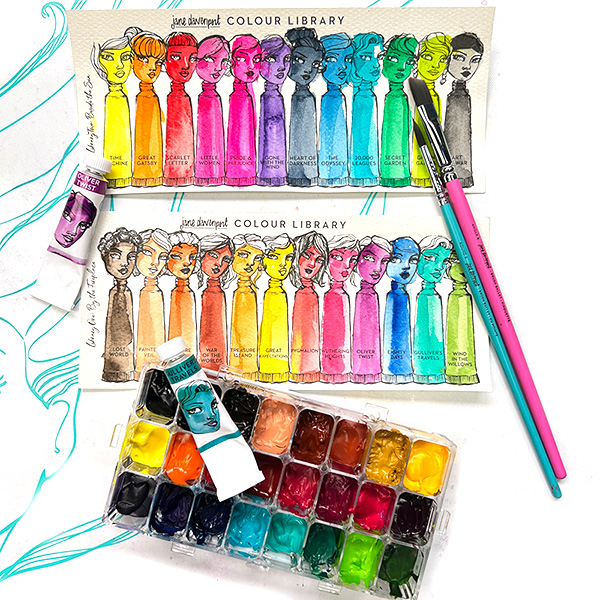 So go ahead, pick up your brush and let the joy of the paint in the Colour Library wash over you!
I loved the challenging task of developing these paints! As I was creating the 24 hues in the WaterColour Library, each one grew a personality, its own quirks and charms!  I love discovering more unique qualities every time I paint and falling deeper in love with the possibilities in each tube.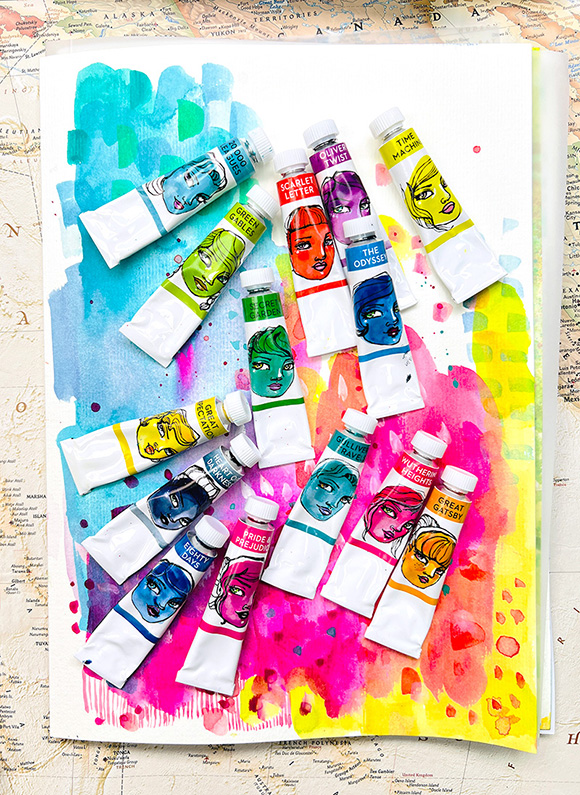 Use the Colour Library to full any paint palette your like! The 12ml in each tube will allow you to fill multiple palettes and to create sprays and watercolour inks to fill your own markers.
They are brilliant in every way!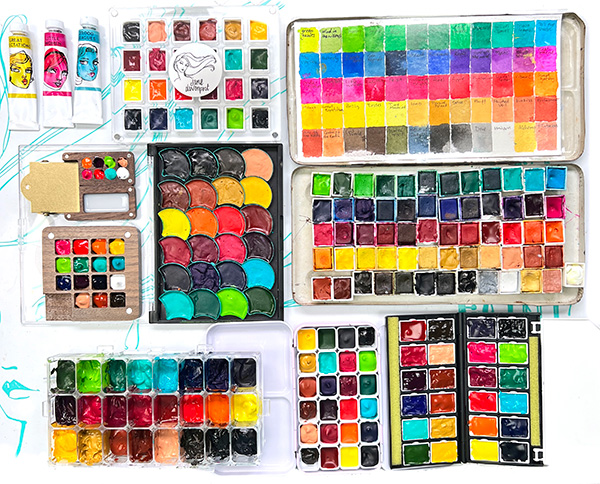 The colours form a gorgeous full-spectrum rainbow!
The 24 colours in the Colour library form a full spectrum of brights, neutrals and shadows.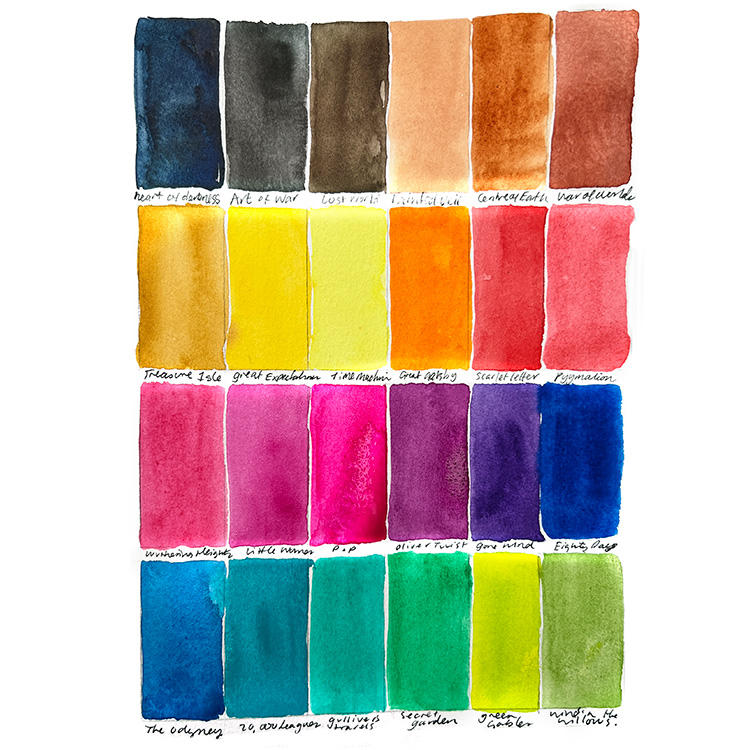 The hues are a mix of pure, master quality pigments and 'convenience colours'.
A Convenience colour is a custom blend of pigments that forms a fabulous, useful colour such as 'Wind in the Willows' ( an ideal foliage green) and 'Pygmalion' (perfection for adding life to a face).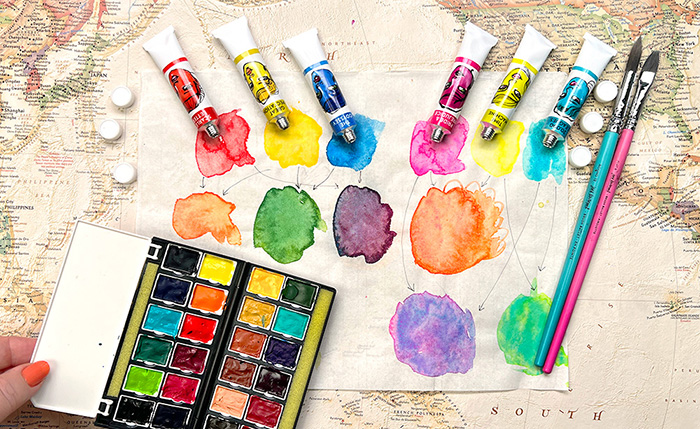 To achieve perfect colour mixes there is a set of cool and warm mixing colours.
The Colour Library is the ideal set to explore the world of mixing. You can go for an incredible journey without leaving your paper.
What you might like to know
On the box of each set you will find the colour name, description, permanence, Pigment info and Lightfastness ratings.
Lightfast and Permanent
Rated AA and A for Excellent and Good lightfastness, the Watercolour Library gives you the reassurance expected from a quality watercolour range.
Ideal Transparency
Formulated to create uniform consistency, the transparent quality of the Watercolour Library are perfect for new users.
Fine Art Pigments
the Watercolour Library uses fine art pigments uncompromising on quality.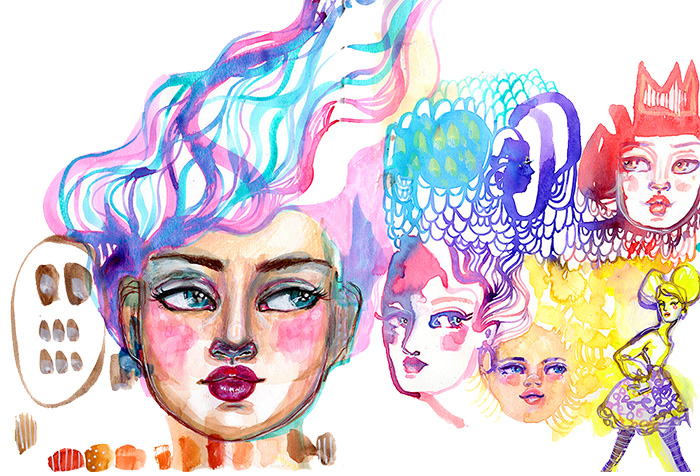 There are 2 sets and each is named for a lovely place to cosy up and read, by the fireplace and by the seaside.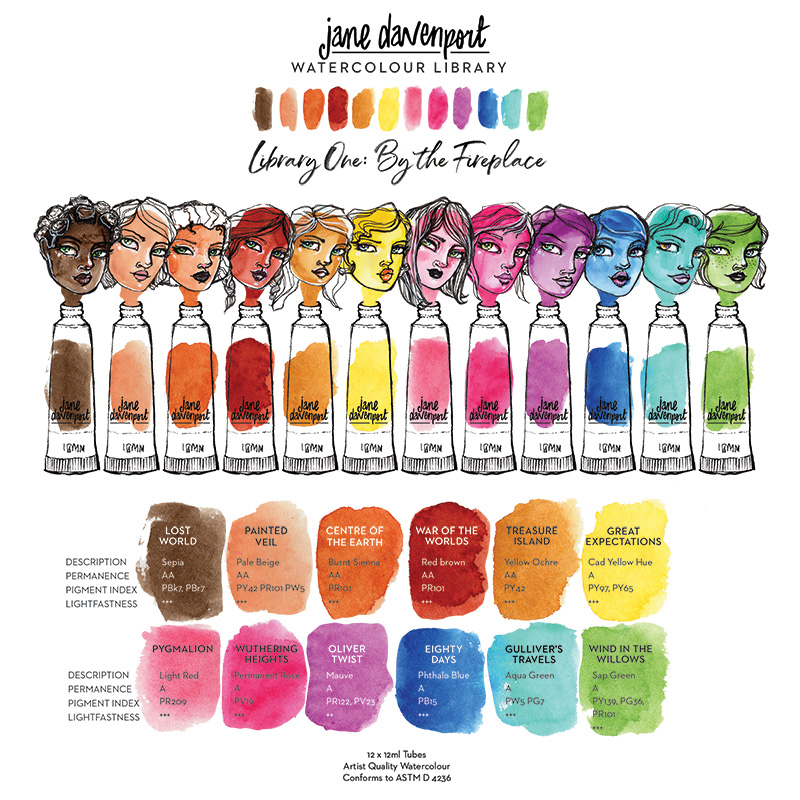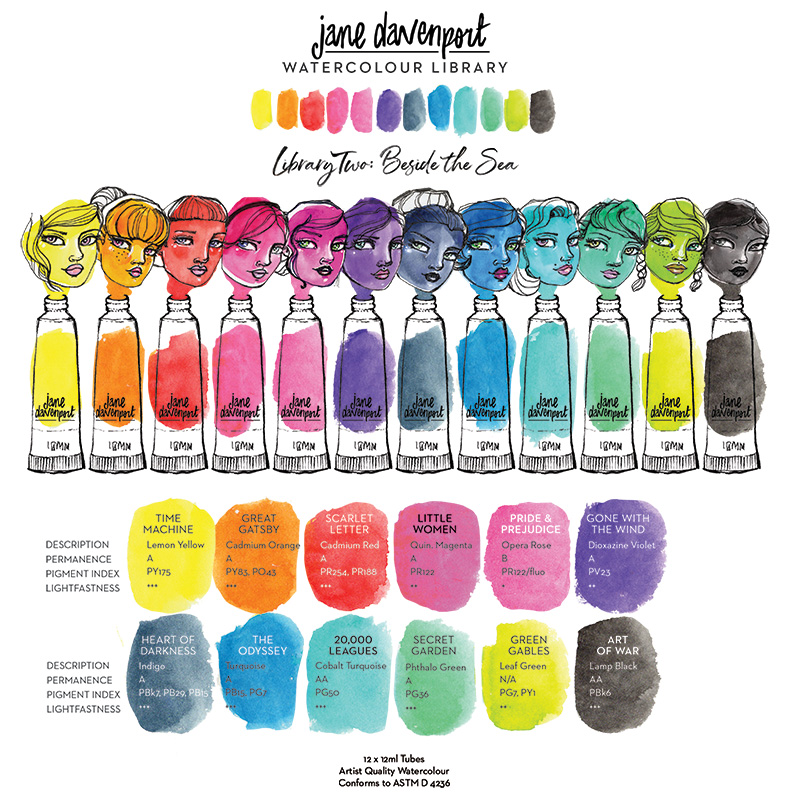 | | |
| --- | --- |
| Weight | .5 kg |
| Dimensions | 20 × 10 × 5 cm |