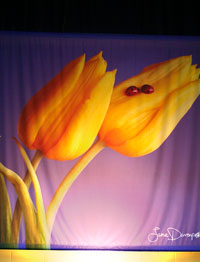 I am at the Sydney Royal Easter Flower and Garden Show trying not to eat fairy floss ( how can something that looks so fluffy, pink and innocent be so bad for you?!).
the Institute of Cute continued its journey from Melbourne to Sydney and  landed in the lovliest spot at the Royal Show – right in the Horticultural Pavilion! My artwork is displayed on giant 3m x 3m murals hanging from the walls and that is the biggest I will have seen my work. Seeing them for the first time, caused a real rush of excitement.
The exhibition continues at both major entrances. Yes, I am trying to take over 'The Show' bit by bit…!
I held a competition for my 'Ladybird Letter' subscribers for double pass to the show, and received so many entries for my question: "If you were a bug, what bug would you be?"!  Last week the Melbourne Flower Show competition caused great excitement and the entries were WONDERFUL!