Have you ever considered an ecourse?  Or done one?  I can't recommend them highly enough! I have been involved in some excellent classes . These are my favorites including the why's, where's and who's!
I'd love to hear your favourites and suggestions.
……………………………………………………………………………………………………………………………………………………………………………………………………………………
1. World of Whimsy 2
Summary: Mixed media art classes with an emphasis on whimsical character drawing.
Course Leader: 'Willowing ' aka Tam Lapote
Why I liked it: Tam is incredibly generous with her time. Lessons consist of  videos each week, PDFs, live upstream chat and critiques. This is where Tam really shines as he takes each persons uploaded drawings and gives very specific visual suggestions by manipulating the images in Photoshop. Can you imagine the time this must take?
I am currently doing this class, am super engaged and really enjoying the whole Group experience. There are some wonderful artists involved, lots of beginners and people rediscovering their artistic talents. It is a nurturing experience. The forum around the lessons is very active and Tam is completely involved. Having the course leader putting energy into the discussions makes such a huge difference. I have so much admiration for her. She really has created a happy place for making art.
What I got out of it: I am really having fun just being free and drawing whimsical characters! I have at least one that wants his own book…I have started experimenting with techniques…incorporating my photography – I am having so much FUN!
Where to find it:
Tam has announced that she will be offering a free art ecourse later in the year, and there are other free groups you can join on the Ning site for Mixed Media and Art Journalling. LOVELY STUFF!  If you are QUICK, you can probably join WOW 2 now – highly recommended!
Where to find:willowing.org
……………………………………………………………………………………………………………………………………………………………………………………………………………………
2.Drawing tutorials online
Summary: hard core drawing! Chicken scratching begone!
Course Leader: Matt Archambault
Why I like it:  Matt teaches at the School Of Visual Arts in New York. His site has dozens of fantastic videos. He is a proper Illustrator with a capital I. The drawing tutorials are challenging – he makes it look easy, but drawing a skull is hard work the first time! But the anatomical lessons are JUST SO GOOD FOR YOU.
You can watch some for free before you decide if it suits you – search itunes for his free podcast.  He regularly does iphone videos of his student's sketchbooks too, which is soooooo interesting. Every time I complete one of the videos I can feel my drawing improve. I believe that confidence and skill in drawing has a huge impact on all creative processes.
This is a subscription based site – aprox $12 per month.
What I got out of it: madly improving drawing skills because
Where to find:drawingtutorialsonline.com


……………………………………………………………………………………………………………………………………………………………………………………………………………………
3 and 4 'Petite Dolls' And 'Poet and Goddess'
Summary: Mixed Media art classes.
Course Leader: Suzi Blu
Why I liked it:  SuziBlu is quirky, in a very, very good way! She is authentic, swears and loves creativity. And for a drawing class there was a lot of situational comedy.  Do a search on Youtube for suziblu and you will get a feel for her.
The classes are feature packed with video, PDF's, and weekly critiques. Suzi calls them'Homework Appreciation Days' now – isn't that cool? The open semester format allows for students to join anytime. And it is run on Ning which I LOVE.  ( yep, I am a Ning-a-ling!). The way she teaches is encouraging and fun. She takes it from the absolute basics and builds from there.
What I got out of it: the simple joy of sharing and seeing drawings of classmates. Suzi included 6 bonus videos from a previous class for woodburning, which is why I signed up. I have a wood burner, but never used it, and now have fallen in love with it and have the burns on my fingers to prove it!
Where to find: The Petite Academy.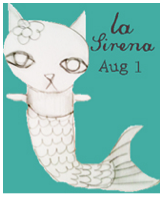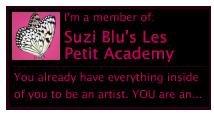 ……………………………………………………………………………………………………………………………………………………………………………………………………………………
5   .'Mixed Media and the Girls'
Summary: mixed media techniques
Course Leader: Wyanne
Why I liked it: I think Wyanne's youtube videos are the best of their kind. The mixed media techniques were interesting and I love watching Wyanne create her beautiful work. Plus, her voice is very cute!
Look on Youtube for her regular videos to see if you like her style.
Her next class will be the Resin workshop – I am signed up for August – can't wait.
Where to find:www.wyanne.com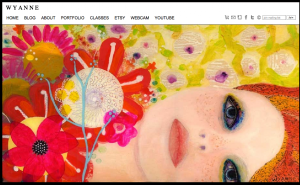 ……………………………………………………………………………………………………………………………………………………………………………………………………………………
I'll be honest and say, most of what I have seen in all these classes is not 'new'. I have my own experience and a lifetime of workshops already- BUT it's the tutors themselves that bring something magic. It's their passion and style that is so fabulous to watch. When an artist is working it's rather magic, and now we can see them in action like never before.
It's inspiring and makes me more more creative in my own right. I have my own style, so I'm not worried about being influenced in any way other than seeing what is possible. Super Awesome.
Aside from just loving learning, I do keep telling myself that I will eventually have my own ecourses right here one day! Creative Photography with moi perhaps? Fashion Illustration? Drawing and painting? No traveling, study as and when you please….meeting kindred spirits from a round the world…no projector for me to wrangle with to show some washed out examples on a wall. What do you think? Subscribe and I will let you know when it's live!
P.S. I have no affiliation with any of these courses – just a genuine sharing of the LOVE!