It's official. I am teaching
at my first online workshop.
21 SECRETS is an online playground of Art Journaling techniques,
approaches and secrets facilitated by 21 different talented, inspiring,
professional Artists and hosted by Dirty Footprints Studio.
…………………………………………
DATE: April 1, 2011- July 31, 2011
REGISTRATION: Starts March 14, 2011 to May 31, 2011
PRICE: $59
PLACE: Private NING Network
Click here to view more details
…………………………………………
I have been filming and editing all week. I am having a blast creating my classroom,
getting it all super-spiffy, organised and pretty for my first on-line students.
I have taught many workshops around the world, and love sharing my experience and knowledge.
But this is different…I get to talk about my secret passion for art supplies
and share my love for Art Journaling. I am embracing this new adventure!
…………………………………………
So, what will I be teaching?
Drawing Happy
"I Can't Draw!" is a lament I hear so often (that's why stamps are so popular, right?).
Listen to me…if cavemen could draw, then you, who has mastered an ipod, microwave and email
can do this! As a professional artist who creates artwork drawn from my imagination every day,
I still have to find my way into the work. I have a bunch of tricks and tool recommendations
that will warm you up, help open the floodgates to your imagination and
your natural drawing style.
Art, just like life, doesn't have to be 'serious' to be meaningful!
…………………………………………
You don't have to be an artist or even keep an art journal to get involved.
21 Secrets has enough juice for all levels of experience.
All you need is the creative itch, a journal or sketchbook and a pencil…
ok, maybe a few paints and brushes too!
Can you tell I'm excited by it? Too right!
p.s. – And If you have never even heard of an 'Art Journal', you can see mine here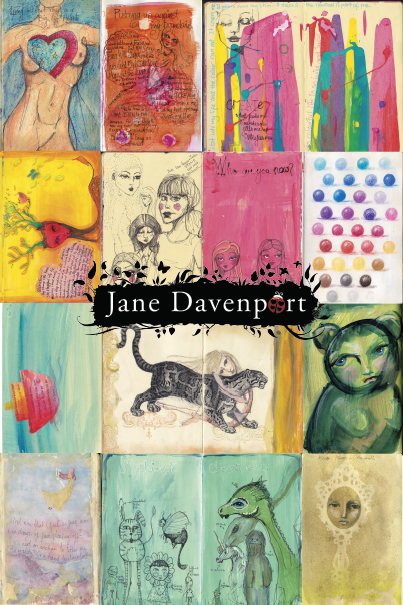 I know some of the artists I will be teaching alongside, and they are WONDERFUL!
From the legendary Tam Laporte (aka Willowing), to Goddess Leonie and Connie of
Fearless Painting fame with many talented and shining stars in between.
I am just so looking forward to participating in all the other 20 classes.
I was a student at the last session of 21 Secrets, and my mind was joyfully crammed
with creative goodness and the ever-growing joy that is an Art Journal.
I look forward to seeing you there, having fun, cooking up ideas,
generally chatting about our art and sharing it.
so….
JOIN the fun,
come visit the Art Journal Playground!
Click here to read all about the Artists, what they are teaching and how to secure your spot!
…………………………………………
Click here to view more details
Through the magic of the internet, you will be transported to Dirty Footprints Studio,
see class descriptions and an introduction of each Artist (such variety!).
Payment will be through e-junkie, and it will remember that you came from here
and I will earn my portion of the workshop fee ( so I can go and buy more art supplies!)
I have LOVED working on this and will definitely be doing more so if you
sign up for my LadyBird Letter you won't miss out.
…………………………………………
Supplies for the Workshop:
Click on the image below for my suggested 'Drawing Happy' supply list!
You will be beamed straight to the Blick Art Materials list sections called ' Blick U '.
These are suggestions, not requisites…you can wait until the class starts to see what you like,
as you will see me using  and showing them and get your supplies then.
My 'School' is called Jane Davenport | Artomology and the 'State' is Online.
(it's the last one in the schools list.)

You will see the other lists of delicious art supplies I have put together.
Yum Yum Yum! Blick's is an affiliate of mine, and I earn a little commission
from them if you decide to order, which I very much appreciate and use on more art supplies!
Blick is based in the USA, service is excellent, choice  is unparalleled, the prices are unbelievable
and the user product reviews are extremely honest and helpful. I love it!
Certainly feel free to track these materials down wherever you can find them.
…………………………………………
p.s. did you catch the the sweet little animation I made at the end of the invite?
x Jane