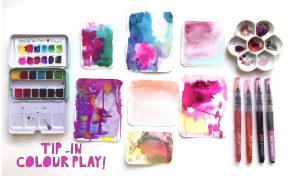 Hello Davenpeeps!
I hope this post finds you well! Today I'm showing you how mindless colour play and experimentation can then be transformed into pretty funky tip ins and journal cards.
Some days we want to be creative, and yet we don't know what to do…this is when I lean on just playing with colour.  Armed with the Mermaid Markers and the Brights palette I just mixed and sloshed the beautiful pigments around on the watercolour paper from the butterfly book range.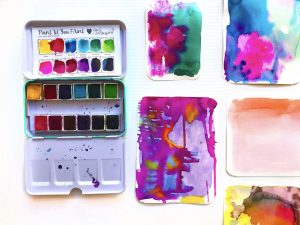 Some of my very favourite colour pairings are:
Seashell and Conch mermaid marker
Best Friend from the Brights Palette with Blue bottle Mermaid Marker mixed with Bali Blue Mermaid Marker.
Sandbar and Conch Mermaid Markers.
Once my creative juices are flowing playing with colour, I decided to play with the new mandala stamps from the new line! A clear embossing pad and some gold embossing powder make excellent helpers in this instance!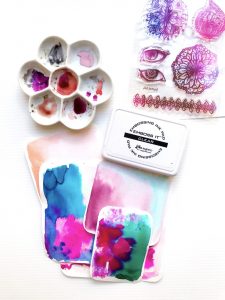 Your tip ins can be as simple as stamping an image on the side and embossing it or creating little works of art to use in your journals, I did a mixture of both to show you how versatile these can be! They also don't have to be tip ins! They can also be little thankyou cards, little forget me nots for your planner, ideas are endless.
These will get filled with my journalling and popped into the pages of my journal when I want something a little extra!
I then grabbed some of the journal tattoos from the marbelling kit (the New York skyline) and added it to the top of one of my tip ins, as we are headed to New York in a few short weeks, I wanted to make some journal fodder for my travels. Matching a cute and cheeky photograph of my daughter I thought this was a wonderful mix of life and art, I loved this so much so it has sparked an idea for another post coming soon!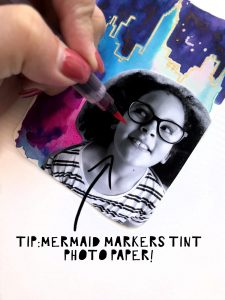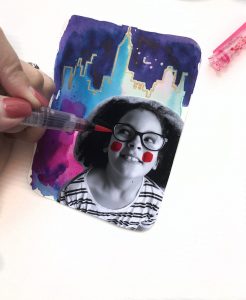 A quick tip – I love added whimsy cheek pops to my photos and I found out that mermaid markers does this beautifully! I will do a more indepeth blog post on colouring photographs with mermaid markers, but for now, add some cheek pops to your photos, it is a great way to invite the silly into your reality!
Jane's range is so diverse yet so cohesive that you can mix and match from many of the new and old range and it will seamlessly play well together!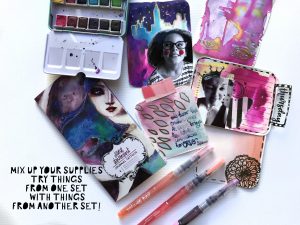 I used items from all over her range, mixing journal tattooes, with stamps, mermaid markers with watercolours! They all work so beautifully together and help give the little touches like a crown on a photograph, or a beautiful quote from a fabulous writer…I had such a blast mixing unp the ranges and the supplies to create unique tip ins for my journal that are all uniquely my own!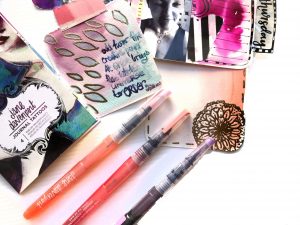 I also added some of Jane's scrapbook papers to make simple colourful tabs for my tip ins, if I want to tuck them into a pocket, that little tab will pop out and be easy to grab, it was as smile as cutting, folding in half and attaching it to my tip in.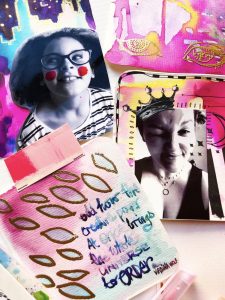 So what are you waiting for! gather up your supplies, have some fun with colour then alter them to suit your life and your needs! Play with photos and lines, stamps and embossing! each tip in will have a unique look to them!
Enjoy creating some tip ins!
x Courtney