I have a love addiction with coloured pencils. It started pretty early in life. I had a super-wild set of Derwent Artists in junior school. How I loved those pencils!
Fast forward a trillion years, and I have well and truly been smitten with coloured pencil fever again and have been using them to create lots of artwork ( my new Sidekicks Collection uses pencil – see here). I have a wonderful collection which includes pencils from Prismacolor, Caran D'ache, Faber Castell and Lyra.
I don't keep my pencils in the little houses they come in. The gorgeous tins, cases and boxes get put into storage. And I put all of them (aprox 300!), right there, on my desk, ready to go. The joy of pencils, is that there is no prep time, just pick them up, and off and away! No clean up, no glasses of water to spill.
I group my pencils  into colour families with elastic bands (the thick ones from asparagus and Asian vegetables work best), and they get put into my Pencil Truck. (which also features in my video here).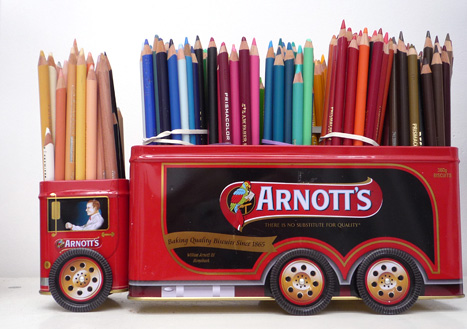 I line the bottom of it with some odd socks to make it soft, and place the pencils in. They look so beautiful standing there, right? I can see at a glance EXACTLY the pencil I need. I mix all the brands up even though they have quite different 'hardnesses'  and textures, but they all work well together.
This system works perfectly for me. Until, a pencil manufacturer decides to be annoying/cheap/aggravating and just colours the end of their pencils. And that is why I have none of my first pencil love in my collection. Derwent have changed all their pencil ranges to feature a coloured butt. It may suit a baboon, but I say no to coloured butt-itis on a pencil! It's too hard for me to identify the pencil I need from just the lead.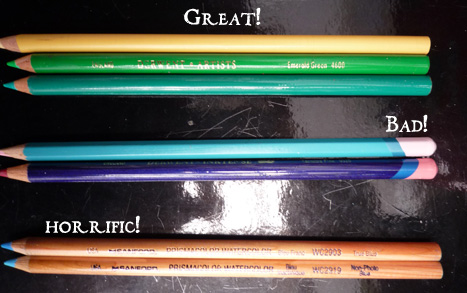 And I've noticed that the paint chips and wears off, which looks ghastly and will eventually prove an identification nightmare. Some pencil makers leave the pencil plain which is even worse ( the example above is Prismacolour watercolour pencil – which are a GREAT pencil – but the plain timber shaft is the pitts!).
HOWEVER, I have such wonderful memories of my childhood Derwent Artists pencils! They had such juicy, thick cores. But modern me cannot cope with this their new stupid look! What is a pencil freak to do?!! Well, I found a solution…
Ebay.  I have not really found that much use for ebay before…but for art supplies…BONANZA! You of course already knew this. I did not. I  found a big set of 108 Derwent Artists. Old ones, from the 90's! With the full colour shaft and the modern triumphs of light fastness!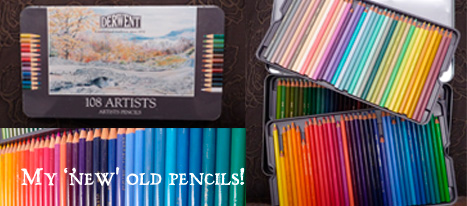 A few bids and those bright, beautiful babies were strolling through my letterbox…they marched right up to my other pencils, and said "move over boys…". Which I thought was crazy because the Polychromos are street fighters, and those Prismacolors, well, they can deliver a spinning-bird-kick that will dazzle for days… and the Pablos were like "no you 'di'nt!" … The Lyras,asleep at the time, woke up and where like, "wha? calm down dudes…"… .. … wait!…what was I talking about before my pencils started coming alive?…oh yeah, right, The Artists coloured pencils arrived in full colour shaft glory. aaaaahhh…the joy…..
The first thing I like to do with any new art supply is a little colour test in a sketchbook. ( There is actually no 'Official' testing going on. They are just fun to do, and look so pretty!):
And after that little warm up this is who popped out them last night….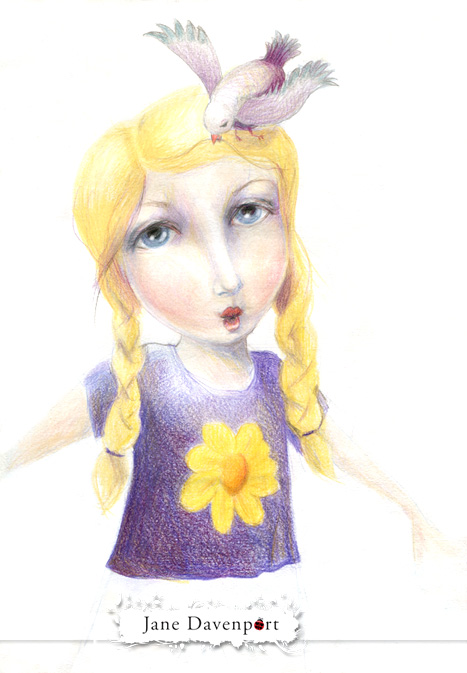 What are they like to use? They feel hard. And At first I thought I made a mistake being so excited about them… But after a few moments just getting into step with the pencils, I was smitten! They are different to my other pencils. And I love them for that. When I blend the colours over each other, they hold their own. So the look is more 'pencily'. You can see what I used. Each stroke. And I like it. I leave more of the paper on show when I am using them.
The Derwent Artists coloured pencils have a translucent quality that I appreciate. They are thicker than my other pencils, and feel comfortable to draw with. They are a pencil to feel determined with, when you have an idea already and need a pencil to take you there. It's not a dreaming and doodling tool ( I like to use my Prismacolor Artstix for that…).
I took the Derwent Artists to the beach with me yesterday to play with, and after we made sandcastles together…haha, kidding….I did a few sketches to warm up, and worked on a finished piece. And mama like. There is a colour called 'Salmon' which is a very pale, muted pink. It is not like any other Salmon pencil I have, which are usually a more Smoked Salmon colour. And 'Champagne' is a creamy ecru colour, a bit beigy, a bit ochre-y, and a whole lot delicious. There are other surprises in the box, and I can't wait to slowly discover and savour them all.
I will enjoy becoming BFF with my new old pencils, well until they are all used up and live on in my artwork!
Choose happiness,
Jane
P.S. My Pencil Truck is a biscuit tin I got from ebay! I have another smaller one for watercolour pencils…and I just got a circus themed one for my lead pencils. Life is too short to have boring containers on your desk!