I have some wonderful & exciting news! I am going to be teaching on Ever After 2016! As you know, I love using fairytales as source material for my art, so of course I said 'yes' when I was asked to collaborate on this workshop. Plus Tam is a beloved friend, so double-yes!
Tam and I also filmed for a 'Mutual Admiration Society' class, and for a bonus lesson in 'Lifebook' while she was staying with me at The Nest, so there are lots of delectable things coming up from us. But for now  – Ever After!
There will be a chance to win a spot with the Blog Hop that starts next week.  Keep reading if you want to find out more about Ever After 2016  and if you want to find out how you can win a spot! 🙂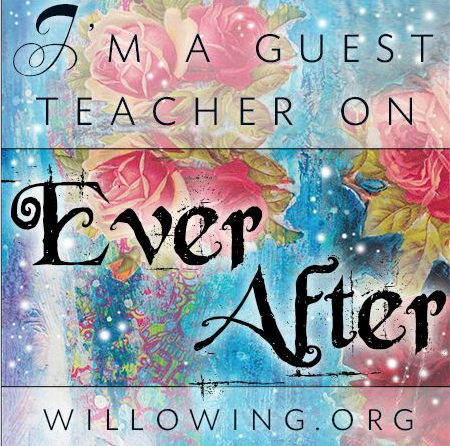 First let me tell you a bit more about Ever After in case you haven't heard about it yet!
"Ever After" is a mixed media art & style development course with a fairytale theme hosted by Tamara Laporte from Willowing Arts. Tam is joined by 12 popular mixed media art teachers ( incluiding myself!) who will all share beautiful fairy-tale inspired lessons with you AND, in Module 2 they will also divulge their hints and tips on how they developed their own style and how YOU TOO can find your own unique voice as an artist! 🙂 Yay!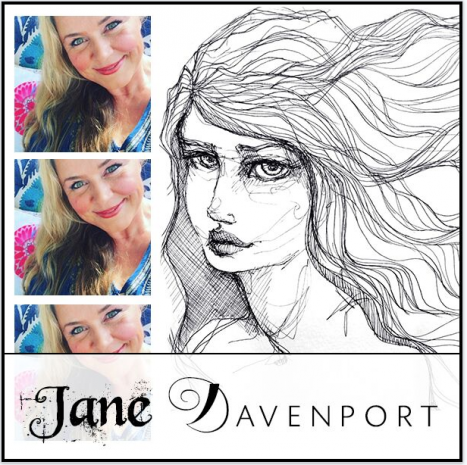 The  fairy tale I chose is
Sleeping Beauty .
I have some fabulous ideas boiling away!  I loved Malificent and the expansion of the 'Sleeping Beauty' fable. So expect some sultry eyes, amazing head pieces and yes, flowing hair!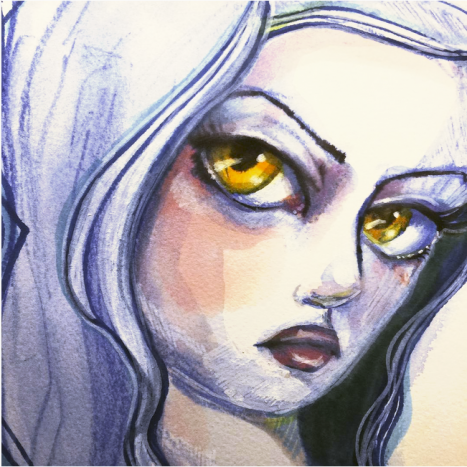 Registration opens on May 16th 2016 and the class begins on July 1st 2016. So you can't join yet – but very soon!
So if you want to start your summer drawing and painting fairy-tales, exploring your own personal story and style and hang out with a wonderful creative community of like-minded souls, be sure to join once registration opens! 🙂 Keep this page bookmarked so that you can sign up the moment it goes on sale! 🙂 .
The way most collaborative classes work is, each teacher earns a small teaching fee whenever you join the class using the links for the class on their blog.  So I  think you are  mighty fine of you whenever I post a collaborative class I am involved with  and you join from my link ( group hug!).
Now then, onto the give-away and blog hop! 🙂 I can give away 1 space on Ever After 2016 to 1 lucky winner, yay! 🙂 And if you follow the blog hop starting May  2nd( see below for links and dates) you can up your chances of winning a space by entering all the other give-aways also! 🙂
How to enter the give-away:
1. Sign up to my newsletter ( in the sidebar).
2. Leave a comment on my Blog Hop Post   May 11th letting me know what elements of Sleeping Beauty you would love to see in my class!
Here is the list of the other amazing teachers who will be teaching on Ever After – they too will be giving away a spot on Ever After so go check them out and enter their give-aways! 🙂
I'll see you on  the Blog Hop!
Join my mail list ( in the sidebar)for news to join up at the Early bird price on May 16th
xoxox
Jane/Danger
| | | |
| --- | --- | --- |
| | | |
| | | |
| | | https://thesecrethermit.blogspot.co.uk/ |
| | | |
| | | https://www.carlasonheim.com |
| | | |
| | | https://www.kabostudio.com |
| | | https://www.theartsherpa.com |
| | | |
| | | https://www.galiaalena.com/ |
| | | |
| | | https://www.rachellepanagarry.com/ |