OK…I am doing a painting class with the super divine Connie Hozvicka from Dirty Footprints Studio. I have an assignment … I have to do 'Fearless Morning Pages' …and blog about it!
What are FEARLESS Morning Pages I hear you ask? "FEARLESS Morning Pages…a powerful tool you may use to sustain and enhance your FEARLESS Painting practice for years to come…  set at least 20 to 30 minutes each morning where you can dive into this practice.  Keep the materials simple if needed–and the smaller the paper, the less time needed to finish a piece….begin relaxed, listen, and if needed be curious. …there is no right or wrong way to approach this practice, but I will state that finding the time in the morning will make a huge difference in your entire day.  "
They are based on Julia Cameron's written Morning Pages from the Book 'The Artist' Way'. But these are drawings/paintings.
Feeding  my creativity  breakfast? Totally cool. ..nourished with a big shot of Vitimin O (for Oomph!).
These are a few of my Fearless Morning pages: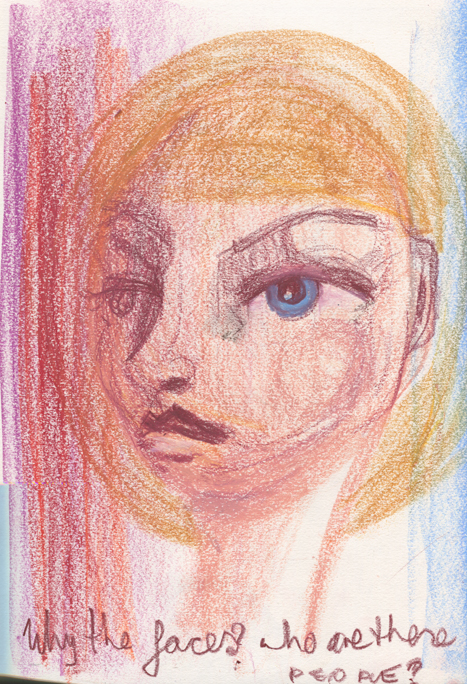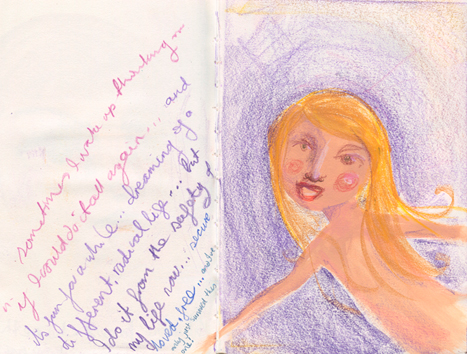 Through this ' Fearless Morning Pages' process I have had lots of fun just free drawing and have also discovered how completely AWESOME my Prismacolor ArtStix are. They are chalk sized hard pastels made from the same recipe as my beloved Prismacolor pencils are. So its like being a kiddo and wielding a crayon, without any mess and the oil pastel stickiness! Can I get a Yee Hah?
I have had so much fun using them that I took them along to Dr Sketchy's Life Drawing class… and oh yes, they will be coming with me again. Actually, they have been in my bag ever since! I have them in a small plastic box, and they make a really nice sound in my bag.  It's a warm and cosy mini clunking.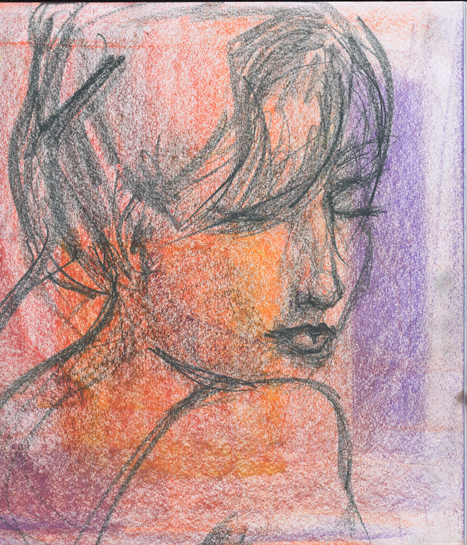 If you really want your drawing to improve in bug bounds, attend a Life Drawing class. Any will do.  Draw your heart out….and the next moment you have after class where you can just take 10 minutes…get out your sketchbook and try and memory draw some of the poses again. Yeah. Pump those drawing muscles!
This was my next morning re-do of poses using the ArtStix: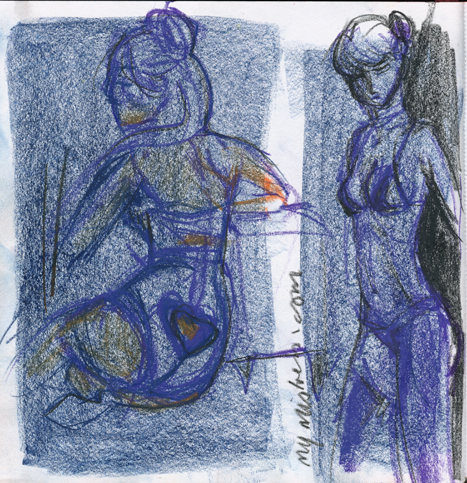 I am forming a loveley new habit (addiction?) to 'Drawin in da 'Mornin… with Artstix…!
x
JAne
P.S. Connie is a wonderful teacher and my painting has taken a few massive leaps since the class started…..and it is all about painting BIG and FEARLESS! I am using canvas, wood and paper bigger than I ever have before. I am having a BALL. It is just soooooo good.
Use the link above to visit Connie's website and check out BIG! Her next class starts in January.