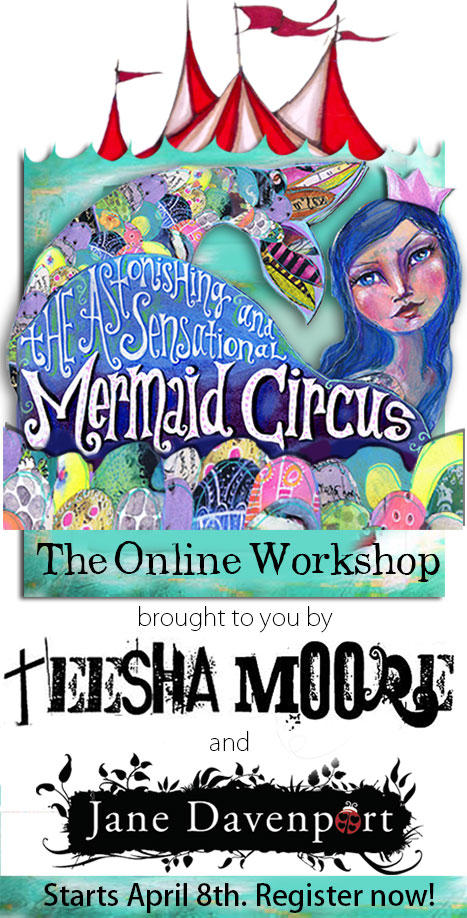 It's here, my new Workshop!
Mermaid Circus is an Online Workshop unlike any other…
For a start it is a collaboration with Teesha Moore.
Yes,
THE

Teesha (helloooooo!).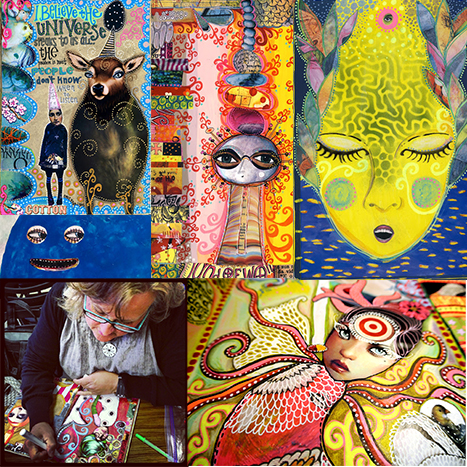 Teesha and I are very good friends. I just adore her and her amazing art.
So I have been pestering her to do an online class with me for a while.
Everyone needs some Teesha in their creative lives and 'Mermaid Circus'
is the perfect way to experience this wonderful person and artist.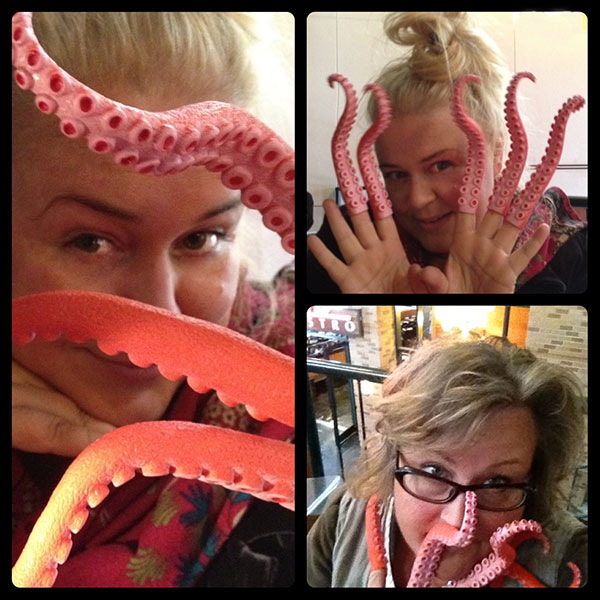 So with Teesha's lifetime fascination of all things circus and my all-consuming passion for Mermaids, I thought "what will happen if we combine them?".
Well… MAGIC!
That's what happened!
I flew to Seattle to film Teesha in her 'natural environment' nested amongst her colourful studio and art supplies. When I first started online workshops, I took to being in front of the video like a duck to water.  ( The trick is to COMPLETELY forget about what you will look like to the viewer, and just imagine talking to a great friend!)  It took Teesha a bit of getting used to being filmed and I'm still laughing about the looks she would give me from time to time about the whole experience.
But like the incredible professional she is, Teesha soldiered on, and once she forgot the camera was there, oh, the gorgeous art that flowed from her hands…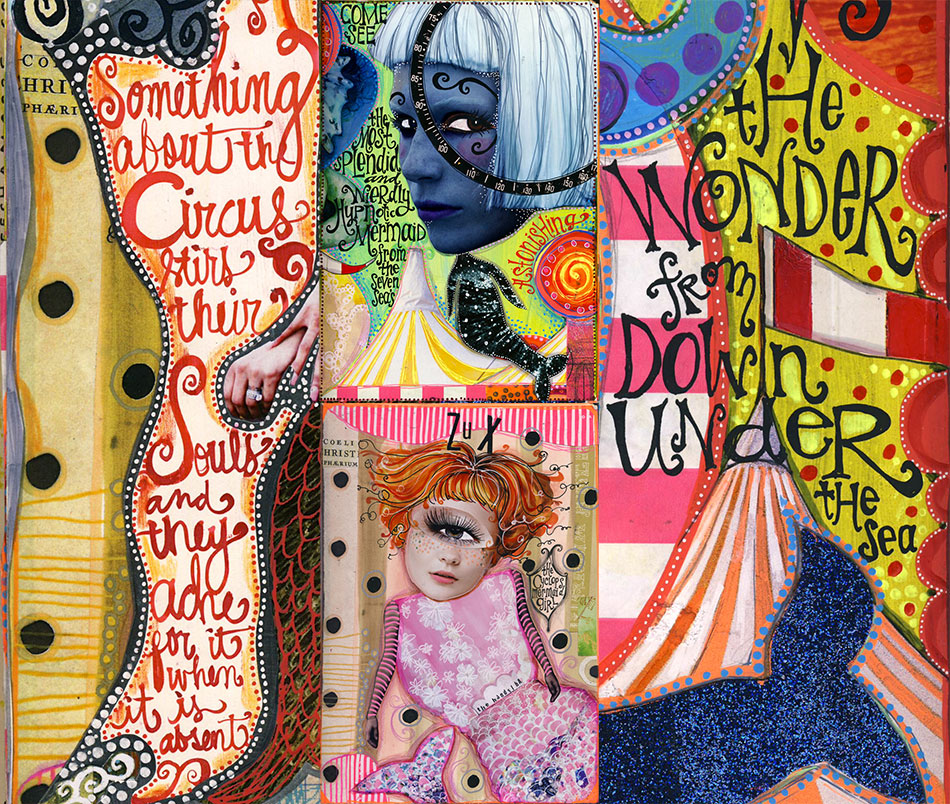 I constantly marvel at where ideas 'come from' and the opportunity of virtually sitting on one of my fave artist's shoulder and seeing her process was a little bit miraculous. I even got Teesha to takes me on a tour through her journals starting with her very first one. We chatted all the way through about art and life and witnessing her style coming together over the years through the journals. It was a unique privilege.
And it's all on video,
so you can be there too.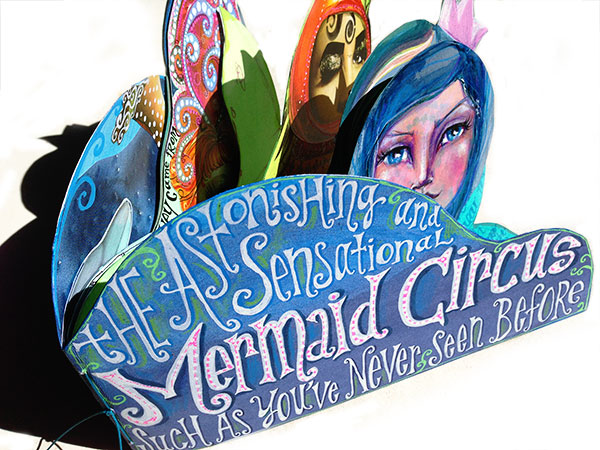 In the workshop itself, you will be able to work on your on shaped Artist Book with us. It is SO COOL!!!! Oh my Goodness!  Tracy, Teesha's awesome hubby and Tiphoni her talented daughter are both Artists in their own right, and they make guest appearances in the book, showing you their different styles. It's very inspiring stuff and you will LOVE creating your own version of one.
We will also be working in two other formats… I am caught between telling you enough so that you will want to sign up right away, and leave lots of wonderful surprises!

But I can tell you, there will be a ton of step-by-step 'how-to' drawing and painting sessions of whimsical faces.  Teesha shares her collage secrets from how she selects her collage elements  (and even where to find them!) to working with the page, lettering, colour choices, composition.  Let the exquisite creativity commence!
Mermaid Circus is all about
wild, soulful creativity!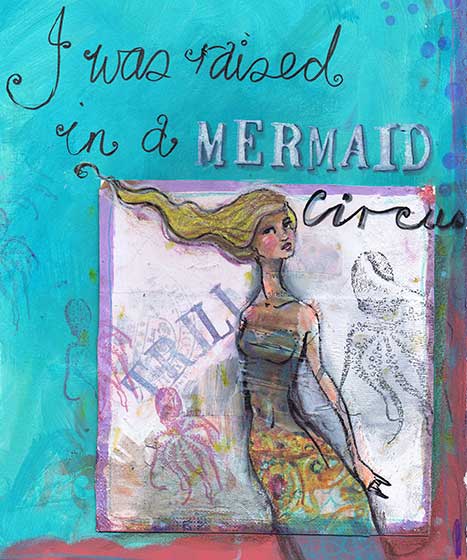 It's full and juicy, just like all my workshops, but I think you will really feel the inspiration for some time to come.
This will be an experience.
Run away to the Mermaid Circus with us!
Starts April 8th… Registration open now!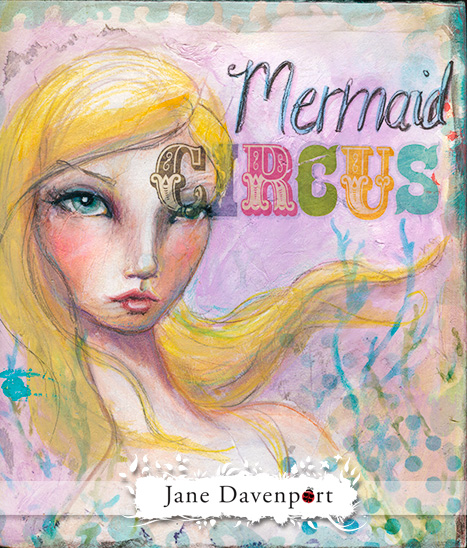 So what does all this stupendousness cost?
$195
Monday April 8, 2013 at 3:00 PM EST
-to-
Sunday June 2, 2013 at 1:00 PM EST
The Classroom will be open for three months at the completion of the workshop.
Click any image in this post for
the Official Mermaid Circus Page
or click here!