I just love a good supernatural hybrid, and the maids of the sea have long held my heart in their cold, wet hands. So when the teachalicious Miss Suzi Blu started talking about a whole class dedicated to them, I was immediately on the list! I started drawing them everywhere…and had quite a collection before the class even started…
I have done a few of Suzi Blu's online classes, and I have recommended them to you before, but this is the first one I have done as it goes 'live to air'. And there is a difference. Anticipation. It has made the forum very active as the 450+ class members finish the prescribed exercises and paintings, and come back for more…we all circle like sharks, and if there is nothing new to download from Miss Blu ( she is a human after all!) we all chat to each other. Lots and lots of chat. Mostly about art and related to what we are up to. A huge amount about supplies and techniques. How the students fit art and being creative into busy lives. Gentle suggestions and encouragement for the work posted.
And then there are the discussions on the biggest dilemma with Mermaids – whether to show their boobies in all their glory, or to give them a little modesty? So great is the debate that a new word has been coined on the forum for mermie nipples-  'Mipples'!
Underlying all the fun are some very sound artistic principles. Suzi is determined to get her students out of the habit of only using a colour straight from the tube, and mixing. We did some color excercises that really got me thinking about color and creating colour wheels with more understanding than ever before. I have worked with and studied colour all my life…so it's not as if any new secrets are being revealed, it's just the way Suzi teaches. By making it fun. I don't know exactly why I find her classes so valuable, or why they work me for me so well, they just do!
New video classes are posted every 10 days or so, with Live class chats in-between. Students can join anytime, and do the work at their own pace. Student ability/experience ranges from practicing professionals to people who have not drawn or painted since early childhood. We are all on a wonderful La Sirena voyage together.
Here are some of my recent  Mermaid sketches…they will swim into bigger works perhaps…who knows!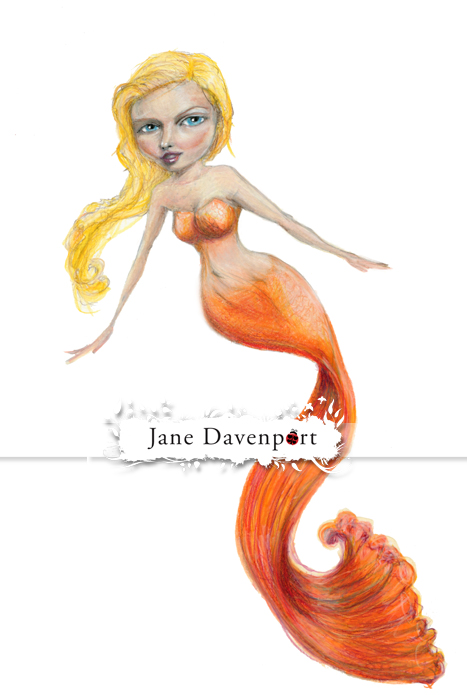 The Goldfish mermaid gets a bikini made of her golden scales…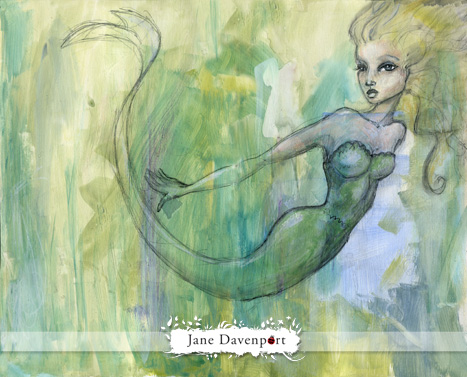 The Kelp mermaid gets a body stocking…
Click here to find out more…