When you receive an email newsletter from people you very much admire and the first line knocks you off your feet, that's a good day right there!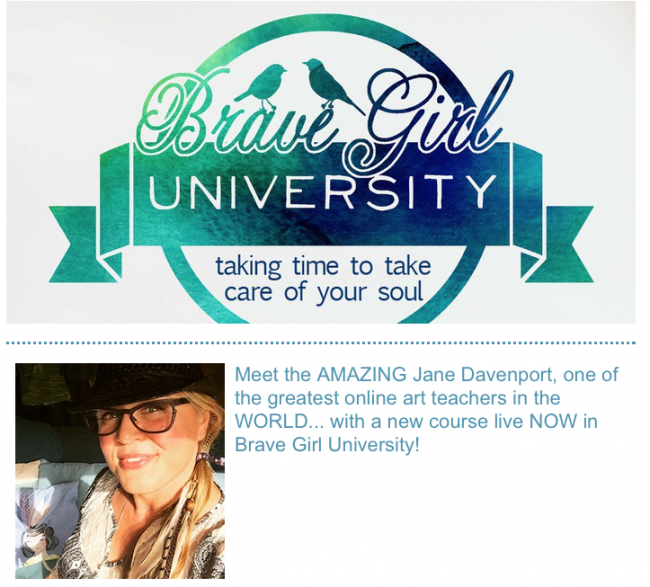 Brave Girls University has a plethora of amazing workshops on offer from all sorts of genres – but all with one aim – to help make you feel wonderful!  ( more info about BGU here)
With a low monthly subscription fee, you get access to over 85 of the world's finest teachers and their BEST work, all under one roof! It's a positive and happy space and I am so thrilled to be part of it!
OK! now let me tell you about the new workshop!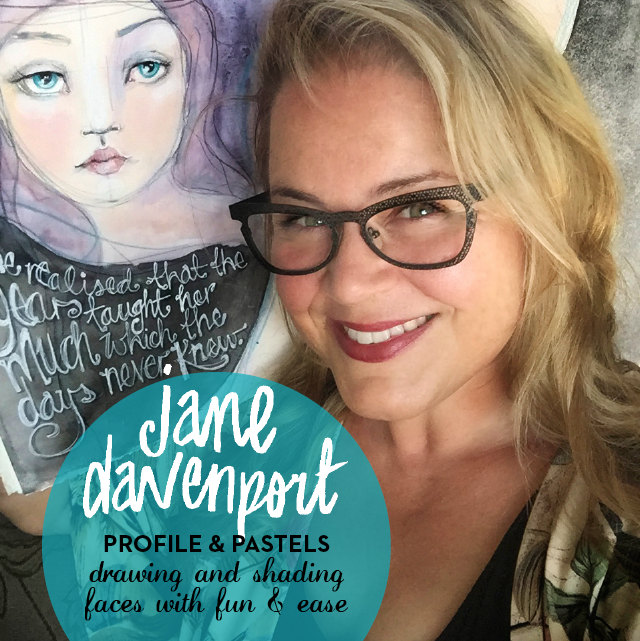 Yes, you have a
VIP CODE
Make sure you use the code "janedavenport" when you sign up.
It gives you a free month trial as well!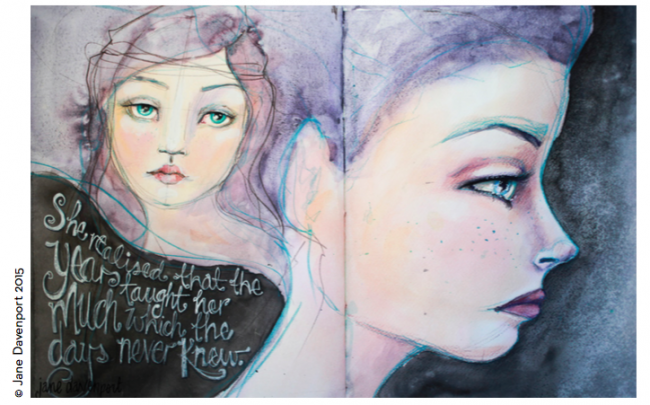 Profiles and Pastels
by Jane Davenport
"Profiles and Pastels' with Jane 'Danger' Davenport presents an inspirational, fun and achievable way to start not only drawing faces but add a little soft shading too. Jane demonstrated with colour pencil and soft Pastels as a forgiving foray into whimsical drawing. Jane's specialty is taking the complex and breaking it down into a easy steps that will have you happily creating along with her!"
I adore making art. It makes me feel inspired and more confident in life and the reason I teach is because I want this for everyone. Whether you want to make art as a pastime or as your profession makes no difference. As long as you enjoy the process rather than being fixated on the end result, you will keep at it. Growing and glowing! I would love to help you create the art of your dreams."
xoxox
Jane/ Danger
Once you are a member you can
see the Course Overview here!
If you have PanPastels you are going to
LOVE, love LOOOOOVE this class.
I hope you join the fun!
P.s.
Warning: Name Dropping Ahead.
It's been a mixed-media-all-stars-in-my-eyes day and it isn't even lunch yet.  The first email I read this morning was from Tim Holtz (yes, I am totally a fan-girl, just like you!). We were chatting about Distress Crayons and their coolness. Then I did yoga with Julie Fei-Fan Balzer on my deck and just now I got the above email from Melody Ross and Kathy Wilkins at Brave girl University introducing my new workshop ..and it was a bit of a love letter…
I feel so blessed to have  such creative, and genuinely lovely people in my life in big ways and small. Some days I just have to do a little  celebration with you, lol!
Julie and I are heading off to the Byron Bay lighthouse to journal, chat and lunch.
Join me on Instagram for the inevitable photos!
https://www.instagram.com/janedavenport/
xoxo
Jane