I have a confession to make: I am a little bit of a paper hoarder. Ok. I'm A LOT of a paper hoarder! So when I saw the packaging on the new Jane Davenport Mixed Media collection, my mind went racing with all the things I could do to repurpose those beautiful little pieces of art!
My first thought was to use these mini masterpieces as tip-ins in my journal. Hello! Jane's art in my journal? YAAAASSS!
If you aren't sure what a 'tip-in' is, it's just a little bit of ephemera that is taped into your journal or planner kind of like a hinged door. I have always loved pop-up books or any kind of interactive book, so flipping a tip-in in my journal to discover something underneath just seemed like a brilliant thing to do.
First, if you still have your packaging, cut out one of Jane's art pieces from the packaging.
Next, I'm going to use her Rub-On Transfer Sheets – Brights to cut out a couple swatches to add to  my tip-in.
Now rub-a-dub…
My favorite part is peeling it off.
After adding one more rub-on swatch, I'm going to use the Paint Over Pen in Unicorn to add some dots over the rub-ons.
I wanted to add a tag to the side of my tip-in, so I used a TAB punch with a piece of paper from Jane's Paper Pad.
You can attach the tab using a regular stapler, but I just adore my Tim Holtz Tiny Attacher!!!
I then used my Inkcredible Pen to write a sentiment on the tab.
Next, take some washi…I used the delicious blue swatch washi from Jane's collection…and place it on the opposite side of the tab. Make sure to leave half the washi off the edge so you can adhere it to your journal.
Now, flip the tip-in over and place washi on the other side to make your 'hinge.' You can do a variety of different things on the other side of your tip-in. Put a small picture on the back, a movie ticket to a movie you just went to, a small bit of journaling, something cute your child said that day. Whatever you want can be tucked underneath.
And there ya go!!! A beautiful interactive piece in your journal!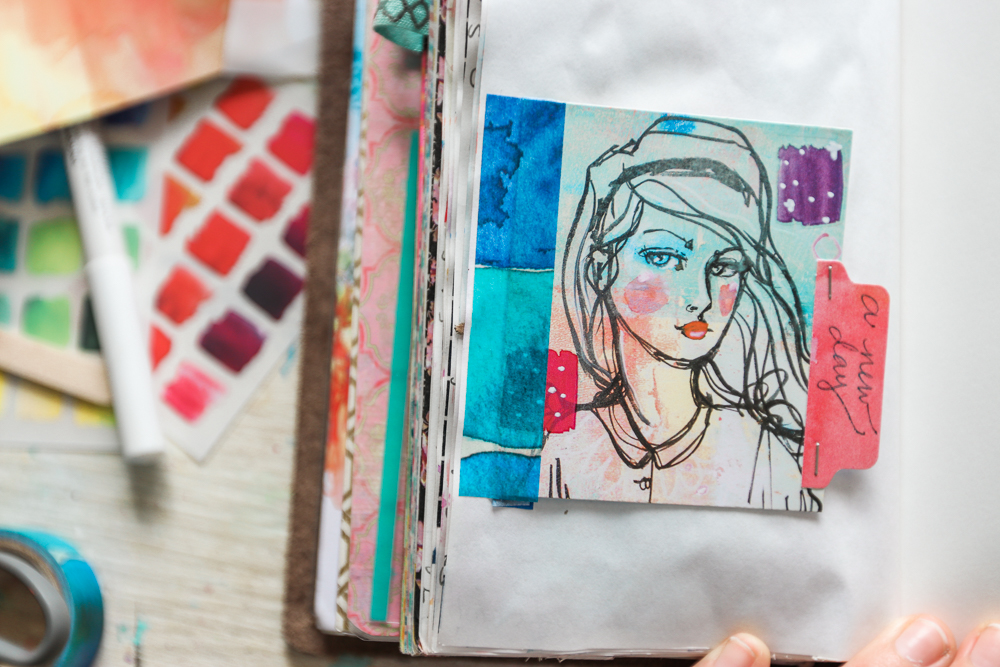 Hope to see your tip-in creations using Jane's art from the packaging of her products.
xoxo,
Ali