I LOVE sketching outside!
Nature Study: Autumn Leaf by Tonja Sell for Jane Davenport from Tonja Sell on Vimeo.
As our weather is getting colder here in Northern Wisconsin I need to take advantage of the opportunities for painting en plein air (painting outside) …that I have left.
I recently spent some time simply drawing and sketching in my back yard, doing some gestural and color studies, for the sake of observation, using several of the Jane Davenport supplies.
I appreciate the portability and versatility of the Jane Davenport Watercolor Palette – BRIGHT! The Magic Wand Colored Pencils are perfect for sketching in a loose and gestural way and then adding beautiful layers of color to the sketch.
I love the way that I can work into the watercolor painting with the Mermaid Markers to add details in a loose or more defined way. I am gathering studies and keeping them safe and secure in my Butterfly Effect Books
and will use these sketches as reference when it becomes TOO cold to paint outside! I will develop paintings from these sketches, which I will share with you here in the future.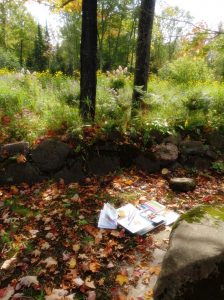 If you haven't tried painting on location with these great materials, you should!
It's wonderful to be out in nature or in an urban environment and draw from observation.
Supplies used
Jane Davenport LINE:
Watercolor Palette – BRIGHT
Mermaid Markers
Magic Wand Colored Pencils
Butterfly Effect Book
OTHER:
140 lb Watercolor Paper
Tonja Sell