Look at the work my Draw Happy 'Live' students did! My goal at the beginning of the class was to get everyone to draw a 'pretty face' and …ta-dah! Mission Accomplished! My drawing is the bigger one on the right that I did on an easel, and my students followed along in the journals I gave them.
What I just LOVE is that they are all so different! Even though we all followed the same proportional scale and used the same colours and materials, I encouraged each person's individual style to shine through. Some of my students were seasoned 'drawers' and others had not picked up a pencil in years, if ever! All did so well and smiled at the end results. I was pleased and proud as punch( which is such a strange saying…!)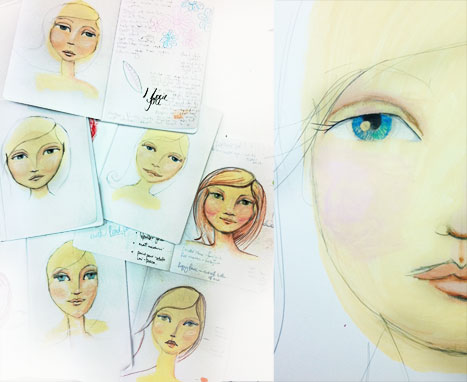 All the sessions so far have been loads of fun and I am very proud of all my student's efforts.  Some have absolutely amazed themselves at what they achieved! It was mostly gals, and Daniel did a great job as the sole bloke. My youngest students was 9. I had one very special student fly in from the other side of the country, especially for the Saturday workshop – what a 'Treasure' she is! It was cool squeezing into my Gallery space, surrounded by art and sharing my personal stash of art supplies.
Art Supplies: We used the Col-erase pencils to draw with, Prismacolor Premiers to add colour and Ranger Dabber Paints and White Posca Pens for highlights. You can see the linked supplies on my new website.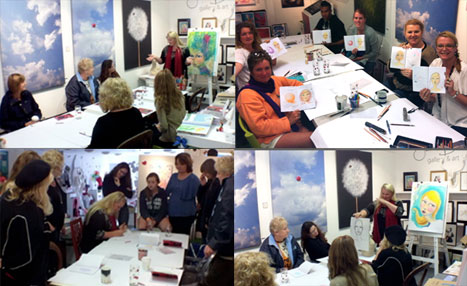 I had a ball and am thinking of new classes to add so I can join my students on their creative paths as often as possible.
Draw Happy Live
httpsv://www.youtube.com/watch?v=MNl6z37T5go
I made a video from the workshops so far (Angus was the cameraman!) so you can join in the fun if you live far, far away…and if you live near, why don't you come along! I would love that! I have added new dates for the classes here: www.instituteofcute.com/draw-happy-class/
Angus and I are off to the big Craft and Sewing Show in Newcastle – it starts this Thursday until Sunday. I hope we win best stand again! I will be extolling the virtues of Art Journaling. I know what a difference it has made in my life, both creatively and in general, and I love encouraging as many people as possible to discover Journaling for themselves.
Choose Happiness,
Jane
P.s. If you want a sneak peek at my online workshop 'Supplies Me', that will be Officially launched next week: https://www.instituteofcute.com/supplies-me-online-workshop/
It's starting to fill up already…I am swooning! We will be drawing LOTS of faces, plus other things of course, but, you know me… I love drawing eyes!