I am an advocate of courage in the face of drawing fear. I encourage my students to trust the mess, and have fun getting stuck into their creativity. But I certainly have a few creative fears of my own, and top of the list was sewing!
I'm not sure when or why I became scared of sewing machines. I've never been harmed by one, or even had a hairy experience. Yet in my mind I had built up a fear of the needle snapping and flying into my eyes, fingers being gobbled up and tangles of thread… I even signed up for some sewing classes last year and chickened out after just 2…before we even got to the sewing… ridiculous! Little did I know that this irrational fear was soon to come to an end…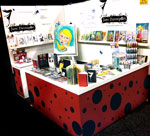 Last Wednesday Angus and I found ourselves setting up our stand at the Craft and Sewing expo in Newcastle… And I was pretty much surrounded by sewing! Quilting, patchwork and textile arts, sewing machines, fabrics stores and every form of sewing accessory and tool you can imagine. There were very few paper based exhibitors. Eeeeeek,there were needles everywhere!
And then I noticed in the corner of the expo, an exhibition of intricate paper-quilting by Michaela Laurie. I was quite taken with her beautiful work, and inspired to try some sewn elements in my Art journals… Of course, that would mean overcoming my sewing machine heeby-geebies!
Michaela kindly offered to walk me through a few sewn details and I enjoyed it…Loved it! Over the following days, I visited all the sewing machine stands, and had a look and play on the entry-level models. I settled on a Pfaff 'Hobby' 1132. Simple, easy to use, great quality. Sally from Zig Zag sewing centre sorted me out, and gave me her patient attention and a couple of intense lessons, squeezed around the busy times during the show.
So after 8 live drawing demonstrations and 7 hours a day of talking about Art Journals and art supplies, I wasn't tired, I was dancing around, doing the Pfaff can-can! I couldn't wait to set up my new baby…
Today I spent my time sewing at my gorgeous parents-in-law's before we head home to Byron Bay. Jenny worked on her latest amazing quilt and I made a stitching sampler, and a ….drum roll please… Journal cover!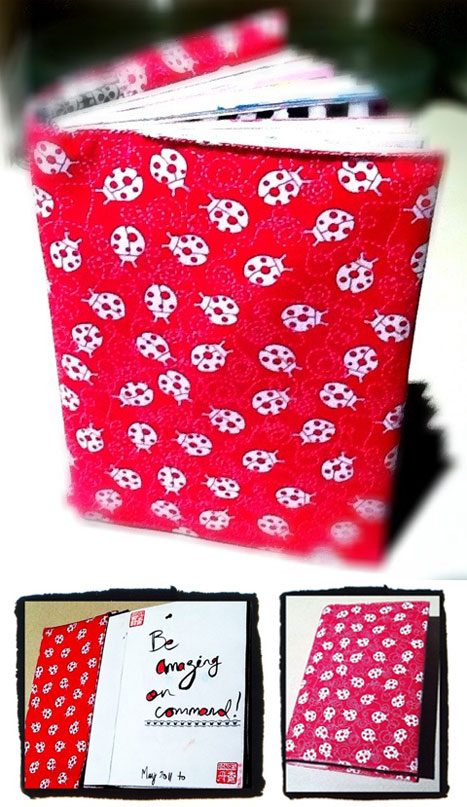 I used some gorgeous ladybird fabric my expo neighbors, 'Black Possum Fabrics at Tea Gardens, gave me. It felt so good to create something I thought impossible for me to ever get around to. My handiwork certainly isn't perfect, but I love it! I worked without a pattern, just made it up as I went along. My confidence really is soaring, not only from a fantastic show, but from overcoming a long-held fear. I am looking forward to what the next few weeks hold because I know it's going to be a really special time!
Is there something creative that you fear? An artistic hurdle that stops you in your tracks? Why not join me and tackle it this week, I dare you!
Choose happiness,
Jane