Coming to you LIVE from The Sydney Royal Easter Show
in the Southee Pavillion which hosts the Flower Show!
https://www.eastershow.com.au/ …………………………………………………………………………………………………………
I am sitting under 6 huge 3m x 3m banners of my artwork as the flutter above me, decorating the whole pavilion. On our stand we have a gallery wall filled with all of my newest prints, and a cute ladybird spotted table of all my garden inspired designs for the Institute of Cute. Its been a huge hit and I had to order emergency supplies to be sent from Byron Bay because we are going to run out of cutenesses!
We are set up in the Southee Pavillion amongst the Flower Show. This morning the champion roses were judged and the hotly contested Champion and Best-of-Show ribbons awarded. Tomorrow is the competition for best Dahlias – my favourite flowers. I actually sponsor the Awards for the dahlias, I enjoy them so much. I get to hand out the medals and everything!
I haven't had time to see much more of this huge, super colossal Show as yet. I'm saving that up for when my little nieces and nephews visit on Friday! Aunty Jane will have all her child-like wonder for the rides and general carnival capers burst out…
In quieter times, I try and slip away to work on my book. The fourth edition of 'The Garden Guardians'….it's looking good! And I even do a little art when I can…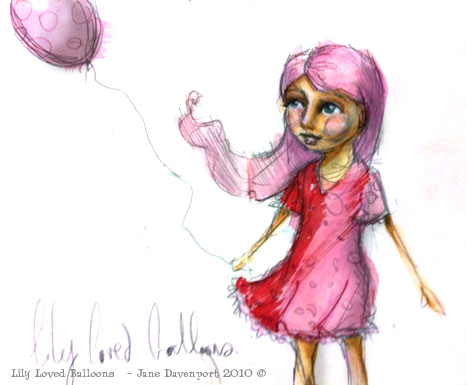 I love keeping up with my gorgeous 21 Secrets students on my iphone. I just am adoring their comments and their work. And being part of someone else's creative journey is a real thrill.
I will be posting some of my students work soooooon!
Well, it sounds like its getting busy out there again on the stand, so its time for me to go chat to some lovelies! If you are coming to the Royal, then say hi!
x
Jane